Devils Lake Fishing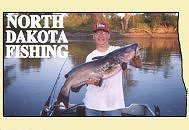 Devils Lake is North Dakota's largest natural lake. Currently the lake is about 122,000 acres and more than 90% undeveloped. Fishing Devils Lake is outstanding year-round for a number of species including: Walleye, Jumbo Perch, Northern Pike, and White Bass. The lake itself is relatively shallow with an excellent forage base that produces large fish fast. The opportunity exists here to land the trophy of a lifetime. Northern Pike of 10 plus pounds, 8 pound Walleye, jumbo yellow Perch and knuckle busting White Bass of 3 pounds are not uncommon when fishing Devils Lake. We believe Devils Lake has established itself as one of the premier fisheries in the country.
From the Devils Lake Chamber of Commerce.
In 2001, Darkhouse spearing was introduced on Devil's Lake for northern pike.
Devil's Lake fishing can be some of the best fishing in the upper Midwest.
Devils Lake fishing during the spring spawn on Channel A and Mauvais Coulee produces some of the fastest action one could ask for! When fishing Devils Lake you can be assured that you will have an enjoyable fishing trip. Guide Service and Charters for Devils Lake fishing are available. Charter and guide services for Devils Lake fishing are abundant, but fill up quick! So reserve your guide today!
Devils Lake is one off the premiere spots in the Midwest for jumbo perch. If you want to fish Devils Lake for northern pike, that species is so abundant, that North Dakota raised the limit for possession for Devils Lake.
The State record walleye came from a lake just South of Devils Lake...so naturally, walleye are abundant and actually one of the biggest summer draws to Devils Lake fishing.
Devils Lake Fishing Guide Service

Devil's Lake Fishing Charter