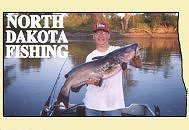 North Dakota Fishing Report Archive for Stump Lake
Current North Dakota Fishing Reports
Archive: Stump Lake
Rick
Fargo
fholbrook@cableone.net
Thursday January 10, 2002
07:56:04 PM

How does one find the accesses on Stump? We were on it once last year and came thru the park off hiway 1. Is there ( Are there) more accesses?
Thanks, Rick
---
TIPUP
GFK

Monday January 07, 2002
08:43:52 AM

Fished Stump Lake on 1-5. Started out really nice, weather wise. Fished outside all day here and the bite was good to start with. Caught about 15 perch between the two of us and threw back several smaller ones. Fished in 25 Ft of water using a jigging rap and vexilar. Participated in a creel survey as well. Bite quit around noon and then left for DL and Black Tiger Bay. Didn't fair too well there. Well be there this coming weekend so hopefully the fishing will be great as the weather should be. Tight lines!!!!
---
Allen
Grand Forks
allen_schlag@und.nodak.edu
Monday January 07, 2002
06:59:03 AM

Darn tough fishing this weekend. Went to Stump on Sunday from 9:00 - 2:00. Caught the only two fish to show up on the vexilar. Didn't see too much excitement from anyone else on the ice either.
---
JC HEFF
EGF MN

Wednesday January 02, 2002
04:37:17 AM

Scott, You should have known by now that 2 out of 3 fisherman are liars. However, it is very possible that ice thickness varied from 8 - 12 inches depending on where you drilled. If you are driving your vehicle on the ice now you have bigger balls than me.
---
Jumbo
Grand Forks

Monday December 31, 2001
07:02:19 PM

Fished Stump with TIPUP on Saturday & Sunday, then finished up Sunday at Whitman...as he reported earlier...I'll have you know, it takes an incredibly talented fisherman to catch and release a lunker walleye that size (4", I'm not kidding) and watch it swim away. If all the walleye's in that lake are as aggressive as that little bugger, look out. I had a #2 Jiggin Rap with a minnow head on, and he hammered it. He couldn't have been older than last years fingerling. Watch out TIPUP, I think I've got a sweet technique for hookin' Lunkers!!
---
Scott McNamee
Grand Forks
scott@invoman.com
Monday December 31, 2001
04:08:07 PM

I just wanted to comment on the ice thickness at Stump Lake.
I went out on Friday afternoon. I asked a fellow driving off the lake what the ice thickness was. (Now he did not drive on it...) He said 8".
I then asked a guy on a snowcat what the thickness was...HE said 6 or 7" (???)
I asked a THIRD person...who was driving off the lake in a large late 70's Blazer-like vehicle. HIS ANSWER? 12"
Who to believe? Guess what...the guy driving off the lake was dead on. 12" inches. I chose to drive my brand new 2001 pick-up on that lake, based on one guys information. WHY? You may ask? Because HE was driving on it, first of all. Secondly he proved it by showing me the ice scoop he used to measure it. The guy was dead on. 12" of ice....in both places we drove to.
Now I was glad this guy was right, but it kinda ticked me off that the other guys were so lame in their estimate. The ice was 12", but they guessed anywhere from 6 to 8". I then begin to wonder how good their estimate of a fishes length is? And would the same UNDERESTIMATING come into play? Or would they go the OTHER way?
So, based on my experience...2/3's of these fishermen are untrustworthy, and even in a DANGEROUS situation. That doesn't bode well with me. LUCKILY...I had been to Stump within the last couple of weeks, and at that point the ice was 9" thick.
At the very least, I've done some research on ice safety, and one of the indicators that the ice is too thin to be driving on is this:
If you drill a hole in the ice next to your vehicle, and the water that comes out the hole and onto the ice settles at a level ABOVE the hole...the ice is 'sagging' under the weight of your vehicle. It's too thin...and I would recommend leaving.
I do not suggest that you try this...I am saying it is a way to VERIFY the ice you have already driven on is thick enough....
There is an excellent scientific analysis of ice strength vs. weight here:
---
Big Tuna
Grand Forks
Rferguson44@hotmail.com
Monday December 31, 2001
01:52:57 PM

Fished Stump on Thur. very windy. Quite a few people on the lake, about half drove out, we didn't. Fished from 2-4:30 marked about 5 fish Ev "shoot it got off" had the one bite. We moved only 2 times in about 21-23 feet of water. I hope it picks up soon. May try it again on Tues.
---
goose-egg
Grand Forks

Monday December 31, 2001
07:35:57 AM

Tried stump on saturday and got skunked. lots of people but no fish.
---
TIPUP
GFK

Monday December 31, 2001
07:01:14 AM

Fished Stump Lake with Jumbo both days this past weekend with Saturday being the better of the two. Fished in 25 ft on Sat and 24 ft Sun. Marked fish off and on with the Vexilar and when they did mark, had to get them to bite. Caught most fish on a Jiggin Rap or a gold Genz worm with a minnow head and live minnow. Bite was good right away in the morning, then dead off. Off and on till the late afternoon when the bite picked back up. Lots of vehicles driving on the ice. Didn't drive on the ice Sat but took the chance on Sun. People were moving around more on Sunday than Saturday and not as many people on Stump Saturday. I guess to many people watching the Vikes lose (again). But overall not a bad weekend, better than traveling to DL and ending up with only a couple fish. Oh, tried Whitman Dam also on Sunday. Jumbo caught the "biggest" walleye I have ever seen. I had minnows bigger than that one!!!
---
tim sirek
neche
tim.sirek@sendit.nodak.edu
Saturday December 29, 2001
08:57:51 PM

Fished Stump in 25' water Thursday from 9-3 in the wind. Kept 15 perch from 7-10" and released five smaller ones. No more than two fish on any given jig color or style, but it had to have a minnow.
---
Scott McNamee
Grand Forks
scott@invoman.com
Sunday December 23, 2001
04:44:56 PM

I had intended on going to stump lake today...but decided to try larimore dam. It just opened today.
You need to be careful on Stump, according to the locals there are some springs. There is a spring right near the road, on highway 4, at the opposite side of the lake. (if you are coming in from the east.)
I'm not aware of anyone catching any northerns at Stump, so leave your tip-ups at home.
I've tried to be very subtle in my reports...to try not to offend any locals, but with the article in today's Grand Forks Herald...and the creel survey taking place....the cat's out of the bag.
The fish are HUGE. They are coming off the bottom nearly 5 feet in a feeding frenzy. I've HEARD a rumor that even a plain hook with the leftover smell of a minnow will work. Keep your presentation small, a small jig...or plain hook. Smallest minnows you can find...or pich the tail off of larger ones.
You need to move to find them. I sat in one spot almost all day....(one fish)....and then move just 100 yards...and it was incredible.
I suggest bringing a pair of binoculars with, and watching folks for a few minutes...or searching for a crowd. The crowd will usually be on the school....and there's PLENTY of fish in that lake, so don't get all upset if folks come near you.
Well, I hope all the new readers to this page realize that Devils Lake is just fine, but Stump Lake is a good second choice.
---
Yeah, Brian, I went to Larimore today and it was dead, also! Scott
brian
Langdon

Sunday December 23, 2001
04:10:22 PM

well me and 2 of my relatives went got ONE bit the whole day! well however the person who drove on the ice with red jeep better stay pff or he wont see X-mas!
---
Scott McNamee
Grand Forks
scott@invoman.com
Sunday December 16, 2001
05:07:08 PM

Stump was dead for me most of the day. Caught one fish up till 3PM, moved about 100 yards...and caught several more in the last hour.
Other people in that area left earlier in the day...there was a reason for that....wish we were in that area earlier in the day....it would have been a short day.
---
Scott McNamee
Grand Forks
scott@invoman.com
Saturday, December 15, 2001
02:05:12 PM

test
---
Scott McNamee
Grand Forks
scott@invoman.com
Saturday, December 15, 2001
01:51:55 PM

I went to Stump today...had SOME action, but spent more time waiting...and the wind was something awful! I couldn't stand up without the icehouse sliding across the lake. Only stayed for about 3 hours.
---
Scott McNamee
Grand Forks
scott@invoman.com
Friday, December 14, 2001
03:37:32 PM

Oh yeah!
Rumor, and I stress RUMOR, has it that they are HAMMERING the fish at Stump Lake. For that reason I will be going there tomorrow morning instead of Laretta.
If it's slow there, I will go by Laretta on the way back.
Let's hope for some action!
---
Scott McNamee
Grand Forks
scott@invoman.com
Tuesday, December 11, 2001
02:57:47 PM

I had planned on going there last saturday to take photos, and to see if anyone was fishing. In fact I sat at the intersection on highway 2 after leaving lake laretta for a good 5 minutes debating whether or not I should go. I decided not to, only because if they WERE fishing there...I would end up unloading all my stuff....etc. I was alone and it took me awhile to get everything set up on laretta. I got a new fish-trap voyager at menards last week...the three man. It was a hassle getting that out of my pick-up alone. And pulling all that stuff across the lake...not fun.
I'll try and check Stump lake ice fishing this next weekend...I make no promises though.
---
Allen
Grand Forks

Tuesday, December 11, 2001
12:32:14 PM

Yes, Scott
There are fish, the questions remains though. Did YOU catch any? I tried twice. Had a bite each time 30 seconds after I put the first line in the hole, hooked nothing. Had no more bites. It was just a small version of the disappointment DL offers to me on a regular basis. Anyone know if stump is frozen yet, and if so, how thick is the ice.
---
Scott McNamee
Grand Forks
scott@invoman.com
Monday, December 10, 2001
02:50:47 PM

Yep, last year there were several people ice fishing Stump lake...including myself.
Devils Lake ice fishing was so slow that people were trying out Stump lake for ice fishing.
---
Kent Hollands
GF, ND

Monday, December 10, 2001
01:54:00 PM

Theres fish there?
---
Scott McNamee
Grand Forks
scott@invoman.com
Friday, December 07, 2001
05:03:51 PM

....and I don't want to hear any lame reports that the lake is 'stinky' or 'smelly'...You guys have never shared a tent with ME...so Stump is an air freshener compared to me! HEHE..let's hear some chatter for Stump!
Let's Stump for STUMP!