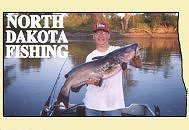 Fishing Reports-Archive
Current North Dakota Fishing Reports
All Current Fishing Reports
The Archive of Fishing Reports
name: bergi
city: ireton,ia
Area: Canada
: howdi24@hotmail.com
Date: Sunday June 08, 2003
Time: 12:41:50 PM

Red_River
I have a trip planned for the 18th thru the 22nd of June and plan to fish the Selkirk area for cats. Should this be a good time to go, or will the cats be in a post spawn mode? I was told the marsh area located north of end of main would be a good spot. True or not? Also where or how do you get golden eyes for bait, and what kind of shrimp work the best? Thanks for any advice.
bergi
---
name: Pat
city: Perham
Area: Canada
: pat.nordick@ntcmn.edu
Date: Thursday June 05, 2003
Time: 10:36:24 PM

Red_River
Hey, I am looking for Stu's web address for Cat's on the Red. Does anyone know the web address for his resort or doesn't he have a web site any longer?
---
name: Backwater Eddy
city: Fargo
Area: Other area
: backwtr1@msn.com
Date: Wednesday June 04, 2003
Time: 08:14:48 AM

Red_River
The catfish bite on the Lower Red River in Canada has been, and is now, very good.
Locally in the Central Red Region the bite has been slow to fair. The spawn is approaching and it will get much slower before it gets better again. I suspect the channel catfish spawn in the Central Red River Basin to commence in a week, a bit earlier then normal.
Back to that big cat bite up North. We were up on the Red last week and it was Hot, 40-60 big cats a day was not too tough to do.
Fresh cut Goldeye was key for bait, next was shrimp, or prons. Cuts in the day, shrimp and the like at night was the basic pattern.
You will find Big cats in numbers up in the shoots, in the miracle mile channel, and all the way out to the lake. Larger groups of cats were congregated at the Lockport Dam.
If you go you should stock up on a couple of rigging options. Carry 4-5 oz teardrop weights for working the shoots at the dam. You want that bait to stay put, dragging will just Lead to a lost rig. Show patience, them cats will find the bait soon enough.
For most of the other cat work carry 3 oz. No-Roll style sinkers. The No-Roll is the way to go, often down river 2 oz will do where 4 or 5 oz's of any other style would be barely enough in this flow.
Hooks should be 6-8 O/T on circle or Kahle styles, shank works but not as well in my opinion. Bring lots of large barrel swivels also, snags can and will happen.
I also recommend some surgical tubing to cut into 1" chunks. Slip this between the weight and the barrel swivel, add a bead between the weight and the tubing, this adds extra knot protection and a bit of sound to the rig. This will help to protect the knot from wear and you will save on tackle. Make your leader test just a bit lighter then the lain line test. So when you hang up the hook you can save the bulk of the rigging once snapped loose.
One more consideration that is key if you fish the lower Red is anchors.
The lower Red is not your average river, serious anchor's are needed to hold well.
Most go down just fine, and if they do manage to hold, you may not get them back again. The Lockport dam eats anchors like them Sumo cats eat Goldeye Eh!
Bring a spare anchor, or two, with at least 50' of 1/2 cotton rope. Cotton rope has the give needed, it aids in holding in the faster water. Plus cotton rope is far easier on the hands, keep gloves handy too. Nylon rope often will shear off in the rock, a poor choice up North on the Red, or on many dams.
I have a friend in Valley City ND. who has made one serious River anchor system. They weigh about 35 pounds and will hold the biggest V-hulls in the roughest of rivers, plus they are far more retrievable then others systems. We designed them just for the Red and other big River systems with Dams, they work very well. If interested drop me an e-mail and I will give you his info so you can contact him.
Oh, bring a good net. A light to med duty walleye net will not cut it! I strongly recommend the Frabill line of landing nets, especially the Halibut net. Get a net that tangles less and will handle sumo cats all day long for years to come. Check out the Frabill Live Well Net system too, darn handy for them large live baits like Mooneye and Goldeye. Keep you cut baits fresh tell you need them. That will up your odds for a real Sumo Piggy channel cat here on the Red River.
Yup..Yup...The velocity of the flow is up on the Lower Red, that brings them big cats up in numbers to the dam to feed.
A very good time to Rock on big cats Eh!
Ed "Backwater Eddy" Carlson
backwtr1@msn.com
"Backwater Guiding" ~ ~ ~ ><,sUMo,>
---
name: ALE
city: Winnipeg
Area: Canada
: alembury@shaw.ca
Date: Monday June 02, 2003
Time: 05:34:39 AM

Red_River
i've been having a good time fishing lately, catching lots of sauger and walleye, but i'm wondering if anyone can give me some tips on how to land big walleye and even northern pike. i've been fishing the red river for two years now and have never caught a pike. p.s. try fishing and smoking at 420. Peace, love and unity.
---
name: Dennis Flom
city: Harwood
Area: Fargo
: icatchbigcats@aol.com
Date: Wednesday May 28, 2003
Time: 12:43:05 AM

Red_River
Thanks Kent,
I thought I may have lost my touch and could no longer find catfish. Today was finally better, we fished most of the day and caught fish all day long. Although the number of fish we caught was not great, (only about 30) it was an improvement over the weekend. Our biggest today was only about 12 but I think we only had 3 fish under 3 lbs.
Hope things are better to the North also.
Anyone been to Lockport lately?
Dennis
---
name: Kent Hollands
city: Grand Forks
Area: Comment
Date: Tuesday May 27, 2003
Time: 09:28:36 AM

Red_River
Dennis same thing holds true up north. Fishing was very slow over the weekend, water at 64 plus etc. etc. The best times were 7 to 9 each night, fished Mon from 4 to 9pm and didn't have a bite until 6:30 to 7:00 and we were moving around, tryen shallow and deep they just weren't in the mood. The water had also dropped about 8" to a foot from Sundays fishing maybe that had something to do with it. Anyway over the weekend we caught about 20 between three and five pounds one about nine pounds and the biggest being a little over nineteen pounds.
---
name: Dennis Flom
city: Harwood
Area: Fargo
: icatchbigcats@aol.com
Date: Monday May 26, 2003
Time: 12:59:11 AM

Red_River
Fishing in the Fargo area has taken a big nose-dive over the last couple of days. We are only getting a few fish a night, less than 10, and most have been small (less than 3 lbs). How has the bite been in Grand Forks this past weekend?
Our water temp is up to 64 now and our water is holding steady to falling slowly. I have no reason for the fish to be as slow as they have been the last couple of days. Earlier this week we caught as many as 40 in an evening but now we are lucky to get 10.
I even have run to areas that have not been fished at all this year including well up the Sheyenne with no real luck.
Hope things are going better up north.
Dennis
---
name: rmattingley
city: Grand Forks
Area: Comment
Date: Friday May 23, 2003
Time: 12:59:07 AM

Red_River
I really don't know how long it was, it was over 2ft and under 3, but had a huge head and belly, I am assuming that it was a female, so I hope she lays her eggs successfully.
Good Luck to all
---
name: Kent Hollands
city: Grand Forks
Area: Comment
Date: Monday May 19, 2003
Time: 03:28:47 PM

Red_River
You ask what a 26lb cats length would be. Every cat is different regaurding length and weight. But I would say on avg. that a 26lb cat is going to be somewhere between 35 1/2 to 37 inches. Hope that helps you out a little.
---
name: TJB
city: Grand forks
Area: Grand Forks
Date: Monday May 19, 2003
Time: 02:20:13 PM

Red_River
How long was the 26 lb. cat ?
---
name: rmattingley
city: Grand Forks
Area: Comment
Date: Monday May 19, 2003
Time: 11:00:45 AM

Red_River
Well, caught our first whopper yesterday. Braved the rain and caught a 26lb cat north of Grand Forks. What a rush. I put him back, so good luck trying to find him
---
name: Kent Hollands
city: Grand Forks
Area: Comment
Date: Monday May 19, 2003
Time: 10:01:45 AM

Red_River
Fishing is starting to heat up. The Rivers surface temps on Fri evening were reading 61.2. Just enough to turn the cats on. My Son and I fished for a couple hours Fri catching one sheep head and Fourteen Cats biggest was 33" picture will be coming of this fish, and yes I didn't catch it my son did.
---
name: Sean D.
city: Winnipeg
Area: Canada
Date: Saturday May 17, 2003
Time: 06:02:43 PM

Red_River
Went fishing at Lockport Thursday night, on the East side of the river just below the dam. We only caught one small catfish, maybe 3 pounds. We had lots of bites, though, but the fish just wouldn't grab the hook. We were using shrimp and minnows, but had more bites on shrimp. Hope things pick up next time I'm out.
---
name: Kent Hollands
city: Grand Forks
Area: Comment
Date: Friday May 16, 2003
Time: 03:50:26 PM

Red_River
I was thinking about the meeting last night after I left so I drove down there and there are not many house left down in that area and I for the life of me can't fiurge it out. What the H$(( are the residents saying (increased traffic) H$(( they just got used to not having all the traffic they had in the past when the houses were still down in the lincoln park area.
And what about the fellow that talked about saving the forest area, I didn't know you could call a couple of old city blocks with the streets torn out a forest, does anybody else.
And about the possible South landing, DOWNTOWN what is up with that. It was like someone said at the meeting all the large boats that they see going down Belmont aren't the boats that are going to be on the river, its their neighbors that they see going to the big lakes. I would bet my life that there are more people driving down these areas to get to the local golf courses in town than would be driving to the boat ramp.
---
name: catfishhunter
city: Grand Forks
Area: Comment
Date: Friday May 16, 2003
Time: 02:47:52 PM

Red_River
What happened last night on the boat ramp issue is a travesty to all citizens, especially the way everything went down. Getting a boat ramp on the north end is only a small victory. The problem is that our politisians are not willing to take any heat. They will back down to a few angry residents who are only thinking of themselves. The greenway is for everyone and a group of fishemen went to battle to prove that. The problem is the decision was made behind closed doors before the fishermen could even present the combacks to the residents concerns. It is a shame that only a few outspoken people can force such a decision without hearing both sides. Democracy in action my foot!!
As a fisherman I feel like I was treated as a second class citizen even though we will be getting a new north landing. As Roger D said call your council member and tell them what you think. We you don't express your concerns now this will happen again in the future.
---
name: Roger D.
city: Grand Forks
Area: Comment
Date: Friday May 16, 2003
Time: 11:03:47 AM

Red_River
I forgot to mention the whole point of my previous is that if you are concerned with boat access in Grand Forks, call your local councilman in whatever ward you live in and let them know your desires. The boat ramp issue is up to all of us to get it to work.
Thank you.
---
name: Roger D.
city: Grand Forks
Area: Grand Forks
Date: Friday May 16, 2003
Time: 10:56:43 AM

Red_River
There was a meeting last night regarding boat access in ND. Good news and bad news. The good news is that the city has committed to getting a new north end boat ramp. The bad news, is that they are still caving into a small minority of homeowners in an "elitist" neighborhood. Their alternate idea is to put a boat ramp in the downtown area in the area behind the Chamber of commerce. This of course is only a couple of blocks away from the existing boat ramp on the East Grand Forks side. They are just proposing this mid town ramp to try and throw a bone to us. This is not acceptable. The greenway is public land, and we have as much right to determine how it is used as anyone. There are way more people affected by this than the handful of people who live in the Elks Drive/Lincoln Park area. All we are asking for is a couple of nice (usable) ramps on the north end and the south end of town. Coupled with the downtown ramp on the east side, all would be well. The greenway is huge, and all we are asking for is a couple of small sights.
---
name: Kent Hollands
city: Grand Forks
Area: Comment
Date: Wednesday May 14, 2003
Time: 09:53:21 AM

Red_River
Water temps up this way are still holding at or close to 54 dreg. We need some of the hot summer days to really turn the fishing on up here. Three of us were out last night and we caught nine cats all between 1 and 5 pounds. Can't wait until the water warms to about 65 thats when the big gals start really showing up. They are few and far between right now but give it time they'll show up.
---
name: Dennis Flom
city: Harwood
Area: Fargo
: icatchbigcats@aol.com
Date: Tuesday May 13, 2003
Time: 10:58:31 PM

Red_River
Fishing in the Fargo area is steady. We are catching 20-30 fish an evening with most catfish being in the 3-5 lb range. Most evenings we are getting cats over 10 lbs though. The water temp is slowly coming back up also. A week ago it was 62, but dropped over the weekend to 49 and now has come back to 58.
The river here is slowly rising and with rain to the south of here I would guess this will continue for a few more days. With the river moving upward the catfish are moving upstream. Below the dams are good right now.
Good Cattin!
---
name: Daryn
city: Selkirk
Area: Canada
Date: Monday May 12, 2003
Time: 02:16:38 PM

Red_River
I fished at Lockport this weekend and caught many catfish, they averaged about 20 inches and my son caught one at 26 inches. There are also alot of carp in the upper twenties, and a whole bunch in the teens. One fish broke my gamagatsu hook, I would have loved to pull that one in. All this was done just off shore. There were many boats out on the water hauling in alot of cats also.
---
name: John
city: GrandForks
Area: Comment
Date: Friday May 09, 2003
Time: 06:13:51 PM

Red_River
If you want to make a difference you need to have people quit littering our highways, where people see the garbage on the side of the road.You think there going to care where they dump beer cans on the banks of the river. We just have to many pigs out there, that dont care. It would be nice to have eveything looking nice and keept that way,the way it should be.
---
name: mike hedlund
city: egf
Area: Comment
Date: Friday May 09, 2003
Time: 04:07:09 PM

Red_River
Has anyone been up to Lockport yet?
---
name: Brad Durick
city: Grand Forks
Area: Grand Forks
Date: Thursday May 08, 2003
Time: 11:09:11 PM

Red_River
Decided to give the river another crack today. Fished for about three hours. Our group caught a nice 14 pounder and a smaller fish. A couple of other good strips. The season is really taking off as far as bigger fish go.
---
name: cateyepike
city: Grand Forks
Area: Comment
Date: Thursday May 08, 2003
Time: 11:07:01 PM

Red_River
I wanted to note to the pigs that I am fed up as well. I was at the north landing last night and tonight. Before I went fishing tonight I picked up about 15 beer cans from the landing area that were not there yesturday. this is getting really sickening people. PICK UP BEHIND YOURSELVES!!!!
---
name: rmattingley
city: Grand Forks
Area: Comment
Date: Thursday May 08, 2003
Time: 02:04:20 PM

Red_River
Hey, who do you call to turn in people who litter.
Please post the phone number, if enough people start watching maybe we can make a difference.
---
name: jason hill
city: grand forks
Area: Grand Forks
: none
Date: Thursday May 08, 2003
Time: 01:57:30 PM

Red_River
Had a pretty good day yesterday.Caught about five catfish on the red but ran out of bait.Does anyone know where i can catch some?
---
name: ibwhnt
city: Grand Forks
Area: Comment
Date: Thursday May 08, 2003
Time: 09:14:59 AM

Red_River
I don't think garbage cans would help out much. There already throwing it out, you think they have enough brains to walk and place it in the cans like they should. I was sick last night when I can off the river, I had to clear beer bottles off the road just so I could drive my truck around. They weren't there two hours earlier when I put the boat in. If I ever see anyone throwing beer cans bottles or any garabge at all I'll be the first to call the police, and If I have to write down plate numbers I'll do that to. Oh and we caught two small cats both about 2 1/2 to 3 lbs. Water temp 54
---
name: rmattingley
city: Grand Forks
Area: Comment
Date: Thursday May 08, 2003
Time: 02:57:30 AM

Red_River
WEll, been out quite alot lately, and have caught my share of gold eye. But I have hooked a few good sized cats. Usually fish with boat below the north dam.
Haven't caught a walleye yet, hopefully tomarrow is the day.
Hey, I wonder if It would help with the trash if garbage cans were put in at the boat docks, I realize its not an excuse to litter (to hell with those who do), but it might help.
---
name: Brad Durick
city: Grand Forks
Area: Grand Forks
Date: Thursday May 08, 2003
Time: 12:13:03 AM

Red_River
Boy did it feel great to get in the river for the first time this year. We fished for about three hours and only caught two fish. That was ok though because it was a nice night and I was on the river. By buddy caught the first fish of this young 2003 season. A great 16 pounder. If that is an indication of what the rest of the summer is going to bring, get ready for a great summer.
---
name: walleye nut
city: fargo
Area: Comment
Date: Tuesday May 06, 2003
Time: 04:35:09 PM

Red_River
I've heard that the walleyes have picked up again with the rising water. Anybody verify this??