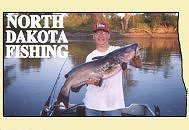 North Dakota Fishing
Red River Fishing Archive 8
Ed Carlson
Horace
Fargo
backwtr1@msn.com
Saturday May 11, 2002
10:32:12 AM

5/11/2002
Red River 15.6' Flow 1675 (casting crankbaits)
Even with the persistent and often discouraging cool weather the post spawn Red River walleye bite has been good to very good.
The presentation that I have found to be the most productive on the post spawn river walleye has been the use of rattling crankbaits as well as lip-less crankbaits such as a rattling shads. Wake them up and force a bite has been a good method for me. Smithwick rattlin rough as well as Millennium Look-Alike Rattlin shads have been my cranks of choice for these post spawn sleepy walleye. Black and silver patterns as well as high contrasting golden shiner colors have produced well for me.
The walleye are neutral at best so if you get their attention with larger noisy baits they will often spank it out of reflex even if neutral. High potential areas should be worked completely and persistently, eventually if they are there they will hit. I see a lot of larger then average fish hit the cranks on the first cast if run past the walleye favorite holding area.
Jigs have still been productive but far less so then cranks. You either have to butt drag the jig very slow or swim a bulked up jig fast to get the walleye to react.
Conditions are muddy so be suited up to get dirty when you shore fish or launch the boat.
Backwater Eddy
Good luck to all on MN fishing opener this weekend.
Have fun & Be safe out there folks!
><sUMo>
---
Chris Brown
Manitoba
Grand Forks
chrisbrown82@aol.com
Thursday May 09, 2002
09:07:12 PM

The Red River is not looking good for the fishing season ( May 11th 2002 )
I went to look at the river and the river has been at his lowest ever.
---
Dennis Flom
Harwood
Fargo
icatchbigcats@aol.com
Wednesday May 08, 2002
08:54:24 PM

The catfish are biting well in the Fargo area even though the water temp is STILL in the upper 40's. I have not fished a spot without getting some sort of "action" in the last week. The goldeyes are also biting well as I stopped at a spot today and caught 30 in about an hour.
The rain that we are getting now will only make things better. The river here is on the rise and the catfish will be feeding with the rising water.
Good Cattin!
www.catchbigcats.com
---
Canuck
Lockport
Canada

Tuesday May 07, 2002
11:50:11 AM

Lauched the boat at "Cats on the Red" this morning and NO problem. Stu made new ramps (double the width and much longer) The water temp is 45 Degrees and hundreds of cormants feeding on something. Even noticed a couple of larger fish roll on the surface in the main current. There were lots of fish showing up on the "fish finder" stacked up from the locks to about the Fort.