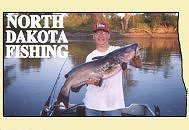 North Dakota Fishing Reports-Archive for the Red River

Current North Dakota Fishing Reports
Archive:
Scott McNamee
Grand Forks
scott@invoman.com
Monday August 13, 2001
03:37 PM

Kent,
I'm really sorry about that. I used the 'pre-fab' form wizard that came with FrontPage and it through in the 'go back' part....and I just forgot to remove it. I'll take care of it tonight.
To all: I would like to say this tourny was a BLAST! I was SO exhausted Sunday night....I couldn't stay up for the weigh-in. My wife puked all over me Saturday night from to much sun...(Why she couldn't use the bathroom on her side of the bed is anyone's guess...)
Anyway I learned how to 'hot wire' my boat. I caught the biggest catfish I've ever landed....17lbs 4oz....My boat worked GREAT after I got it started...I loved every minute of it. (Except the 3 AM spew across the bed!)
My wife and I were so excited when we caught that fish!...(we didn't weigh any fish in on Saturday.) I didn't weigh in any last year- at all. So when I got 1, I was happy. To FINALLY get that one in the boat was a thrill of a lifetime. We picked up anchor and hauled it in immediately to get it weighed. I was still shaking an hour later...
Enough about ME.
I see that Chad got 16th place?
CONGRATULATIONS CHAD!
Thanks again, Chad, for giving me some goldeye and suckers...I WON'T be without them again at a tourny.
Kent: thanks for driving the truck out for me. You guys are a class act!
I got REALLY reamed out by a fella on Saturday for driving to fast...he started yelling something at me...I slowed to idle...and he let me HAVE M***** F**** this and M.F. that and you guys are MF's and everybody is an MF and you Son's of B*** and on ad nauseum... I was shocked. Mostly that the guy had no more than 4 words in his vocabulary that weren't allowed on prime time TV. I had been fishing upstream from him that morning and could hear him yelling the same obscenities at the officials. Oh well, one bad apple. He could have said "can you slow down?". (Then again: I was 'knocked loose' by the official's wake, I just have a larger vocabulary, and a much longer fuse, and am not going to freak out over every minor inconvenience:>) Interesting how guys like Steve Hoffman takes time to say 'hi' and didn't get that worked up...and still won. Something to think about?
---
Jim @ Canuck
Lockport Manitoba

Monday August 13, 2001
08:31 AM

Fished the Red this morning form 6:30AM til 9:30 AM, landed 8 Cats with 6 of them over 34". All on frogs. The current has dropped and they are opening a 5th curtain on the locks and rumour has it that they are going to open them all to clear out the debris. The cats are still in the fast water and about 20 feet. Some of the best fishing this summer right now, give it a try.
---
Kent Hollands
Grand Forks

Monday August 13, 2001
08:08 AM

Sun was just like Sat. Very few hits, Never did find the big gals. We fish every spot we did during the summer. This was the First time out this year that I didn't boat a fish over ten pounds either day, Bummer. Anyway we ended Sun with five slots weighing in at a whopping 18.95 lbs. I think we ended with something like 31 to 32 lbs. Just didn't care.
Well like they say can't win them all but I sure wish we could have done better. Only thing we didn't try for bait was the kitchen sink, Just couldn't figure a way to tie it on the line with a slip sinker.
Scott McNamee
Grand Forks
scott@invoman.com
Sunday August 12, 2001
03:16 AM

Update-site is working again...link is up!
---
Scott McNamee
Grand Forks
scott@invoman.com
Sunday August 12, 2001
03:14 AM

As luck would have it....and I should have known by my catch today, and the problems with the boat this morning and the fact 'Chaci' is no longer on 'Happy Days'....well, forget the part about 'Chaci'....
Anyway, after defragmenting my hard drive I no longer have access to my own web site! It may be a server glitch, or it may mean I need to reformat my 'c' drive. I have been having EXTRAORDINARY problems with my computer: Locking up, errors, can't stay logged in to the internet for more than 3 minutes...etc.
That being the case...I cannot post my page I promised....about the 'game'. So I would ask you read the link I posted below if you received the 'secret' business card.
On to the tournament...!
Kent- how did you do tonight? I came in at my usual standing of 150th....but I believe I DO have a better tan than most of the other fisherman. I think some money should be dedicated to that aspect of the tourny...tans...OH...and 'miracle' boat starts. With those added...I've got 1st place wrapped up.
Chad is in 13th, I believe. I FINALLY met him tonight...It's always great to put a face with the name.
I met a fellow named Jamie Lembke....he's quite a character...I've seen him at the landing quite a few times. He's very interesting to listen to. He's been a top contender(sp?) for several years...So I listen VERY close.
I actually said 'HI!' to Steve Hoffman....I was looking for an autograph, but this '50 foot' rule between boats was tough. I couldn't throw my pen far enough for him to catch it....and my wife was using the pencil as bait...seeing as though nothing else seemed to work..ok, well, I DID say HI to him....
Based on what I saw/heard today. I am beginning to think that with any DRASTIC change in the weather, the Red River reverts to it's base. By this, I mean: the exotic baits: liver, shrimp, etc. DON'T work after a drastic weather change....goldeye, suckers and other COMMON river forage DO work. I may be way off on this...so others can help me, if I am.
That's all for tonight. I'm REALLY beat and need to go to bed.
Good luck tommorow Chad and Kent!
Scott
---
Scott McNamee
Grand Forks
scott@invoman.com
Friday August 10, 2001
07:50 PM

Jim,
Thanks for the report. I see over on 'fishin' talk' on 'fishingbuddy' you kinda came right in the middle of a battle over slots.... They get kinda 'loud' on that page...but that's EXACTLY what that page is for. Opinions.
Jim, I'm going to have to plan a trip up there with JC Heff on fishingbuddy and a few other guys from work when the walleye run starts. Stay in touch. I got my first trophy walleye bankfishing down at the North Landing in Grand Forks 2 years ago in the late fall....so I know the fall fishing is great on the river.
Scott
---
Jim @ Canuck
Lockport Manitoba

Friday August 10, 2001
06:55 PM

Fished the Red at Lockport from 11 AM til 4 PM. Landed 5 Cats, all on frogs. My partner used goldeyes and sad to say got skunked. The current is fast but it dropped about 8 " during the day today. The cats were all in fast water and deep.
---
Scott McNamee
Grand Forks
scott@invoman.com
Friday August 10, 2001
04:16 AM

Chad,
We are team #82
---
Chad LaFave
Grand Forks
cvikes80@qwest.net
Thursday August 09, 2001
09:27 PM

Finally.....
Power is restored..
Scott, that was one whopper of a storm! I was in my garage with my dad getting the boat ready for the big weekend and the sirens started. I was very fortunate to only lose power for 15 hrs. My dad wasnt as lucky. I spent the day over at his house removing trees from his roof. He was real lucky for not having any major damage to his home but wow what a mess. All the neighbors joined in the clean up and were so very helpfull. We couldnt have done it without them!!
Scott.. you can have the muddy ways and lack of decent parking that the north provides for i get altleast an extra hour of fishing with not having to land the boat early to make the 4:00 time line.
I do love the secret bait comment. I love the competition and how one trys so hard to have an edge. I also have a few tricks up my sleeve but I only hope they still work 31 and a half hours from now.
Good luck this weekend at LaFave Park! I will be watching the board to see where everyone is. What is your guys team numbers? Ours is 58.
Later,
Chad
---
Scott McNamee
Grand Forks
scott@invoman.com
Thursday August 09, 2001
06:20 PM

Here's a secret!
I have an unpublished web page that I will link to here:
http://www.invoman.com/game_1.htm
It WILL be published Saturday evening.....
A 'heads up' for those who read these reports....
---
Scott McNamee
Grand Forks
scott@invoman.com
Thursday August 09, 2001
04:04 PM

Well Kent and Chad and others fishing:
Only about 36 hours till the start of 'one of my favorite excuses for buying more fishing stuff' weekends....hehe!
I'm am SO MUCH looking forward to seeing all you guys this weekend. Last year I placed 150th, that's right...dead last- we only caught one fish, and we threw it back.
I want to thank all you guys who are posting and building this site up. I have made up tee-shirts for me, my wife and my baby girl to wear at the weigh-ins. They say RED RIVER FISHING. www.invoman.com. I'm also printing up some business cards to promote this site, saying the same thing.
All of you should know this: I wish this site to be about content...that is fishing the Red River. At this point, I am not trying to make any money here. That's not why I started this site. I did it for fun....like fishing. I PURPOSELY chose a smaller font for my classified on the homepage because I did not want it to take precedence over the content of this site. If you have a classified ad...send it to me and I'll start a classified page.
You have my word, that I will NEVER charge any of you for access to this site or a membership fee. If I feel the site is starting to become WORK, I will seek advertisers. It's YOU guys that will make this site work; I'm just a coordinator...I'm not going to bite the hand that feeds me, so to speak.
Well enough of the soapbox...
There are ONLY 52 boats going North this year!
YEE-HA!
Chad, did you reserve your parking spot?....it's going to be crowded on the south end....just teasing.
Kent, If you happen to see Steve Hoffman, could you point him out to me? I am DYING to know if it's the same guy I went to junior high school with, in Illinois.
Mr. Dokken: I know you are lurking....speak up and say 'HI'.
One last word: I wish to thank God that no-one was killed during that storm last night.
Scott
---
Kent Hollands
Grand Forks

Thursday August 09, 2001
07:28 AM

Well, I made it thourgh the storm. Crazy to have winds like that. I'm sure that there we be at least a couple of new snags to fish after that. Come on know scott can't you give us a little hint on what your using hehe. I know what you mean, just like I told you about the photos, remember. See you on the water Sat.
---
Scott McNamee
Grand Forks
scott@invoman.com
Wednesday August 08, 2001
05:53 PM

I'm back and they are biting, although you have to have the right bait....I went through the whole list and then finally got one bait working so good I brought 4 cats in within an hour, in the middle of the afternoon.
The first time I threw the bait out, it had barely hit the bottom and then WHAM!.
Every cat I caught was larger than the previous. 2 females and 2 males.
By now I'm sure many of you are asking 'what is THAT bait?"
Well...
It IS only 3 days before a large tournament, and since I and my wife are participants....I think I'll wait till Sunday evening to release this information.
They blacktopped the 'hump' this morning, but the banks are really muddy. The water is way down again and still dropping ,I believe.
I post more in the next couple of days....not enough to give away anyones secrets, though.
Good Luck to all Catfisherman/women this weekend!
Scott
---
Scott McNamee
Grand Forks
scott@invoman.com
Wednesday August 08, 2001
04:22 AM

I'm going out this morning, hopefully I will have a report of some big piggies that have decided to have breakfast with me.
---
Chad LaFave
Grand Forks
cvikes80@qwest.net
Monday August 06, 2001
09:21 PM

Bait Man,
How many frogs do you guys have left and how many do you plan on recieving?
Thnx, Chad
---
Jim
Lockport Manitoba

Sunday August 05, 2001
10:12 PM

If Bruce reads this prior to leaving for Lockport, bring lots of weight. There are 3 full curtains open in the locks due to the high water. The cats have got over their lockjaw and are hitting early morning and then again in the evening. The days are very hot and it is just as well to sit back and relax during the mid day. Frogs are the bait of choice right now with some doing alittle with shrimp. Goldeyes are hard to come by now right now due to the high water. Did good the last couple of days in the fast water, if one can anchor. Good luck.
Jim.
---
Bait Man
Cabelas
jealm@hotmail.com
Sunday August 05, 2001
07:56 PM

Scott,
I've been feeding the frogs dead frog parts as food, maybe I shouldn't do that huh? Just kidding! Keep up the web-site and good luck on the water!
---
Kent Hollands
Grand Forks

Sunday August 05, 2001
06:59 PM

Ha Scott, looking pretty good, Its really starting to shape into a great web page. Thanks, I'll try to send you some photos here in a while but I have to take some of the back ground out of them. Secret Spots Sorry Can't give them out. Talk to you guys more Tommorrow.
---
Scott McNamee
Grand Forks
scott@invoman.com
Sunday August 05, 2001
04:34 PM

Ok, NOW I have 39 frogs! I added a link to a photo gallery of my CANNIBAL FROGS on the homepage....If it wasn't so funny, I'd be ticked off.
GRRRRR....
Maybe I should be buying more crickets?
---
Scott McNamee
Grand Forks
scott@invoman.com
Sunday August 05, 2001
01:07 PM

Well, I've got about 40 frogs now. Cabelas has them for .50 cents apiece, which is pricy, but still better than none. I have my 2 big frogs in a seperate container now...so they can't munch down the smaller frogs.
I put about 3 dozen crickets in about an hour ago...and talk about a FEEDING FRENZY! They will only eat live crickets....so don't scimp on food- buy the live crickets, or catch them yourself.
The river has dropped about 1 foot since yesterday, at this rate the ramp should be usable for the tourny. The shoreline is going to be VERY muddy, though.
I read the changes for this year, and it said security was available at both ramps FRIDAY and Saturday.
Does that mean that we can launch our boats FRIDAY at the North Landing? If not, why the need for security?
Has anyone had any luck on these waterdogs they are selling?? I had a few bites yesterday on mine, but mostly nibbles. Anyone else have any luck?
I will be fishing a lot this week, it seems, according to today's paper, that Steve Hoffman, the editor of Catfish Insider is going to fishing the North Landing....talk about PRESSURE!
Let's have fun this year and enjoy ourselves and be courteous to one another. That is what Catfishing AND this area of the country is all about!
---
Bruce
Faargo
bruceLaaneD@aol.com
Sunday August 05, 2001
06:27 AM

Nice webb page Scott. Thanks for setting it up. It is great to get information out on Red River fishing. I have been fishing the Red the past 3 years and really enjoy it. I have gotten to enjoy fishing on the Red more than the Minnestota lake fishing! My sons and I are headed up to Lockport to fish for big cats on the Red tomorrow. I will report on this when I get back later this week. Bruce
---
Scott McNamee
Grand Forks
scott@invoman.com
Saturday August 04, 2001
09:34 PM

Whew! was it hot today or what!
Chad- I see you 'figured' me out on that web site....
Anyways....it's gonna be hot again tommorrow....keep that bait alive!
---
Scott McNamee
Grand Forks
Saturday August 04, 2001
09:31 PM

Whew! was it hot today or what!
Chad- I see you 'figured' me out on that web site....
Anyways....it's gonna be hot again tommorrow....keep that bait alive!
---
Chad LaFave
Grand Forks
Saturday August 04, 2001
07:47 PM

Wow, i cant believe how high the water got! I wonder what the South landing looks like. I havnt even left the house today because of the extreme heat. I will be going out really early tomorrow morning to try and catch a little goldeye.
I bought a dozen frogs from Home of Economy just before you went in and the guy asked me if i wanted the big one, I said no but the strange thing is that i havnt went fishing yet and i only have 9 frogs left...hungry critters.
Chad
---
Scott McNamee
Grand Forks
Saturday August 04, 2001
11:21 AM

Well, I went out this morning and I couldn't believe how high the water was! We needed to launch the boat quite near the top of the driveway. There was only 1 boat on the rivewr when we got there.
I am getting very concerned about the landing for next weekends tourny....
That being said...we went about 6 miles north and fished all morning. Lot's of bites...but only one taker. On chicken liver. The current was very fast.
When we landed, there were only 2 more boats on the river. Very odd for the weekend before the tourny....
By the way folks, if you want to make a new paragraph...hit enter 2 times and it will make a new paragraph.
---
Chad LaFave
Grand Forks
Thursday August 02, 2001
10:32 PM

Yea no prob buddy delete away :)
---
Scott McNamee
Grand Forks
Thursday August 02, 2001
05:14 PM

Chad, I'm getting ready to reload the reports page and reformat. I'm going to delete all the old messages and start new....is that ok with you?
I'll do it probably Friday night....