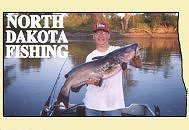 North Dakota Fishing Reports-Archive for Red River 15

Current North Dakota Fishing Reports
Archive:
Chad LaFave
Grand Forks
Grand Forks
cvikes80@gra.midco.net
Wednesday August 21, 2002
06:57:43 PM

man its still that slow? the high water in july must have really had an adverse effect on the fall fishing...usually they are biting well this time of the year. Im gonna have a go at them this weekend. I'll let you know how it goes.
---
Backwater Eddy
Fargo/Horace
Canada
backwtr1@msn.com
Wednesday August 21, 2002
05:54:31 PM

Jason you got the right areas in mind, most of the rock bars near the dam will produce. The spillway area may also be a good bet under higher water conditions too. The rip-rap is another, especially in sections where the backwaters and the main flow meet up. I also have flopped floats in the main flow off the gates and seen sumo's bust them hard even at the top speeds of the curents, you just rig a bit more weight below the float is all.
Keep in mind that conditions change often and can change in a hour or less at times. Be flexable and keep your eyes open to what the gulls and the cats are telling you. (HINT) ;)
Rule of thumb is start shallow and work your way deeper for active fish. Set your float stop at 6" and see what happens, then 12", and so on.
We seen the float bite go from bust to boom in a hour and then bust loose again, so conditions make a big difference in when and if it takes off.
Good hunting!
Ed
---
Jason
Brandon
Canada

Wednesday August 21, 2002
05:36:49 PM

Eddie, Just out of curiosity, I was out the Friday before the tourny. I noticed a boat on the East site of the River accross from Cats on the Red using a technique as you are describing. As I have only used a basic technique to catch Cats, this intrigues me. I will be back at Lockport on Saturday and wouldnt mind giving "corking" a try. I see the fish that hit the top of the water, not knowing any better I assumed these were a different species of fish. Generally what depth do you "Cork" at? Last week we fished from 11AM to 11PM, the daytime fishing was rather dissapointing, is it worth putting off the day fishing to extend fishing into the night? Congrats on your success at the Tourny!! Take Care Jason
---
Kent Hollands
Grand Forks
Grand Forks

Wednesday August 21, 2002
07:44:36 AM

Brad your right. We had six lines in the water and not one fish in 2 1/2 hrs of fishing. We did have two short peels but that was it. NOTHING Hope the fishing improves shortly
---
Brad Durick
Grand Forks
Grand Forks

Wednesday August 21, 2002
07:27:36 AM

Went North on Tuesday evening with my wife. Fishing was pretty slow. I had two hits but nothing with any power to get a decent hook up. Didn't land any cats but I had a good time tooling down the river with the wife.
---
Backwater Eddy
Fargo/Horace
Canada
backwtr1@msn.com
Wednesday August 21, 2002
03:21:36 AM

Ok Canuck I will spill the beans on what we were up to. :)
What we noticed that tipped me off to what the sumo piggys were up to was big chubby cat tails busting water on the up side, or push area, on the rock bars in the shallows. There were cats all over the shallows as the river rose due to the hard North winds, but the bigger cats were sitting at the head of the hog trough.
Most "Corking" is a slip float rig, or a set float rig, with 10-14" of leader set from a swivel, we opted for a slightly different rig for the conditions we seen.
We found that rigging a 10" slip float with a 3/8-1/2 oz bullet weight, a bead, and a piece of surgical tubing to protect the knot above the large swivel produced far less hang ups.
The big difference in our rigging was the leader length and hook choice. In my opinion this was the reason we pulled so many piggys off the bars that were snubbing our shorter rigs. Our leaders were 3-4 feet long and tipped with Gamakatsu 6 to 7 O/T octopus style circle hooks.
Our main line was 30-40 pound Berkley FireLine or Berkley Big Cat mono and the leaders were 20-30 Berkley Big Game or Teflon coated Dacron in the 25-pound range. Good quality Teflon coated Dacron will act as a shock absorber to hard busting strikes and I think they are less suspicious of the Dacron for some reason.
We chose to use long rods to control the drift of the baits across the push edge of the rock bars, they helped a lot. My personal favorite was an 11' #3 weight ABU Euro Boron Predator rod spooled with #30 FireLine Hi-Visibility line. My partner Shanon chose to us n 11" Pete Maina Signature series muskie Trolling rod & Maina baitcast reel combo with #30 Berkley Big Cat mono.
By zig-zag surfing the frogs and cut baits on the extra long leaders into the push area of the bars, the floats and weights stayed clear of snags while the baits surfed up on the shallow bars were the cats were backed into waiting for food to wash by. They exploded on the baits as they floated over and often cats came out of the water much like a big pike would on a surface plug.
Yup-Yup, it is a whole heap of fun!
As Big Shanon would say....Ahhhhh.....Cork'n sucks!
;)
---
Canuck
Lockport
Canada

Tuesday August 20, 2002
04:57:46 PM

Backwater Eddy may recommend Lockport but I would like to recommend him to anybody who wants to fish in the Fargo area. This guy had the stamina and I mean stamina to throw many a cat back that others would have weighed in. This guy can fish. Ed, if you could please comment on the corking you did so that others may learn this technique. I know you taught your partner this method while up here and you see the results. Shawyne was go good sport and I will remember his saying for many a year.
---
Backwater Eddy
Fargo/Horace
Canada
backwtr1@msn.com
Tuesday August 20, 2002
07:44:39 AM

We-We-We.......Gitty Up Go Piggy!
Man did we have a BLAST up at Stu's the past week! Weee--Haaa!
I tell ya you just can't beat going toe to toe with 15-30 pound cats in 1-3' of water.....~SPLAOOOOOSH~.......Piggy on. UF DA!
I would like to thank Stu, Dan, and crew for the outstanding service and also for putting on a whale of a catfish event. Great folks and tons & tons of sumo piggys, hay man ya just can't beat that with a stick...Eh.
It was a challenging event that I will not forget, what a close one. We averaged 60+ big cats a day Saturday and Sunday but that one 27+ we needed just wouldn't let us get her to the boat. Maybe next year?
You can bet we will be back and ready to compete and have fun again. A great event and I would HIGHLY recommend fishermen who love big fish look to enter in 2003; you will never regret it...Eh.
Thanks again Stu & crew!
Ed Carlson (AKA) Backwater Eddy......><sUMo>
Backwater Guiding "ED on the RED" 1-701-281-2300 backwtr1@msn.com
---
"Cat"illac man
lockport,mb
Canada
redcats@mts.net
Monday August 19, 2002
06:44:23 AM

The final results for the 2002 "Cats On The Red" "Catfish Classic" are: First place; team - Opatz & Vendel from Scott County,Mn. This team lead the tourney after day one with 99.25 lbs. and ended up with a two day total weight of 183.30 lbs. for the event. This translates into a fraction under a twenty three pound average. What a performance! Second place; team - Carlson (Backwater Eddy) & Bredeson of Fargo,Nd. Ed & Shannon posted a two day total of 181.62 lbs. Way to go! Third place; team - Manitoba; This team made up of White & Harris of Brandon,Mb, also had an impressive two day total of 180.50 lbs. Well done! There were many other impressive weights turned in by the rest of the field, so many in fact, that it just isn't feasible to post all of the results. Overall, the event was a tremendous success and I would like to extend a very sincere thanks to all the competitors. I would also like to thank the tourney's official weigh-boats, without their tireless efforts this tournament would not be possible. Thanks gentlemen! Last but not least, thanks to all the sponsors who supported this event. For those wanting information for next years tournament you contact Dan at (204) 668-5831.
---
scott mcnamee
Grand Forks
Drayton
scott@invoman.com
Sunday August 18, 2002
06:29:18 PM

Sure Chad:
Ramp conditions are a little worse than the North Landing, and although it has a kind of a gravel base, you needed a 4x4 on Saturday if you had a heavy boat.
Boundries are 2 1/2 LAND miles south and 1 1/2 to the north, again these are land miles...it's more like 6-8 miles of river.
We caught and released a cat just over 5lbs. It didn't even take the clicker...it was just tapping and I set the hook. The fish barely struggled. And mean BARELY.
One interesting twist...is that you can use treble hooks, and for all practical purposes-2 of them. There are no restrictions beyond normal NDG&F regs.
Another rule that was absent was the 'no wake' rule.
I'm pretty neutral on that. On the one hand, it's nice for those who can't anchor well, and on the other hand...it's pretty nice being to get to where you want in a hurry. The river is pretty wide, so closeness to other boats is rarely a problem.
---
Chad LaFave
Grand Forks
Drayton
cvikes80@gra.midco.net
Sunday August 18, 2002
01:07:48 PM

Thanks Scott for the update. What are the ramp conditions up there? Did you need a 4x4 to launch? Im thinking on making a trip up there before the snow flys to do a little scouting around? What were the boundry lines for the tourny? Any info is appreaciated. How big was your fish?
---
scott mcnamee
Grand Forks
Drayton
scott@invoman.com
Sunday August 18, 2002
07:47:40 AM

Fished the Drayton tourny yesterday.
The wind was terrible. It is rare to see whitecaps on the river...but it was BIG whitecaps..all day. Anchoring was very difficult because the wind ket pushing us upstream.
The fishing was slow...as usual....but almost every team (including ours) caught at least one fish. The radio update was a nice feature.
I think winning fish was 17lbs or so. 2 local teams took first and second.
Drayton is a difficult area to fish. Very little structure. (And what structure there was...was usually taken/occupied the majority of the day.)
I like the shorter format. 10am to 4pm. Although fishing is usually better in the early morning, a 6 hour tourny is nice.
I will definitely be fishing it next year.
---
Chad LaFave
Grand Forks
Canada
cvikes80@gra.midco.net
Sunday August 18, 2002
06:47:45 AM

Thanks for the update, I was wondering how it was going up there. Wowser those are some big cats. I also was wondering how the Drayton tourny went?
---
"Catillac"man
Lockport
Canada
redcats@mts.net
Saturday August 17, 2002
06:03:41 PM

For those that are interested, here are the top fifteen teams day one total weight for the "Cats On The Red", "Catfish Classic". Weights are to the tenth decimal... (This weights are based on the teams best four fish total). Team 1: (99.25 lbs.) team 2;(95.90 lbs.) team 3;(95.75lbs.) team 4;(90.50 lbs.) team 5;(89.50lbs.) team 6;(89.30lbs.) team 7;(88.45lbs.) team 8;(87.30lbs.) team 9;(87.25lbs.) team 10;(86.65lbs.) team 11;85.85lbs.) team 12;(85.10lbs.) team 13;(84.45lbs.) team 14;(83.70lbs.) team 15;81.65lbs.) The largest Channel in day one belongs to team two, it tipped the scales at 32.60lbs. One mighty big Channel cat. The weather for day one of the tourney was simply the lousy. Very strong winds coupled five hours of relentless rain. This never dampened the competitors spirts, besides the fishing was fantastic! Final results tommorow!
---
Canuck
Lockport
Canada

Saturday August 17, 2002
03:52:15 AM

Jason glad to hear you made it out for cats. Jason & Adam: about goldeyes, well they have been very fickle this year, just last Sat they were plentful but since Monday I haven't been able to catch a single one. They seem to come and go. The commercial fishermen this spring said they weren't any as well.
About Frogs and where to get them well, Give the floodway hayfields just west of the Lockport bridge a try but usually that is only real early in the morning.
I am just headed out to act as a weigh boat for the derby so have to run, if any derby entries are reading this GOOD LUCK to you all.
---
Jason
Brandon
Grand Forks

Saturday August 17, 2002
01:24:07 AM

Cancuck and "Catalic Man", Thanks for the great advice! Its 3:30 AM and we just got home. The current was not a worry in the least and the fishing was great. We stayed out until around 11:30PM. The Cats were hammering frogs from late evening up till when we left. We actually never had too much luck through out the day. Is the night fishing best up by the Locks? We ended up in the middle of the River straight out from the Selkirk Park boat launch and had the most success there to end the night off. I hope to be up again very soon. I will put in at Cats on the Red to do our evening and night fishing there. Everyone got at least one masterangler, and we all had a blast! For future trips, we got all frogs from the creek at Selkirk Park is there an area closer to Lockport where they can be found in abundance? Good Luck to all in the tourny and thanks for all the advice and encouragement!!!
After reading all about Goldeye here, how does one go about catching them. They are not a common species in the south western area of Manitoba. I take it it is the Goldeye you see on the surface all down the Red. Thanks Jason
---
adam
winnipeg
Canada
ale@shaw.ca
Saturday August 17, 2002
12:01:42 AM

everybody's making a fuss about the cats right now but i want to know where i can catch some goldeye.i haven't caught one since july and i've been trying every weekend since the begining of august.any advice would be greatly appreciated,my grandfather wants me to bring him some to smoke.
---
Scuba
Winnipeg
Canada

Friday August 16, 2002
08:36:19 PM

Went out on Aug 9th and the cats were more than eager we caught 12 in 4 hours only two were under 20 lbs. Shrimp was the choice bait for us. The guy that I brought out had never caught cats before so needless to say he had a blast. Take care and see you aroune eh ?
---
Chad LaFave
Grand Forks
Drayton
cvikes80@gra.midco.net
Friday August 16, 2002
04:47:51 PM

Hey thanks for replying Kent. The way the weather is shaping up it looks to be more work then its worth. We should hook up sometime though, before the snow flys? Have a good weekend of getten the crapola done.... I know the feeling and truthfully it never ends.
Take care,
Chad
---
Kent Hollands
Grand Forks
Grand Forks

Friday August 16, 2002
06:59:04 AM

Chad thats a great offer. I would love to go but there are things at home that I have put off for over a month. Hope you find someone, if I wouldn't have had to work on the house I would have jump at the offer.
---
Canuck
Lockport
Canada

Thursday August 15, 2002
08:44:24 PM

Jason: Do not worry about the current, your anchor should hold you no problem. We fished from 3:30 til 9PM tonight and landed 22 (all on small frogs) with several break offs. If you have electronics fish the main channel, if not no problem, watch the bouys and fish between them. One of the best areas for monster cats is infont of the cabins at the Cats on the Red about 40 ft from the west shore. I will not be out on the Red on Friday and don't worry about all the boats for the tournment as there is LOTS of room. One thing.............ENJOY yourself.
---
"Catillac"man
Lockport
Canada
redcats@mts.net
Thursday August 15, 2002
08:09:49 PM

Jason from Brandon, Just a quick and accurate update that should help you enjoy a successful trip on the Red. In a nutshell, the river is in as finest shape as it's been all season. Conditions couldn't be better and the Cats are simply tearing up Frogs, Goldeye and Shrimp. When presenting frogs it isn't nessesary to use them live, the humane method is to quickly dispatch the frog before baiting up. Dead frogs are every bit as productive! By Far, the most productive area on the river is areas directly below the dam and also the first half miles downriver. This area has produced so many monsters this past week one simply had to be there to fully appreciate it. My prediction for this weekends "Cats On The Red", "Catfish Classic"is 190+lbs. to take first. It wouldn't unreasonable to suggest a weight exceeding 200+lbs.to win it. This is based on four fish per day, eight total for the tourney. Good-luck Friday & Good-luck to all the competitors this weekend.
---
Chad LaFave
Grand Forks
Drayton
cvikes80@gra.midco.net
Thursday August 15, 2002
08:07:34 PM

I'm interested in entering the drayton fishing tourny. I have a Bayliner for a boat fully geared for the Red. What im missing is a partner. If anyone is interested please feel free to me. half the gas used in the boat and your entry fee is all unless you wanna hitch a ride with me you can help on gas that way too. I need to know asap cause i will have to go get the bait tomorrow night.
Chad
---
Beau
Minnesota
Grand Forks

Thursday August 15, 2002
01:54:24 PM

This Tuesday was my first time really fishin the Red River and i was just fishing off of shore. Within a half hour i had cought 3 decent size cats and one 35in. it weighed 17lbs! It was the biggest fish that i have ever caught!
---
Jason
Brandon
Canada

Thursday August 15, 2002
01:28:06 PM

Ok, Im finally making it out this Friday! I have heard several stories from several people. As I can only make it in for the day, I dont want to spend too much time going up and down the River. When ever I have gone up to Lockport I have put in at Selkirk Park. Some have told me that the Cat fishing is just as well down by the Selkirk Golf Course. From what Ive read here, I might as well just go up by the Locks. Could anyone give me a good idea as to where I should start. I would like to make out day of Cat fishing an efficient one.
We have never gotten close to the locks, generally the closest we have gotten is to where the spillway enters the Red. We have a 20lb anchor, with 100 ft of anchor line. We also have found we have trouble anchoring in the higher current areas. How far up can we safely anchor with a 17'5 Lund fisherman / 130 Honda and 4 people?
I would appreciate any information on which areas to approach first. I assume the River will be fairly quite as a result of the night before the big tourny?
Also for bait.... we plan on bringing Frogs, Jumbo Shrimp and Sucker belly. I assume this is sufficient. If anyone has any advise on how to make this a successfull day I will be in debt to you!
If your out on Friday, theres 4 of us guys in a white/black Lund fisherman with a 130 Honda! Good luck to all in the touny! Thanks!!!!! Jason
---
Randy
Birtle
Canada
mistyvalley@mts.net
Wednesday August 14, 2002
09:17:52 PM

Just came back from fishing cats on the red with cat-eye outfitters.
FANTASTIC!!! It was incredible.
two of us were treated to over 40 big CATS 17 of them were MASTER Anglers. we used these great big frogs and I'm sure that we caught 3 to 1 to any other boat on the water. Dan knows the river, he took us to some amazing holes.
when we came off the river our arms were tired. Most amazing fight I've ever had (with a Fish). Dan was a Joy to fish with, Treated us EXTREMELY good. He took dozens of pictures for us, then took us on a sight seeing trip up stream. He was a wealth of fishing information.
HE supplied us with trouble free tackel and fishing. A REAl PLEASURE> I highly Recommend Cat Eye Outfitters to any body wanting to catch some truly amazing fish.
we already booked a walleye trip for later this fall and another cat trip next year. DO IT you'll LOVE IT> Randy.
---
Chad LaFave
Grand Forks
Grand Forks
cvikes80@gra.midco.net
Tuesday August 13, 2002
04:40:02 PM

Just a quick question. I was wondering if there was going to be any more Wednesday night fishing league this year? I would like to get involved if there is.
Thanks,
Chad