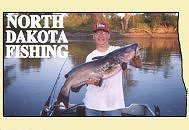 Fishing Reports-Archive
Current North Dakota Fishing Reports
All Current Fishing Reports
The Archive of Fishing Reports
name: JJ Fjeld
city: Grand Forks
Area: Grand Forks
: win4win@aol.com
Date: Sunday July 27, 2003
Time: 10:48:57 AM

Red_River
When I choose to keep some cats for the dinner table I always fillet them. 2-4 pounders make the best table fare in my opinion. Anything much bigger or smaller goes back in the river. Make sure you have a sharp fillet knife.
As for catching more cats....try using those goldeye for cut bait.
Good Luck! JJ
---
name: first timer
city: fertile
Area: Other area
Date: Saturday July 26, 2003
Time: 10:28:13 PM

Red_River
I just wanted to know how you prepare catfish for eating. I have heard several methods and would like to know the best one.
p.s. while fishing, I got bit by mosquitos the size of chickens. I could have shot them with a shotgun!!!
---
name: first timer
city: fertile
Area: Other area
Date: Saturday July 26, 2003
Time: 10:05:53 PM

Red_River
My dad and I went out catfishing where the Goose River dumps into the Red River. We caught lots of goldeye and sheephead but only a few cats. We got one that weighed about 1 1/2 pounds, one 3 pounder and a 4 pounder. I lost one that must have been a 10 lb. plus fish. All we used for bait was crawlers on spinners with 2 oz. chain sinkers. Anybody got any tips that will help us catch more big cats?
---
name: njsimonson
city: Valley City/G. Forks
Area: Grand Forks
: njsimonson@hotmail.com
Date: Thursday July 24, 2003
Time: 10:53:12 AM

Red_River
Can anyone tell me where "fisherman's park" or an area similarly named is located? I have heard that it is near Crookston, MN, but I forget the exact city that it is in/near.
me re: fishermans park at my listed address if you can help, or just post it on this website! Thanks!
---
name: Brad
city: Grand Forks
Area: Grand Forks
Date: Thursday July 24, 2003
Time: 09:36:42 AM

Red_River
Went out for the last couple hours bite and never really got on fish. The biggest was 9 pounds. Visiting with other people and watching; there were some great fish being pulled out last night. We are on an incredible bite right now, the luck and location just wern't with me last night.
---
name: TAZ
city: Thompson
Area: Grand Forks
Date: Thursday July 24, 2003
Time: 09:19:16 AM

Red_River
I just thought everyone would like to know that the catfish are hitting hard, we fished all day sunday and the smallest was 8 and the biggest was 14, cut bait worked the best
---
name: Brad
city: Grand Forks
Area: Grand Forks
Date: Saturday July 19, 2003
Time: 05:33:47 PM

Red_River
Did some tournament prefishing today. Had a great day. Ended up with (2)16#, (3)13#, 6# and (4)20-24inches. Hits were few and far between after 11AM but when a fish bit it bit with authority.
---
name: Jim
city: Fargo
Area: Fargo
: eagle7116@cableone.net
Date: Saturday July 19, 2003
Time: 12:08:44 PM

Red_River
Another update. South Dam again on Friday evening until dark. Bites were less, but one 9.2, and another 7.4, so the river is producing well. Good luck to all.
Jim
---
name: Jim
city: Fargo
Area: Fargo
: eagle7116@cableone.net
Date: Thursday July 17, 2003
Time: 11:48:07 AM

Red_River
Went out below the South Dam on Wednesday evening with a buddy. Had pretty decent luck. Cut drum worked for us. I caught a 7.8 lb, 16.4 lb, and 7.0 lb. My buddy lost a monster because he still thinks leaders help when catfishing. He coiled the end of a 30 lb. steel leader for the 4th time. I think he is finally done with leaders. The fight was much more than my 16 lb'er. Flow is down to 2,700 or so, and 2 oz. weight above a small bead stop with about 20 lag time to the hook seemed to work best.
The monsters are lurking. I had two line snappers also from 5:30 to about 9:30 pm. Snapped 30 lb. Pro line, but I keep my drag too tight, so that is responsible for most of those losses. I am still learning. First year for me, and I fish completely different than I did in the early season. I have just shore fished at the South Dam this year, but have caught 39 cats for 227+ pounds of cat with the largest going 17.3 lbs. Still looking for my first 20 lb'er this season.
For those just starting out like me listen to some of the technical posts to get your setup's right. These monsters will test your equipment, and good setup's can be the difference between a memory you won't soon forget, or a nightmare you won't either.
Good luck this is the best time of the year. Bring your boots the path is a bit muddy, but the rewards await you.
Jim
---
name: Brad
city: Grand Forks
Area: Grand Forks
Date: Wednesday July 16, 2003
Time: 12:07:12 AM

Red_River
Hit the river for a couple of hours this evening. The fishing was fair. Not as much action as the weekend. Ended up with six fish with the biggest being 10lb. It seemed that the fish really didn't turn on until right before dark. Wish I could have stayed for the real action, but you know that work thing gets in the way of good fishing.
---
name: Kent Hollands
city: Grand Forks
Area: Grand Forks
Date: Tuesday July 15, 2003
Time: 10:25:36 AM

Red_River
Scoot, getting ready at least tryen. Starter broke on my moter so I keep tryen different things to hold it in place. First I use a crushed up pop can that held for about a full day of fishing. This time I went out to the farm and got this 3 inch washer and tappered one side to help strighten the starter so it can engage to flywheel. What a pain but I think I have it know. Anyway I'll be fishing a couple evening up until the first weekend Kolby and I are starting to get geared up for it. We went looking for frogs out at Kevins the other night and didn't see one yet. Has your old man been getting any yet and if so where want to freeze the so I have them on hand. Call or me and will see if we can hook up.
---
name: mugu
city: mugu@guyman.com
Area: Wahpeton
Date: Monday July 14, 2003
Time: 10:39:06 PM

Red_River
i don reach here
---
name: Scoot
city: Fargo
Area: Fargo
Date: Monday July 14, 2003
Time: 06:40:14 PM

Red_River
Kent,
Sounds like a good outing. I want to get up there and hit the water with you soon. It's been tough getting out too much lately. I've been trying to hook up with Jordahl too, and that's not going so well either. Are you getting all geared up for the tourney in a couple of weeks? Good luck in preps for that. Scoot
---
name: Backwater Eddy
city: Horace
Area: Fargo
: backwtr1@msn.com
Date: Monday July 14, 2003
Time: 05:01:17 PM

Red_River
This spring we seen a lot of talk of drought here in the region. Well all I can say is, "It's kinda wet for a drought year"?
Recently we have been hit with one heavy rain after another causing high water. The past week or so was difficult to access on most of the Red here stateside. Since then the Red has fallen back into it's banks and is clearing very nicely.
We should see a steady increase in catfishing activity now. Spawn has come and gone, high water fattened them Piggy's up, now they are back in the River ready to Rock.
Mid July through tell late fall is top time to hunt Red River trophy catfish. The best big cat'n is fast approaching on all of the Red River basin.
The Fall walleye bite generally slowly begins some time in September. The bite progres's up the Red and will just get better as it gets cooler. Most seasons we are stacking walleye well into November.
Rivers are well known for rapid change, especially the Red. This makes it all that much more interesting, and challenging. The best is yet to come, things are heating up quickly. "Change is Good"
"Piggy's are my business, and business is good"
------------------ Ed "Backwater Eddy" Carlson
Backwater Guiding "ED on the RED
---

Back to the Archive of Fishing Reports