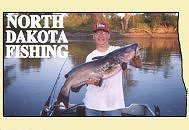 Fishing Reports-Archive
Current North Dakota Fishing Reports
All Current Fishing Reports
The Archive of Fishing Reports
name: Kent Hollands
city: Grand Forks
Area: Grand Forks
Date: Monday July 14, 2003
Time: 09:25:36 AM

Red_River
Fishing has improved greatly from the last time we were able to get on the river. Fished from 11am to 8pm Sat. Fishing was best from 11-2 and 7 to 8pm. If you plan a trip down fish early and late, fishing the heat of the day doesn't seem to pay off. I think we ended the day with around 20 cats biggest being 15.8 and the others 14, 13.6 and 12.5 others being from 4 to 6 pounds with a couple of eights in the bag.
---
name: Brad
city: Grand Forks
Area: Comment
Date: Sunday July 13, 2003
Time: 10:50:33 PM

Red_River
Canuck, I finally got to fish one on Friday night. It seems we have to fish a bit differently down here than you guys but those rods are excellent. I think they will be alot of fun.
---
name: Canuck
city: Lockport
Area: Canada
Date: Sunday July 13, 2003
Time: 05:13:00 PM

Red_River
Brad: So, did U try those new Berkley rods????? Went out for about 1 1/2hr this afternoon, landed 4 (32", 34", 35 1/2" and 36 1/2") and lost 2 others. Only had sucker but it seemed to be their diet today anyways. The wind was really strong and I am sure I missed acouple of bites though.
Let me know what U think of those rods.
Jim.
---
name: JJ Fjeld
city: Grand Forks
Area: Grand Forks
: win4win@aol.com
Date: Sunday July 13, 2003
Time: 12:29:48 AM

Red_River
A brief trip Friday afternoon yielded a couple including a 12. Saturday afternoon and evening was rather miserable....a few scattered bites with one hookup that managed to escape before being seen. Didnt see anyone else catching fish either.
I threw everything I had at them Saturday, what have they been eating around GF? Brad??
Thanks!
---
name: Brad Durick
city: Grand Forks
Area: Grand Forks
Date: Saturday July 12, 2003
Time: 02:02:52 AM

Red_River
First time back in the river since the high water and boy have things picked up. We went out for only about 3 hours and managed to catch eight fish with a 10,12,13, and a 20lb. It really didn't matter where we were all we had to do was throw something at them and they bit. AWESOME!!!!
---
name: Stu McKay
city: Lockport, mb
Area: Canada
: redcats@mts.net
Date: Friday July 11, 2003
Time: 09:03:24 AM

Red_River
Red River Update!
As of yesterday July 12th, the St. Andrews Lock & dam was once again resecured and fully operational. Action for cats has been and is currently absolutely incredible, both directly below the dam as well as sections down river. Over the next few days water color quality improve and with it so too will the action for catching goldeye. The sauger season is fast approaching and before we know it the fall walleye run will be upon us. Let's hope that there's hugh increases in walleye numbers this fall. As most of us are aware, the past few years have been well below the norm.
Fish "Hard" Forever!
Stu McKay
---
name: Kent Hollands
city: Grand Forks
Area: Grand Forks
Date: Wednesday July 09, 2003
Time: 09:11:32 AM

Red_River
The North Landing is open. The city cleaned off the road and the water is just down from the last hump, about a foot below the yellow markers. Its fishing time. But don't drive off the road or your in deep.
---
name: Stu McKay
city: Lockport, mb
Area: Canada
: redcats@mts.net
Date: Tuesday July 08, 2003
Time: 09:37:32 AM

Red_River
Just a quick update for the Lower Red River. In a nutshell the action has been incredible these past few days! The big cats are feeding fast and furious and at this time they're not overly particular on bait preference. Goldeye, sucker, tullibee are all producing exceptionally well as is the case with shrimp and frogs.
Now that the spwaning season is for the most aprt over, the cats will now remain active thru till the end of September.
Fish "Hard" Forever!
Stu McKay
---
name: Jeff
city: EastGrandForks
Area: Comment
Date: Tuesday July 08, 2003
Time: 07:27:15 AM

Red_River
Went south Sun-two 5lbers on goldeye. Mon-went farther south,got 1,2,2,2,3,3,31/2,goldeye,sheephead then a 18.3 lb.Mostly on frogs.
---
name: Dennis Flom
city: Harwood
Area: Fargo
: icatchbigcats@aol.com
Date: Friday July 04, 2003
Time: 03:00:41 AM

Red_River
Canuck, it was nice to meet you. We all envy where you live. You are able to fish the best stretch of river in the world to catch big channel cats everyday. There is no place like that where you can go out and catch numbers of 20 lb + channel catfish daily. I just wish I could get up there more often. Although I am sure you will see me a least a couple more times before the summer is over.
If anyone has never fished the Lockport area of the Red River, I would suggest doing it before the summer ends. Everything we hear about the Red River being such a great fishery for catfish is because of that section of the river.
Hope to see you soon, Canuck
Dennis
---
name: Cancuk
city: Lockport
Area: Canada
: jstinson@mb.sympatico.ca
Date: Thursday July 03, 2003
Time: 11:43:12 PM

Red_River
Dennis: nice to see U at Lockport. Fished this morning from the locks to the Fort o check out a few new areas and see if they are still on suckers. Fished for 2 hrs and ended up landing 6 kitties, 5 masters and one little one (32 1/2"). They are still on suckers but also hit tulibules as well. This high water seems to have turned the kitties on.
---
name: Dennis Flom
city: Harwood
Area: Fargo
: icatchbigcats@aol.com
Date: Tuesday July 01, 2003
Time: 11:48:56 PM

Red_River
Fishing on the Red River has come to a halt in the Fargo area. The River has now crested and is on the way down but as of today still remains 5 feet over flood stage. Although our "flood stage" is at 17 feet, the river for the most part is within its bank at 18 feet and is fishable.
Is the river in Grand Forks fishable at its current level? At what point do the boat landings get covered with water?
I did fish Lockport this past weekend and as always had a blast catching fish ranging in size from 10-25 lbs. They pulled the gates out of the 2 middle sections of the dam on Monday and that rose the river a bit. With the rising water, I am sure the fishing will remain good up there for awhile.
Dennis
---
name: Jason Griggs
city: Eagan, MN
Area: Fargo
: catmaster1@msn.com
Date: Friday June 27, 2003
Time: 02:18:54 PM

Red_River
Looking to camp at the campground near Climax, MN in early August. Has anyone had any luck in that area? How is the campground? Can a guy camp next to his boat so you don't have to haul out everynight after some hard fishing. Dennis, from CatchBigCats.com, was good enough to point me towards this area.
Any info would be appreciated.
---
name: Paul
city: Fargo
Area: Fargo
: Prosaki@netscape.net
Date: Tuesday June 24, 2003
Time: 11:38:30 PM

Red_River
Thanks Ed. I'll be sure to try that. I have been catching mostly cats, and goldeye, too, but would like to see some walleye as well. I hope to get back on the river again soon, and the also the rain stops.
Paul
---
name: Jeff
city: Grand Rapids
Area: Grand Forks
Date: Tuesday June 24, 2003
Time: 02:13:38 PM

Red_River
Hey, I was just wondering if it is too late to head to the Red River area to catch some cats. Also, if you guys tossed out some areas to fish that would be great too. I am a pretty avid fisherman with limited experience fishing cats. Thanks. Jeff
---
name: Brad Durick
city: Grand Forks
Area: Grand Forks
: bdurick@yahoo.com
Date: Tuesday June 24, 2003
Time: 01:52:12 PM

Red_River
Jake,
Welcome to Grand Forks. The river is full of places to fish from shore. I usually don't fish from shore but I can tell you a couple of places I know. By the riverside dam is a good place, also just to the north of the north landing there is a hole that can be good for cats. On the south there is a couple good spots just off the bike trail near central park. (May be closed for dike construction, Not sure) that should get you started for now. If you have any more questions or want me to elaborate drop an .
---
name: Jake
city: Grand Forks
Area: Grand Forks
Date: Sunday June 22, 2003
Time: 04:49:25 PM

Red_River
Hello, I have just moved to the Grand Forks area from Iowa and love to fish. I have made a couple of attempts on the Red River and have yet to score. As I am just starting out I am restricted to fishing from the shore and was wondering if anyone could point me in the right direction for a location to try to hook up on some cats. Thanks,
Jake
---
name: Backwater Eddy
city: Horace
Area: Fargo
: backwtr1@msn.com
Date: Sunday June 22, 2003
Time: 09:46:06 AM

Red_River
Paul rivers eat tackle, fact of life, just like death and tax's Eh. If snags drive you nuts, then rivers are a poor choice for you to gain much serenity. ;)
Yet you can limit your donation to the river Gods by thinking the top 2/3rds of the water Coulomb for walleye and pike, not the lower 1/3rd.
Baits that often work well for summer pike are Bass style spinner baits and shallow diver plugs like a Smithwick. Work your presentation parallel to shore around key structures, parallel is key. When you do get hung-up, and you will, just patently walk to the opposite angle of the snagged lure and then try to pop it free. More often then not this will do the trick and your bait will be free again. Most active predators are in shallower water when feeding, so don't worry about the middle of the river and you will snag less and catch more. Use super-braids like PowerPro 8-30 line and your hooks will bend and you will get them lures back, most of the time. An expandable rigid lure retriever is a wise investment. I have easily paid for one on the first trip when casting plugs on rivers.
Cheap bait Eh. Two options come to mind on cheap baits.
One is pick your own night crawlers, and the second is buy a dip-net and locate your own shiners. A minnow trap is another good bet and will save you some buck over time. That's if your location is not too far from where you fish. Once it gets too far away the price of gas offsets any savings the trap may offer you. Your better off hitting the local bait shop then.
Last tip. Fish what is fish-able.
Do not get so focused on one species that you miss out on other opportunities here on the Red.
Spring and fall generally offers the best pike and walleye fishing on the Red River system.
Summer is tough on walleye most of the time, pike can be caught on dams in the heat of the season, but it is still a very hit and miss deal. If you only target walleye and pike you will be frustrated quickly, look to other options and enjoy the day.
Look for a wider range of species and you will lean more about the system and catch far more fish.
Hope this helps ya Paul?
Good Fish'n Eh!
Ed "Backwater Eddy" Carlson
---

Back to the Archive of Fishing Reports