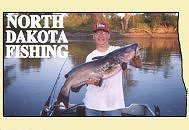 Hot topics North Dakota Fishing
Feb 2002
concerned
in nd

Friday March 08, 2002
06:54:53 PM

What is GF pheasents.
---
Schmidty
GF ND

Thursday March 07, 2002
11:03:03 AM

Allen, You make an excellent point about the CRP land. If they're deriving income off the land, then they have found a use other than agriculture for the land. So we should then say, "Good for you Farmer Brown! You found a new way to make money off marginal farm land. I guess you won't be needing my money to pay you to not grow crops!" It's just like unemployment. If an Architect gets layed off and collects unemployment, he only gets it untill he finds another job. Not an Architect's job, any job. So the question is, has any of our state or federal legislators brought this up? I haven't heard of it. Dogman, you seem to follow this pretty close. Have you heard anything?
Schmidty
---
PM

dogman
jamestown

Thursday February 28, 2002
05:00:32 PM

First for Coldy, The Gladstone is in downtown jamestown across from the civic center. It is on first avenue. It is impossible to miss. Stay on 281 through town and you will drive right by it. It is just north of the RR tracks on 1st. Avenue.
Allen I agree that with you 100%. I made that arguement years ago on fishingbuddy and you can guess that I got an ear full from the land owners who can do what they want with their land. I have always believed that land owners should not recieve CRP payments if they are leasing the land for hunting or are charging to hunt.
About the earlier opener for residents only. guess what Allen, The public land is always hit first wheather it be residents or non residents. Land owners have always hunted the public stuff first. That way they can save there land for last. This has been a common practice among land owners who hunt around here. I could name names but I will not. I got my butt chewed the last time I did. they know who they are. It would not suprise me to see guides using public land. All they have to do is to tell people where it is and sit back and collect a guide fee. I have a feeling that this year is going to be much worse than last year.
---
starman
fargo

Wednesday February 27, 2002
11:07:28 AM

Fargo has three ramps Two by dike east which is just south of main av bridge a couple of blocks. On is for above the dam and the other below the dam. Another landing is south of Fargo on 52nd Av south just on the west side of the bridge. Turn in by a dirt bike racing track All good landings There is also on eon the Mhd side which is at MB Johnson park which is no north 11st or County 3 at about 35-37 Av North. This landing is steep compared to others in area. River on average is about 67 to 7 ft in this area compared to 10 to 12 at other parts of the river above the dams. Hopes this helps. The two dams downtown are only a year old so this part of the rivcer has not been fished as mush as the other areas. Good Luck and have a good day. Starman
---
scott mcnamee
Grand Forks
scott@invoman.com
Tuesday February 26, 2002
07:59:19 PM

Quick question:
Does anyone know how many boat landings/boat ramps Fargo has?
---
scott mcnamee
Grand Forks
scott@invoman.com
Tuesday February 26, 2002
06:00:17 PM

Allen:
Quote:
<<And when I refer to taxpayer support. It is MY personal belief that the Conservation Reserve Program was intended to replace an agricultural income on marginal land. If that land is then leased to a hunting organization, then in MY opinion, you are double-dipping because that land is no longer agricultural. It is now a rental property no different than a house or apartment complex from which a slumlord derives an income.>>
And there you have it! If the farmers/land-owners want Federal Money (read: MY MONEY...in taxes), then the 'double-dipping' needs to end.
This is an avenue/can-o-worms that needs to be explored.
I would like more input on this.
Any other hunters think is is a bad idea?
---
Allen
Grand Forks
allen_schlag@und.nodak.edu
Tuesday February 26, 2002
07:37:44 AM

Sure Scott,
Essentially, Cannonball and "others" are claiming that the pheasant populations are too high in their leased lands. With excessively high rooster populations, you are setting the pheasant population up for a significant winterkill of hens because roosters are notorious at being very defensive of the better food plots. Essentially what I hear is: "We, the Cannonball Hunting Club (and others), have removed the ND hunter from the food chain of North Dakota's pheasant population (in certain large areas) and screwed up the pheasant population. BUT, we have an idea. How about you change your laws to better suit my exclusionary practices so I can make an extra $100k. With that I can provide more economic development in the form of hunting acres leased and when that pheasant population gets out of control, I'll be back with more requests."
And when I refer to taxpayer support. It is MY personal belief that the Conservation Reserve Program was intended to replace an agricultural income on marginal land. If that land is then leased to a hunting organization, then in MY opinion, you are double-dipping because that land is no longer agricultural. It is now a rental property no different than a house or apartment complex from which a slumlord derives an income. I am not going to say that I have the right to hunt CRP land just because the owner is being paid to leave it idle, but if it is used as a hunting preserve, then it is NOT idle. I suspect that if you have 160 acres in CRP and an someone comes in to drill a well (or a gravel pit), you would retain CRP payments only on what the oil company does not need for the well site. Anyone out there have specific knowledge on this?
Dogman, I personally see one big drawback in the first week being resident only. Essentially, the residents would have one week of great hunting on public lands, but then most of the birds would be chased over to pay-to-hunt land and that would benefit the pay-for-hunt rich guy.
---
scott mcnamee
Grand Forks
scott@invoman.com
Tuesday February 26, 2002
03:59:17 AM

Allen,
Tell me more about the ingredients of this "can of worms".
Coldy:
Now THAT was funny:>)
---
coldy
Lisbon

Monday February 25, 2002
07:59:57 PM

MUST FISH, We're sorry. Heff hasn't given us a schedule for that yet. Dogman, could you give me directions to the Gladstone- coming from the South on 281?
---
dogman
jamestown

Saturday February 23, 2002
02:09:03 PM

Gee-Wiz Heff, What is it your trying to say? I know there is a reason why you posted the happy hunter schedule.
---
MUST FISH
MANVEL N.D.

Friday February 22, 2002
03:42:06 PM

Personaly i think you guys spend way to much time on your computer. Do you guys ever fish Maybe you all should put away your mouse and pick up a FISHING POLE if you own one.
MUST FISH
---
Allen
Grand Forks

Friday February 22, 2002
12:47:52 PM

So far as I care. Every pheasant on pay for hunt land can die tomorrow. BUT, I wish every pheasant on public and private land (posted or open) the mildest of winters and the best of health until we meet again. If the general public does not derive a benefit from the health of the pheasant population on pay for hunting land, then the birds are no longer a public good and should receive no taxpayer support. NYYYAHH, how's that for opening a can of worms?
---
JC HEFF
At work in GF

Friday February 22, 2002
12:31:15 PM

A look at the schedual of a happy hunter.
April - May. Starts making plans for a fall pheasent trip
May - June. Starts researching what land is posted and what land is not. Starts researching who owns the posted land.
July - August. Starts writing letters and making phone calls to land owners trying to obtain permission to hunt their land.
August - September. Do more research on any other availible land and try again to reach land owners you couldnt reach before.
Open Season - Hope for the best and start to enjoy the fruits of all your labor. Never forget to respect the land and the land owners property. Remember you are a guest.
Schedual of a unhappy hunter.
April through October. Go fishing.
Opener. Wake up at 6:00 am opening day. Expect to hunt as if you were playing a nintendo game. Just turn on power, type in a couple cheat codes, and wham bam... new pheasent hunting world record. Wouldnt it be nice.
---
Schmidty
G.F. N.D.

Thursday February 21, 2002
08:19:36 PM

Dogman, Yah, $300 is rediculous! There's got to be some land down there to hunt on that's free, isn't there? State land, non-fee farmland? But I suppose that's either hard to find, or overcrowded. I figured we were lower than our neighbors on non-res liscense fees. We should at least match our fees up to our neighbors. I think Hoeven or the Game and Fish suggested that recently. As far as Cannonball and the rest of the money-for-hunting outfits, if the pheasant populations are getting to levels where we have to start worrying, then shouldn't the Game and Fish step in and do something about it?(I'm not suggesting an earlier start) (haha). But the G and F is supposed to be the "custodians" of the state's wildlife, right? So how about making them let RESIDENT hunters thin out the population a little. Or better yet, transplant the birds to an area where they aren't over-populated? I know they can't survive in too many areas of the state, and I'm definately against the government sticking there noses in to our buisness more than nescesary. But If they're worried about winterkill(which they seem to be hinting at if not flat out saying it) then something needs to be done right? I guess I have more questions than answers, but that's what Scott's GREAT site is for, right? Question's and Answers. Or at least Questions and Opinions!! Schmidty
---
dogman
jamestown

Thursday February 21, 2002
07:08:24 PM

One more thing Schmidty, I wouldn't worry about the fee war thing with our neighbors. It costs us more to hunt in our neighboring states than it does for them to hunt here. I am not sure about Montana but I know it is more expensive in MN. Last year I checked and posted the findings on fishing buddy. That was before I came to my senses and found a true unbiased site here at invoman. Just keep it clean and your voice will be heard. rock on Scott!
---
dogman
jamestown

Thursday February 21, 2002
07:00:33 PM

hey schmidty, you know it was a few years ago that I made that suggestion about first week resident only hunting on the fishing buddy site. Holy cow did I get blasted by non residents and land owners. I suggested it because SD has been doing it for some time now. Anyway, I see Hoven is doing the politicaly correct thing and re-evaluating his stance on the topic. And yes schmidty, there is a whole lot of land tied up. I just checked how much it would cost to go down and hunt for a day. $300/day. Can you believe that! No way I can afford that. That is $100/bird. Now you guys tell me how many resident hunters can afford that. And they wonder why the have a population problem down there. You know if they open the season one week earlier for residents only. That will not do Cannonball one bit of good because I do not think anyone will go there to hunt. I still say they created the problem, now they can live with it.$300 a day, give me a break. I guess for some people enough isn't enough. Later!
---
Schmidty
G.F. N.D.

Thursday February 21, 2002
03:54:13 PM

Just a quick comment for Coldy, Dogman, etc. After reading some posts on here, and reading some press coverage in the GF Herald, I've nearly done a 180 on the pheasant opener. I didn't realize the amount of land that is being "tied up" in the SW part of the state. I'm not going to completely vilainize the Gov., though. While I believe he may have been pushed by Cannonball, I think he honestly thought it would help the state economy. After farming, what is there to bring money to the state? I definately would like to see some kind of economic development that didn't involve tourism/out of state hunters. Until someone comes up with something else, it's easy for our state and local leaders to push our virtually untapped natural resources and wide open areas.
One thing the Gov. brought up. How about the early week being open only to resident hunters or even just a resident youth week? Those sound plausible. Also higher fees for Non-Res might be in line too. If they want to hunt in OUR state so bad, let's make them pay more for it.(of course this could lead to a non-res fee battle with our neighboring states)
Just some ideas. Excuse the typo's I was in a hurry!
Schmidty
---
scott mcnamee
Grand Forks
scott@invoman.com
Tuesday February 19, 2002
07:37:17 PM

I've been working on a new forum for the sister site...take a look and sign up to post some nonsense messages...and tell me if it's too complicated.
---
Kent Hollands
GF, ND

Tuesday February 19, 2002
09:55:48 AM

Oh Boy Oh Boy, Went to the North ramp can you beleive if the river stays low we won't have to fight the mud this spring. It looked like it was open half way across. Shouldn't be to long before we can put a boat in and get up to the damn for some spring eyes.
---
Allen
Grand Forks

Thursday February 14, 2002
10:15:07 AM

Anyone got the latest scoop on what paddlefishing season will be like this year? Are there even that many people on this side of the state that go paddlefishing?
---
scott mcnamee
Grand Forks
scott@invoman.com
Wednesday February 13, 2002
06:43:46 PM

I fished the spring spawn of walleye last spring, I have never in my life seen such a display of corteous fishermen. Walleyes EVERYWHERE! We were in a boat and actually got an applause from shore fishermen for releasing a large walleye after a quick photo.
For the record, although it was like shooting fish in a barrel for many of the fishermen, yours truly got skunked. I felt one bump, and missed it. My buddies, Mr P. and a certain fellow who's quite down on ice fishing nowadays... (No names, but Dewy, you know who you are...), caught fish. I was definitely using too heavy of a jig, and most certainly the wrong color. But then again, I'm always the guy who won't 'go with the flow', or so my Mom tells me...
I'm feeling spring is in the air. I felt it tonight more than any other day of this year. I've looked at my boat outside my window. (Yes, I can stand up and see my boat...that special water-displacement personal flotation motorized vehicle that Mr. Sirek graced me with. What a wonderful piece of human engineering....a BOAT!
I'm pretty certain my hostas are actually sprouting! (Gardening stuff...you guys DID know my 2nd favorite pastime was gardening/flowers didn't you?)
You didn't? Well it's almost time to start my greenhouse in my garage...and hope the local police don't mistake my impatiens and dahlias for some other 'weed'.:>)
Gardening....hmmm....flowers....hmmm....SPRING!
Think Spring, guys:>)
And SMILE:>)
---
Allen
Grand Forks

Wednesday February 13, 2002
01:30:12 PM

uhh, scratch the "IF". at he beginning.
---
Allen
Grand Forks

Wednesday February 13, 2002
01:28:03 PM

If That's o.k. Heff, I personally think a lot of what I see at DL in the spring is a disgrace as well. And it's not even that I think the size of the fish taken is excessive, I just can't get over the garbage dump it turns into. What really burns my hide are those select few people that feel the need to rid DL of its pike by throwing them up on the shore to rot, well they don't get caught often enough for me.
I generally don't care for slot limits unless the biologists we pay to monitor the situation put forth a good case for them. All of us keyboard fishery experts need to take a step back and look at it from a scientific point of view. Oops, we can't. Most of us on this forum are not trained in fisheries management. Thus, we can only logically debate ethics, morals, and occasional examples of successful and unsuccessful fisheries management plans based upon the current quality of fishing in that watershed. Scott has mentioned before how the Red Lake in Mn is fished out of walleyes, what I think Scott erred on was the reason it is fished out. The Red Lake had for several years been commercially fished for walleye. The Herald ran the numbers a long time ago and they were pretty staggering in the pounds of fish taken on an annual basis. You could actually see the decline in the fish population in the commercial catches. I believe (been a long time since I've seen the numbers) they had years where they took close to 600,000 pounds (anyone actually remember the numbers?) of fish out of the lake. Let me see, if each fish was 3 pounds, that's 200,000 fish. That is equal to 40,000 fishermen catching a daily limit of fish. All for a green lining in a couple pockets. My point? This is what my layman's hindsight would call an obvious case of poor management.
The real questions we should debate are if it's better to keep one 8-pound female, or four 2.5-pound females. I say it's just a matter of choice. I would readily keep a stringer of 4 pound females to eat, I rarely keep any in the 8 pound range to eat, but if you're a 6 pound walleye and have the misfortune of crossing my path, well, let's just say only you will convince me of how poor you tasted. I look at it like this, if the choices are between killing one 6 pound walleye to feed me and my fiancée or two 2.5 pound fish, assuming all the above were females, which method actually has the bigger impact on the number of eggs dropped in the spring? And if you are of the mindset that anything above 4 lbs in the spring MUST be let go, did you keep a 3+ pound female last fall that would have weighed in at 4 lbs this spring full of eggs? My point in all this is do we really think most of our fish meet their demise at the hands of fishermen, or are we insignificant in the overall fish predation and fall a distant second or third to natural forms of fish predation? I think it best to keep a system of balance in place. Not all fish in the lake are suppose to grow up to be 8+ pounds, if there was a rule stating you could only keep fish below a specified value, then you run the risk of putting the ecosystem out of balance. So long as a catch-as-catch-can keeps the balance, i'm all for that.
---
cateyepike
Grand Forks

Wednesday February 13, 2002
10:42:43 AM

I agree with Kent, I think that paying farmers a small fee would help open some of the posted land up.
I once read that Montana does this in some places.
---
Kent Hollands
Grand Forks

Wednesday February 13, 2002
08:17:40 AM

If people want to see more land open up for hunting why doesn't the state start charging a few more bucks to enable them to pay landowners not to post with no hunting signs but post with open to public. They could have signs that only allow duck hunters or upland birds only. This would allow the land owner to hunt deer along on his own land. They could charge the out of staters a little higher rate then the in-stateers.