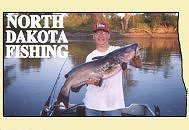 Hot topics- North Dakota Fishing
Archive for February 2002
scott mcnamee
Grand Forks
scott@invoman.com
Wednesday February 13, 2002
04:19:00 AM

Coldy,
It's not only to protect other posters, it's meant to keep ME from being sued for slander or libel or allowing a dispute to escaltate into something I read on the Front Page of the Herald.
I'm not trying to be 'pc', I am trying to keep the debates civil. There are many here that lurk, and never post. They may NEVER post if personal attacks are allowed to remain. You may disagree, but I've been in debate forums for a long, long time. Debating 2 of the most opinionated things: Religion and politics. Religion debates usually deteriorate into "You're going to hell/No-YOU ARE!". Politic debate is far worse, with actual threats being displayed. I've seen it happen, and know how to head it off. It's the 'broken window' syndrome.
Coldy, I realize you won't leave us, and JCHEFF probably took it in stride also, but it's not just for you two, it's for everyone else, including myself.
NOW, there is a HUGE set of questions to be answered on the 'fishing talk' thread, from a guy....anyone want to volunteer to answer them?
---
coldy
Lisbon
sandt@northpro.net
Tuesday February 12, 2002
06:38:34 PM

Come on Scott, Don't tell me you didn't laugh at the posts from Heff and I that you deleted. If you honestly feel this way, you would have stopped it at "crybaby." I don't care how bad I get slammed, I will not threaten to leave or tell the teacher. For those of you that didn't see the deleted posts, there was no profanity.
---
Scott adds: Guys, I like good debate, and there is no WRONG opinion on this board. Even I, the mighty guy who can type in red, is wrong every now and then...:>)
I know this is a passionate issue, for many of us. I encourage debate, and JCHEFF is adding to this debate, whether or not you agree with him. I don't want to lose a reader because of personal attacks. I also see that things have settled down a bit, and we agree to disagree. A thick skin is needed for all of us, but name-calling belongs on another forum...primarily a certain ".org."
I do not want to censor any opinion. And I won't if it follows the rules of this forum. If you wish to make a 'light-hearted' jab at someone, please follow it up with a :>) or at least a 'just kidding'.
---
dogman
jamestown

Tuesday February 12, 2002
03:50:06 PM

Hey gang, I was recently at the ND sportsman alliance meeting at the Gladstone Inn on Saturday Feb. 9. It was a very informative meeting minus the govenor. Dean Hildebrandt was there and gave the reason for this early opener.
Dean says that it is not about economical developement. Yes it is true that this can not hurt the economy but it was done because of carrying capacity. The SW part of the state has numbers of pheasant that exceed the carrying capacity of the land. If a hard winter hits the Roosters will defend the food plots and the weak roosters and hens will be the first to die off. This early opener will only be for this year and will return to its regular start date for the next two or three years while the data from this early opener is analyzed.
There were some land owners there who supported the earlier opener and who swear that they always give permission when asked. Also one angry farmer stands up and says "why do you people feel you have a right to hunt private land" Another farmer complained about the geese eating all his grain. He doesn't let people hunt because of all the "slob hunters". My thoughts were too bad. don't waste my time crying about something you could have prevented but I kept that one to myself.
It was a very civil meeting with many facts showing the trends and the numbers. Basically it is showing that resident hunters are decreasing and non-resident hunters increasing. The resident hunter spends way more money in these small communities than the non-resident does. the way I see it is the land owners and small communities are trading diamonds for gold. the resident is giving up which is more of an asset and in return they are getting someone with a lesser value to the economy. If you guys want exact numbers I can post them later. I forgot my handouts at home.
Now, what would a report be without my personal thoughts on the matter. This increase in pheasant population in the SW part of the state is by no means an act of mother nature. If it was then I wouldn't worry about the increased season. This problem that they have was caused by them. Access is so limited that the only control they have on the population is from non-residents. they are the only ones who can afford to hunt in that area. It is Cannonball that has driven the resident hunter from the SW part of the state. So hoeven comes in to help Cannonball out. the residents of the state had nothing to do with their plight. they dug their own hole now let them dig themselves out of a situation they caused. I have a major problem with policy being dictated by a select few, for a select few. Please feel free to ask questions and I will try to answer using the info I was given at the meeting. Go ahead Heff, you first!
---
JC HEFF
EGF MN > USA

Tuesday February 12, 2002
12:30:13 PM

Alright, enough from me on the pheasant issue, honestly I don't know enough of the facts to keep up with the discussion.
Here is my new to discuss if anyone is interested. Should ND put restrictions on fishing during the springtime? Maybe catch and release? Maybe a slot? My reason for bringing this up (again, sorry Allen!)is because of what I witness every spring fishing the ditches around DL. Too many people keeping too many big fish. Tell us what you think. What is your personal slot limit if you have one? What do you consider a trophy (walleye)? Do you eat and enjoy the taste of big walleye?
I will shut my mouth for a couple days and see if anyone wants to discuss.
---
coldy
Lisbon
sandt@northpro.net
Tuesday February 12, 2002
08:20:36 AM

Heff, I can't see the screen because I'm laughing so hard! Ok, Ok I'm sorry. I'll try to remember we're kind of on the same team.
---
coldy
Lisbon
sandt@northpro.net
Tuesday February 12, 2002
07:00:48 AM

comment removed
---
JC HEFF
EGF MN

Tuesday February 12, 2002
05:00:13 AM

Now there is a good rebuttal. "You suck". I hope you aren't ever assigned to represent ND hunters Coldy. Remember this, during pheasant season the fishing is usually at it's best and nobody is posting the water....yet.
---
coldy
Lisbon
sandt@northpro.net
Monday February 11, 2002
09:20:59 PM

Heff, Judging by your last post, it doesn't look like it takes limited facts or a politician attacker to make you nuts. Our last governor(Ed Shaefer)told these guys to forget it when he was approached by them on this same issue. Isn't a governor supposed to look out for his state and the people in it in all aspects? Why is it that you have no other backup from non residents? I'll tell you why, because they have been here and they know we're getting squeezed together. Something is gonna give. Outdrznd, I hope he read your post and the others from scott, allen, and dogman, but if he were to read my post, I'd almost have to say you suck or something like that. Dogman, how did the meeting go?
---
scott mcnamee
Grand Forks
scott@invoman.com
Monday February 11, 2002
04:43:07 PM

Schmidty,
I'll volunteer that I'm a Rep. I am watching this also, and learning. I stand by my original premise that the resource itself is the issue. However I've modified my definition of this resource. At first I was thinking the resource was the pheasants. It's not. The resource that is being lost is the land itself. That's the way I see it. Fishing is not an issue, because there are very few private fisheries. however, I could see the same anger coming from myself if they started buying up the waters of this state.
I am intrigued by the idea of 'dollar for dollar' reduction in Government payments to any farmer that charges to hunt on his land. This does not expand the 'free hunting' areas, but it frees up Government (MY) money.
In order to free up more land for free hunting, it's going to take either:
1. A reduction in revenue for 'fee/non-resident' hunting to the point that it no longer pays, and letting the free(resident) hunters back on their land.
or
2. A program set up that encourages farmers to open their land up to free hunting. (Or perhaps purchase of land by a program.)
#1 is a longshot, because the farmers smell money...and they're not going to back down once they've tasted the golden eggs.
#2 is a feasible program, but the source of funding remains to be an issue. I'm not thrilled with the idea of taxing non-hunters for this program, so it needs to come within the hunting community.
It occurs to me the better hunting land is land that is not 'farmable' (correct me if I'm wrong), and perhaps this very land, in which gets the most farm payments in subsidies, (again, correct me if I'm wrong here), is the most valuable for hunting.
Perhaps there is something there in the previous paragraph.
I would like to make a note, though: If a farmer owns land that is good for hunting, and he doesn't want anyone to hunt it, except for himself and close friends; There is no law, that will stand, that can force him to do otherwise. That is the issue and reality of the situation. You can be assured that any farmer that decides he will hunt his own land, will not be scared into opening his land by threats. The law is on his side. You CAN take away his farm subsidies, but even then it's a stretch.
This is a careful game that needs to be played. The owner of the land has rights. It's his land. If you find a way to FORCE yourself, by law, onto his land, you can be assured your home/land will be no different. I have a fence around my property. It is there to restrict trespassing. Tell me how posted land will be treated any different than my fence??
If we start playing fast and loose with property owners' rights, then you begin to have a problem, and everyone loses.
Play it RIGHT, lawfully and with some smart management and everyone wins.
LAND is the diminishing resource we need to be concerned with....not earlier openers. Opening the season a week later is not going to open any more land, in fact, it may tick off enough farmers that they restrict even the land that is NOW free.
my2cents
---
Allen
Grand Forks
allen_schlag@und.nodak.edu
Monday February 11, 2002
03:16:59 PM

That's O.K. Heff, I'll proxy for you and agree with Schmidty that the biology hasn't been the overriding issue. But like Coldy, Outdrznd, and Dogman say it's the way it was done along with the overall implications the decision will have on access, availability and quantity of the ND hunting experience that is so contentious to residents. I do not agree with anyone who says that the extra $100k Cannonball claims they'll make in one extra week of business is so good for ND that we can't pass on it. Take the rest of the guides and outfitters in the state and double that and you still fall well short of one day's worth of oil ND sold last year (86,000 barrels of oil a day), so this extra $100-$300k of "economic development" isn't a drop in the proverbial barrel.
Overall Heff, I think you mistake my position of who needs to be heard and taken into account on ND issues as blanket hatred for non-residents. Well, then you should probably know that I hunt and fish most often with either card carrying non-residents, people who were non-residents, or people who are soon to be non-residents. My bone of contention is ND citizens being pushed aside in the name of economic development. NOBODY in govt or even with the outfitters will ever say that increased leasing and outfitting non-residents is good for ND hunters.
Sorry if my agreeing with your self-nomination for being a skumbag (just trying for my own little infusion of humor into a rather contentious topic) offended you. And as long as we both agree to not quote verses from the Bill of Rights, I promise to refrain from boring everyone with war stories of how I lost my big toe as I took Mt. Fuji singlehanded.
Heff, you hit the nail on the head with the "big guy stuff". I personally would like to see a tax dollar for dollar on the individual/entity who leases or rents hunting privileges. This dollar for dollar tax could then be used to augment the PLOTS and other state programs for increasing land access to all hunters. In doing so it would allow the state to be more competitive in compensating landowners who have the prime hunting real estate and can get more money out of outfitters.
---
somewhere
outhere

Monday February 11, 2002
12:11:21 PM

"How much a fish grows depends on how long you listen to the fisherman".
---
Outdrznd
Horace

Monday February 11, 2002
11:30:52 AM

Well......how about this? If Hoeven wants to start making changes on Pheasant season by himself and receives no flack from the state reps WE voted into office, why can't he have the power to do something regarding the amount of money that changes hands from hunters paying farmers to hunt their land!!! This money SHOULD be taxed and applied to PLOTS programs!!! There is alot of money that exchanges hands during hunting season. SOMETHING NEEDS TO BE DONE ABOUT THIS AS WELL!!! AND TOMORROW IS NOT SOON ENOUGH!!!
Hoeven, if your out there looking these websites over.....STEP UP TO THE PLATE AND DO SOMETHING ABOUT THIS LIKE YOUR TRYING TO "RAILROAD" THE PHEASANT OPENER.
Any comments from the likes of others is certainly welcome!! I appreciate my right to bear arms and enjoy "our" heritage of hunting and fishing just as others but CANNOT justify my rights being taken away by someone that is well off and buys up land or hunting rights or gets favors done for them by our ND governing body.
---
JC HEFF
EGF ND (we've moved!!)

Monday February 11, 2002
10:46:37 AM

Coldy, Can you imagine where we would be if you voted dem? WE would have domesticated pheasents running around, instead of shooting them you would be bringing them for walks.
We'll have to agree to disagree. Yeah, the big money land owner that is posting land up are not making ND a very hunting friendly state. But that issue is not going to go away, early season or not. You are fighting a bigger battle than an early opener. The big guy is going to make his money one way or another. Who knows, maybe with the early opener the big guy will become more profitable in turn making it possible for big guy to bring prices down for the little guy....... yeah you're right. I can read your mind. The big guy will just get greedy and raise prices cuz us outoftowners are going to pay what ever the price. It drives me nuts when people, with limited facts, start attacking politicians every time an issue doesnt go their way. Now I agree, most politicians are skum. However I just don't think an already rich banker turned governor is going to line his pockets by opening up a season one week early.
Remember this, those guides and land owners that get "all this money". Where do these people live, shop, and pay taxes? ND would be the answer to that, I believe. Sounds a little like economical developement to me. If you're complaint is that the big guy is posting up all the land don't go after something that we all can benefit from (an extra week of hunting).
---
coldy
Lisbon
sandt@northpro.net
Sunday February 10, 2002
08:01:06 PM

Heff and Schmidty, One more time... The land leasing is the problem and this is caused by the guides, the outfitters, and the rich "catalog boys." The more money that the guides and outfitters make, the more they expand. This season will not hurt the population one bit, as long as the hen shooters stay home. I don't see what rep. or dem. has to do with it- I voted for the little snake terd. Why can't you guys understand that we are running out of room for everyone? Scott, sometimes you have to scream to be heard, especially when there's money talking.
---
JC HEFF
EGF MN

Sunday February 10, 2002
07:20:54 AM

Schmidty, If I was from ND I would agree with you. But I am from an evil state and it doesnt matter what I think.
---
Schmidty
GF ND

Friday February 08, 2002
06:22:22 PM

I've een sitting back, enjoying the banter up 'till now, but I have a question now. Other than not liking the supposed politics in the Governor's decision, does anyone have a legitimate, this will hurt the sport, problem with this. Out of state hunters bring money in. An extra (or is it just earlier?)week of hunting is good for us, resident hunters. Most (not all) state biologists say it won't hurt the pheasants. From what I've read here it seems like this is alot more of a politicaly charged arguement than a hunter's rights arguement. Maybe everyone should just be honest and say if you're a Rep. you don't have a problem, if you're a Dem., you do.
If I'm reading this wrong, tell me. And someone please, tell me how this hurts N.D. hunters or pheasants. I honestly can not see the problem from a hunting point of view. Political, maybe.
---
JC HEFF
EGF MN (shame on me)

Friday February 08, 2002
12:26:00 PM

To all JC HEFF haters! Just a little back ground on me. Call it justification for chiming in occasionally on ND issues. I was born and raised in ND (22 years). Bought a house in EGF MN 10 yrs ago not to get out of ND. I found a deal that worked for me and my wife and went with it. I work in GF, I shop in GF (except groceries and occasional Cabelas trips). I hunt and fish ND. I buy my gas in ND, I attend numerous events at both arenas here in GF. You can exclude me from your offical votes but please don't exclude me from the discussion. Just because my house is located approximately 1 mile from the state line doesnt mean I don't care. Allen, you thought it was funny when I called my self a non res skumbag. Well read your posts, you sure make someone from a different state feel like a skumbag. As for your military service. God bless you and all of our military,they truly are heroes.But I am the same way with your "service to our country" comment that you are with my "feedom of speech" comment. Don't wipe my face in it because it does nothing for my level of respect. If I don't agree with someone their military status is not going to change my position. If I have offended anyone in the military with that statement than I didn't do a good enough job making my point and for that I apologise. And again I would like to apologise for the cry babie comment. I was trying to spark the debate. I feel I succeded in doing that but I probably could have done it without that comment. Oh well, once you hit that submit button there is no turning back! And for those people that either don't get or don't appreciate my humor, TS.