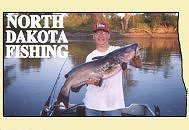 North Dakota Fishing Talk Archive 1
Storyteller
Clevland, Ohio

Wednesday March 06, 2002
07:44:10 AM

Planning a business trip to DL in the spring and I have been informed that many of the meetings are going to take place aboard a 20' Lund boat. Looks like some walleyes are going to be joining us, I hope. Just wanting some tips on fish sizes.
1. What is considered a trophy? 2. What is considered a fry pan fish? 3. How big can a walleye get before you don't want to eat it? 4. Is it true that cold water walleyes taste better than warm watter walleyes? 5. Do ND sportsmen hate non-res fisherman as much as they hate non-res hunters? 6. Why don't perch bite hard and heavy on DL in the summer like they used to in the winter?
Thanks in advance for any info. Hope to see you soon! Go INDIANS! and take the Browns with ya!
---
HEFF
EGF MN

Tuesday March 05, 2002
12:12:18 PM

Hi Canuck, As a former Cabelas employee I have handled the megaroyal several times but never used. I love the smoothness of it compared to other reels in the price range. I believe it comes with a clicker for you cat-fishermen. If you are worried about trying it out, don't. Cabelas by far has the best return policy out there. IF you don't like it or if it breaks bring it back or send it back in your case. You will not run into any difficulty if you are not satisfied, they may even refund your shipping costs. Anything that has a Cabelas name on it can be purchased with out the fear of not being able to return if not satisfied. IF you do have problems contact me directly, I think you have my , and I will help you out. I still have friends on the inside!! Hope to see you this summer if not this fall! I still owe you that beer.... eh? Take Care!!!! Heff
---
Canuck
Lockport

Tuesday March 05, 2002
09:24:24 AM

Finally got my Cabelas Tackle shop 2002 cat. Question: has any body tried the Cabelas Megaroyal reel?
---
goldenshinner
twincities
shimizunet@yahoo.com
Saturday March 02, 2002
07:49:34 AM

twin cities fishing website: www.lunkerlink.com
loads of 30lb+ muskies and flathead cats. featuring one 51lb cat.
---
goldenshinner
twincities
shimizunet@yahoo.com
Saturday March 02, 2002
07:45:42 AM

when could we expect the peak time for catching a trophy cat from the red. me and a few fellow catfishermen are trying to plan a hard core trip. can we also camp on the bank. or is there a recomended motel. also what streach is best. we are mainly catch and release we might take a couple of small fillets. some people have told me mid may is best behind the dam. and others are saying in august the major action hits. also is there regulation about bringing up bait with us. or must we buy it there(in canada?) also is the minnnesota side beter?(esp considering the low water expected this spring? please check out our twincities fishing website also. all the fish with exception of the northern came out of city rivers and lakes. thanks
---
Allen
Grand Forks

Friday March 01, 2002
07:03:01 AM

9 weeks and 5 days until I make my annual sojourn to the confluence of the Missouri and Yellowstone rivers for what has turned into a spring ritual for me and a few others. And that's to catch a paddlefish. I predict that if the trends in paddlefishing I've noted over the past 20 years continue, we may very likely not be fishing them 10 years from now. So if you had ever wanted to give it a try. I recommend doing it this year, because in 2-3 years we just may see a lottery application process to even get a tag for the chance to land one of these tasty monsters in ND.
---
PikeBadger
GFAFB

Wednesday February 27, 2002
05:12:40 PM

Allen, 10 more weeks till what???
---
Allen
Grand Forks

Wednesday February 27, 2002
03:48:35 PM

Whooo Hoooo
only 10 more weeks, I know it seems like a long time, but I can't wait!!!
---
MUSTFISH
Manvel N.D.

Wednesday February 27, 2002
02:31:11 PM

For size and quanity. Fish CANADIAN water. You can't go wrong. P.S. don't forget to go BARBLESS.
MUSTFISH
---
MUSTFISH
Manvel N.D.

Saturday February 23, 2002
04:30:55 PM

Put the mouse down and pick-up your damn FISHING POLE wipe the DUST off and use it.
MUSTFISH
---
Canuck
Lockport

Monday February 18, 2002
02:21:52 PM

I am looking for rod holders? They will be going on a Lund boat, Alaskian and does not really have side gunnals. Fishing for cats so they have to hold the rod. IDEAS?????
---
Dale
SFSD

Monday February 18, 2002
09:07:37 AM

Allen Thanks for your input. I am getting excited already. Dale
---
Allen
Grand Forks
allen_schlag@und.nodak.edu
Sunday February 17, 2002
02:21:00 PM

Dale, pretty much all of Sakakawea should be good come late June and early July. The best thing you can do on Sak at that time of the year is think structure. Rocky points, steep drop offs etc. If the lake rises quickly a couple of feet, get right in any sweet clover you see growing on a sandy/gravel shoreline and troll with a spinner and a leech. If the lake is fairly stable (yeah right), then try to stay out in between 7 and 14 ft as a golden rule if you're on the northern end of Sak. You may want to zigzag to vary your depth until you find the active fish. If the weather gets a little rough, then go looking for the same fish out in 20+ feet of water on a boulder bottom and use a much slower presentation, perhaps even try vertical jigging.
---
PikeBadger
GFAFB
cag.rm@yahoo.com
Friday February 15, 2002
03:29:31 PM

Allen, Brad, & Tim ..... Thanks for your insights and answers.... One of you mentioned that there are numerous places to catch White Bass from shore over at Devils. I'm getting much better at learning the specific names of points and bays and have a map of the lake so if you'd like to give it a shot, I'm listening.
---
Dale Schiferl
Sioux Falls SD
daleandkris@home.com
Friday February 15, 2002
11:55:52 AM

I am planning a trip to Saskakawea this summer with about 6 guys. I am thinking late June early July and could use some information. Would late June be a peak time, what presentation is good, how deep, where on the system could I expect the best luck at that time? Any help would be appreciatied so we could start making arrangements. Thanks DS
---
baitwaster
Grand Forks

Friday February 15, 2002
09:33:12 AM

"saugers in THERE too"
---
baitwaster
grand forks

Friday February 15, 2002
09:29:36 AM

Yeah..uh..that would be--"there too".
---
baitwaster
grand forks

Friday February 15, 2002
09:26:45 AM

#5--Isn't Lake Ardoch itself closed to fishing? ps..have caught northerns in the spillway--and there have been saugers in their too.
---
Richard
Grand Forks

Friday February 15, 2002
07:07:33 AM

To all FL-18 owners. I've used both mine and a friend's FL-18 (borrowed it so see if I liked it enough to buy it before I got mine) and noticed that when in "AZ" mode, occasionally the bottom mark on the zoom side (the lefthand side) will "jump" from 0 (where it should be) to 2'. When it does this, it still works fine and shows the bottom at 2' but then only gives you 4' of zoomed resolution instead of the intened 6'. I contacted Vexilar on this and it is a known defect. Below is the I got from one of their engineers.
This can happen if you're fishing over a soft layered bottom or if there are rocks or weeds coming up from the bottom in the area. The AZ gets confused as to where the leading edge of the bottom really is. If your units serial number is below 187400 you can send in the unit for a software update to eliminate the jumping. If your unit is over this number, it will need a new chip installed. These chips are about two weeks away.
Thanks,
Mitchell Bennis
Vexilar, Inc. 200 W 88th Street Minneapolis, MN 55420-2752
mitch@vexilar.com http://www.vexilar.com
---
tim sirek
neche
tim.sirek@sendit.nodak.edu
Wednesday February 13, 2002
03:03:29 PM

PikeBadger,
1. Try Homme Dam near Park River for one place, but for some reason NDGF prefers to stock perch and northern instead. 2. Larimore has too many small perch, but removing some of them won't help. Small perch won't breed while there are big perch around, due to competition for breeding sites for one thing. Anglers selectively keep the big fish and release the smaller ones (I'm guilty too), until there are only small fish left. Now the small fish think they're big fish and start reproducing, and all of their energy goes to egg production. Their growing days are basically over. 3. "Male perch" is two feet on the floor, standing up, one hand on the wall and the other hand tending to business. "Female perch" is sitting, no hands. :>) Seriously, females will have a rounded belly due to the egg mass while males will seem skinnier. Males will also be shorter than females of the same age, making you think they're stunted, and when you fillet them instead of eggs all over you'll see a solid qhite gonad. 4. April 4, 2:31 pm. 5. Too shallow, it's a waterfowl rest area, and Game and Fish doesn't stock it, but people said that about Laretta too. 6. No. Channel cats for one spawn in late June and July. No. Channel cats for one will not feed while spawning, but they don't all spawn at once and can be easy to catch before they spawn. Not sure. 7. Don't know. 8. Channel A if there's current, and any of the bridges. 9. Don't know. 10. Yes.
---
Allen
grand forks

Wednesday February 13, 2002
02:48:07 PM

1. I don't think crappies are indigenous to North Dakota as a rule. I am no expert on them, but I have observed that the lakes I know they are natural in tend to be quite clear. ND does stock them in some places like Fordville Dam (only caught one up there though).
2. Larimore's perch are definitely stunted, but I caught a few 9 inchers last year giving me hope that some day this will be remedied. I just don't like the parasites in the perch out here. The gills are big but possibly not very numerous. Anyone know how to catch them on a regular basis?
3. Smaller/slimmer generally equals male. If all else fails, dissect.
4. Brad is probably pretty close on this one.
5. No idea, never been there.
6. Not all fish are spring spawners. It's a temperature dependent thing. Bluegills go into about 4-8 ft of water in Larimore and make beds at water temps of 68 degrees. So you're looking at mid-late June for their spawn. I believe Salmon in ND are fall spawners. Walleyes and northerns are easy to catch right before they spawn, but are impossible to catch when they are actually spawning.
7. Not that I have ever heard of, just pike, perch, and LM Bass.
8. 200 yds east of the junction north of the highway 57 bridge. Fish on the south side in June-July and you should run into them. On good days, you might catch 100 plus in 2-4 hrs just by tossing a jig w/minnow, or using a buzzbait.
9. I don't know, but I do not have much luck fishing up there.
10. ???? details, details.
---
andys eyes
minot

Wednesday February 13, 2002
09:29:30 AM

fishing was sweet on sunday we got 7 eyes and 2 pike
about 8 lbs .the eyes about 2 to 4 lbs. back in the bay .sasakwea deepwater.running oneSock.Goodluck.
---
Brad Durick
Grand Forks
bdurick@yahoo.com
Wednesday February 13, 2002
07:10:31 AM

PikeBadger,
I am going to take a shot at answering some of your questions for you.
1. I am unsure of why there are no Crappies in Eastern ND. I can tell you that all fish stocking reports are listed by lake in the ND Game and Fish website. (Invoman.com has a link to that site.)
2. I am not an expert on fish growth but I think the perch in Larimore are stunted. Some have to be taken out to allow the rest to grow. There are however very nice bluegills and bass in there.
3.Trying to figure that question out myself-Sorry
4.I think we will be launching boats the second week of April and shore fishing Pike before that (devils lake). If this high wind and warm weather keep up the ice will be off much sooner.
5. 6. 7. I don't have an answer.
8. I know of a couple places where a person can get into some very nice white Bass from shore. The only problem is it is difficult to explain the spot without a map. I will see if I can get a map loaded up with the spots marked for you.
10. I think a fishing outing is always a fun time.
I hope I was able to help with some of your questions. If you have any more post them or me.
---
scott mcnamee
Grand Forks
scott@invoman.com
Wednesday February 13, 2002
04:23:36 AM

PikeBadger,
I'll try to get some of us to answer these questions ASAP!
Scott
---
PikeBadger
GFAFB

Tuesday February 12, 2002
06:48:42 PM

Fishing questions from an amateur:
1. Why does there seem to be no crappies in most eastern North Dakota lakes?
2. Why does there seem to be a lack of good size fish in Larimore. Fish&Game stocks it and fishing pressure doesn't seem all that great.
3. How does one tell the difference between a male and female perch (I know I'm opening myself up to all sorts of sarcastic answers on this one)?
4. Any ideas when ice out will be this year?
5. Never hear anything about Ardoch Lake.... winter kill?
6. Do all species spawn in the spring? Are all species easy to catch during spawning? Where in a lake do perch and bluegills spawn?
7. English Coulee.... Are there bluegills and crappies in there?
8. Is there a place during open water season on Devils Lake that a guy can get into some white bass from shore?
9. Fish&Game has been stocking Fordville like crazy for the years 95-2000. Very little fishing pressure that I've noticed. Does it winter kill periodically?
10. Would any of you consider getting together for an Invoman board ice fishing outing?
---
ron
grand rapids mi
debnron@voyager.net
Sunday February 03, 2002
01:30:29 PM

i need your help to find 1/4 oz hot-n-tots colors 95,115,130,131,150 and 158 thank you
---
Randy
Winnipeg

Monday January 28, 2002
12:44:00 PM

Walleye action slowing down on the Red River, but fish are big! Son and I caught 6 Master Angler size (28 inches plus) between Christmas and New Years.
---
Jonathan
stephen

Sunday January 27, 2002
09:54:37 AM

Hey Judd, Hows the perch fishing?
---
corey
felton
coreysteinbach@hotmail.com
Tuesday January 22, 2002
08:21:55 AM

I am heading to Devils Lake area this coming weekend for some tip-up fishing for slimers. Does anyone have any advice on were to go? Is Loretta a good option if so were on the Lake. coreysteinbach@hotmail.com
---
Gary
Hamilton Ontario

Wednesday January 09, 2002
04:59:35 PM

Hi
Don't just talk about fishing, come to Canada and catch the fish of your dreams. Make sure you check out Walleye Heaven before you come. It has links to regulations, fishing tips and links to Canada's top lodges and outfitters. You can always me if you have any question on where to go etc..
www.marketsoft.ca/walleyeheaven/
Gary
---
Jim
Lockport

Wednesday December 26, 2001
08:02:11 PM

Lockport is just north of Winnipeg Manitoba. The next town is Selkirk. If you travel north through Selkirk on Main Street you come to a dead end right at Netley Creek. The river is the Red River. Hope that helps.
Jim.
---
PeRcH PerPeTrAiToR
Grand Forks
j_jasmer@hotmail.com
Tuesday December 25, 2001
08:26:22 PM

Where is this netley/ lockport area? Is it on the red, if where what city is it near.
---
Jim @ Canuck
Lockport

Saturday December 22, 2001
12:40:09 PM

The greenbacks have arrived. Talked to a guy this morning and yesterday he landed 3 12 lbers and 1 14. Apparently they are hitting all up and down the river. The ice is 8" thick, enough for human traffic BUT I would NOT take a vehicle out yet. There is a wicked north wind today and temps dropping todnight to -21 C so should help making ice.
---
Jim @ Canuck
Lockport

Sunday December 16, 2001
05:15:57 PM

Noticed for the first time today poeple are actually venturing out on the ice on the Red River between Lockport and Selkirk. When I went into town about noon there were about 15 (fools) out in the middle of the river. No vehicles on the ice (thank heavens) and I have no idea if they are catching any. The temp today was +3 C when the normal high is -11C. Sure would be nice to get some cold weather to allow U to get out and catch a few greenbacks.
---
Ice Fisher
Bismarck

Saturday December 15, 2001
06:28:21 PM

Well was out in the morning for some honkers and managed to get a few and in the afternoon went out in search for some crappies manage to stuble on a couple but am looking for a spot where the crappies might be does anyone know of any hot crappie fishing spots.
---
dogman
jamestown
maurlaub@yahoo.com
Wednesday November 28, 2001
12:27:06 PM

Can you smell it? The ice is coming!! The ice is coming!!
---
DanP
GFAFB
dpaulus@hotmail.com
Saturday October 20, 2001
07:03 PM

Stumbled accross a website that proved to save me quite a bit of money on the fishing tackle. WWW.GoFishin.Com Some of you may know about this site but if not I saved quite a bit on jigs and accessories. You have to check back often because they are constantly changing the inventory, but it's well worth the time. I've been chatting with Dave McCombs one of the owners and he's been nothing but friendly and provides great service. Check it out!!!
Dan GFAFB
---
Kent Hollands
GF, ND

Friday October 19, 2001
06:07 AM

I have never fished without the bard. I would have to agree with you on keeping the pressure on the fish. With cats you don't have to worry about any air time like with bass, muskie,etc. I might give it a try next summer. Good luck up north, and don't forgot your camara I want to see a picture from the lords.
---
JC HEFF
EGF MN
jcheff@gfherald.infi.net
Monday October 15, 2001
08:00 PM

Well if it hasnt been a wedding, or soccer, or the pumpkin patch, or the greenbacks up in Selkirk it has been something else keeping me from the computer lately. Here is my question: To barb or not to barb, this is the question that I ask of thee. After fishing the Red up Nort ya know where you have to pinch dem little buggers. We, when I say we I am talking about my trustee fishing partners (fishing aint fishing without them nearby), we discovered how much nicer it is working with barbless hooks. Easier to remove from fish, easier to remove from carpet in boat, anchor rope, finger, etc. Of course it cuts down on handling time. Does it affect your hook set success? Shouldnt the hook hold if you keep constant pressure on the fish? Dont need any barb then, do we? Should we follow Manitoba's lead? To be honest I will make an honest effort to pinch my barbs but I am sure I will grow lazy and stop doing it for ND and MN lakes. My cellmate at work pinched all barbs in his tackle box, then again he has this thing called motivation, something I lack in at times. Oh well, going to try for greenies up Nort ya know again this weekend. See ya out there. JIM S. This time I will do a better job of getting ahold of you. HEFF
---
Scott McNamee
Grand Forks
scott@invoman.com
Friday October 05, 2001
06:36 PM

This report comes from Captain Ron Hunter of Judds Resort on Lake Winnibigoshish:
10/5/01 The great fall bite should be starting any day with the colder weather coming in. The humps and Eelpout Bar are still giving you some nice Walleye. Fish from 17' to 19' with a Roach rig 40" long and try a crawler or a leech. Sugar point and Mallard point in 7' to 8'. Mallard is doing the best south of the point in the weeds. Bowens bay along the weeds try at 7' and keep moving out to 12' or tell you get on the Walleye. Roach rig with a crawler doing the best. 1/8oz chart/lime fireball jig tipped with a fathead minnow is doing great.
Perch action is on most all points in the lake with Mallard point the best area. Fish in 7' to 8' with a Northland 1/8oz fire tiger fireball tipped with a fathead. Nice 10" to 12" Perch with great numbers being caught.
Northern are still hot, fish just about any weed line in the 8' range will give you a lot of action. West Winnie summer homes and Ravens point areas doing the best.
CaptRon
---
Scott McNamee
Grand Forks
scott@invoman.com
Friday October 05, 2001
04:18 PM

WELL...Mr. "I know it all...HEFF" Where are you?
Are you fishing? Are you releasing? If you aren't releasing, then you aren't catching the big ones...
Just kidding JC, I'm looking forward to debating you on any subject you want, except fishing. Mathematics? Physics? HTML? Gardening? Politics? Religion? What are you waiting for?...it's your turn to bat!
---
scott mcnamee
Grand Forks
scott@invoman.com
Thursday October 04, 2001
05:53 PM

JC HEFF,
It's ALL up to you now...
---