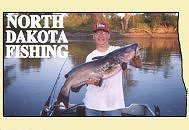 Fishing Reports-Archive
Current North Dakota Fishing Reports
All Current Fishing Reports
The Archive of Fishing Reports
Name: Scott
City: Fargo
Date: Tuesday February 15, 2005
Time: 03:54:23 PM

Hobart_Lake
I fished Hobart a couple of winters ago and did really good.I was wondering how the bite has been this winter?Would like to know if it's not a wasted trip. Thanks.
---
name: Tony
city: EGF
Date: Tuesday February 15, 2005
Time: 09:41:23 AM

Lake_Laretta
Tried fishing for jacks on 2-11-05 , 3 of us caught 3 in 3 hrs nothin big but a nice day
---
name: Kent Hollands
city: Grand Forks
Area: Grand Forks
Date: Tuesday February 15, 2005
Time: 09:18:59 AM

Red_River
So whos getting the itch to get back on the river. After the sportshow and talking to the people coming by I sure got the itch. I can't wait for river to open up and start warmin gup a little to turn those cats on.
---
name: fishbit
city: fargo
Lake: Pipestem Reservoir
Date: Monday February 14, 2005
Time: 08:10:12 PM

Jamestown
hey crappiehunter, how was it on saturday?
---
name: fishbit
city: fargo
Lake: Pipestem Reservoir
Date: Monday February 14, 2005
Time: 08:09:45 PM

Jamestown
hey crappiehunter, how was it on saturday?
---
name: jerry v
city: neshkoro wi.
Date: 02/14/2005
Time: 10:33:25 AM

Devils_Lake_Fishing
The ice may not be very good by the end of March,but there should be good fishing by the bridges,as there will be open water there. We caught some walleyes and northerns last year. Bring along the rods for open water fishing. Can use smelt or golden shiners(dead) for northerns. Or other spoons,spinners etc. Could try small jigs and minnow for walleyes. Good luck. We are still trying to get to DL sometime this winter,though might not be until late March or early April.
---
name: ROG
city: Lockport
Area: Canada
Date: Sunday February 13, 2005
Time: 09:24:15 PM

Red_River
Can't wait to get back up and do some catfishin again. Could anyone tell what month the kitties start to hit hard? Trying to get an aprox time to plan the trip up north again for this spring. Thanks, Rog
---
name: fishbit
city: fargo
Lake: Pipestem Reservoir
Date: Sunday February 13, 2005
Time: 12:44:23 AM

Jamestown
pipestem, pipestem, being in the right place at the right timne fit this lake today. friend fish spot this morning early be for daylight, none. they went to devil lake. fish all day, nothing. another friend came to same spot right after that. filled out. 4 of us came, drilled hole. driiled more holes, marked some, would not bite, split up, 2 of us went one way, 2 went to the spot where everthing happen earlier in the morning. in 40 min. 2 caught 50 crappies. and 2 of us arrived after they caught. 30 plus. we caught. 5. stayed there all day with 40 others. caught 1 or 2. left there at 6;45pm because, the night before someone caught a bunch between 6 and 7 pm. one has to also be lucky, right. good fishing. many will try it tommorow morning all over again.
---
name: crappiehunter
city: fargo
Lake: Pipestem Reservoir
Date: Friday February 11, 2005
Time: 12:32:32 PM

Jamestown
THANKS FOR THE TIP.
---
name: just me
city: wisconsin
Date: 02/10/2005
Time: 10:12:28 PM

Devils_Lake_Fishing
hey i am cummin out to devils lake in the end of march... i no ppl say that the ice is not the best then but i dont care... if u hav any good ideas on where to go or wat baits to use then please let me no.. thanx
---
name: dove
city: williston
Date: Thursday February 10, 2005
Time: 06:43:54 PM

Hot_Topics
wow, like the fishing by williston. nothing like it and to top it off got the limit on fish most of the time. only trouble was some guy in a newer model chevy pickup darn near ran me off the road. was told later that he works for oil company and has drove that way for over thirty years. well guess i have a good story for the state patrol. anyways look to do some ice fishing, if it gets that cold, hope so!!!!! there is another thing may go sport fishing during the summer.
---
name: fishbit
city: fargo
Lake: Pipestem Reservoir
Date: Wednesday February 09, 2005
Time: 10:55:05 PM

Jamestown
crappiehunter. i would fish on upper end of pipestem. coming up the hill on 281 north. just north of the by pass on the right is a telephone group of equipment, turn left, go 4 mile over railroad tracks and turn right. this will take you direct to the lake. on the left the water will be 7 to l0 ft. i would go right along right shore for a mile. you will start to see groups of houses. start anywhere closer to shore the channel is 14 to 16 ft. drill holes until you locate fish suspended 3 to 4 ft off the bottom. you will always mark small perch 6 inches to 1 ft from bottom. good luck.
---
Name: unlucky
City: lisbon
Date: Wednesday February 09, 2005
Time: 07:30:18 PM

Hobart_Lake
Sunday January 30,2005
fished hobart, had some luck early in the morning. Then it died down aroud 11 am. We took home about 17keepers.
---
name: fishbit
city: fargo
Date: 02/09/2005
Time: 05:26:20 PM

Devils_Lake_Fishing
we are going to cancel trip to devils lake. it appears fishing slowing up. will try pipestem saturday.
---
name: crappiehunter
city: fargo
Lake: Pipestem Reservoir
Date: Wednesday February 09, 2005
Time: 02:32:11 PM

Jamestown
Im going to pipestem for the first time this year any help on where to fish would be much appreciated. THANKS!
---
Name: FarmBoy
City: Nortonville
Date: Wednesday February 09, 2005
Time: 01:42:45 AM

Hunting_Talk
Bryant, There is a lot of public land that is very goose-ridden in the Cottonwood lake area down south-south west of LaMoure, ND. ND farmers more than welcome out of state hunters on our land as long as they keep good care of it and don't abuse the privelages (and your name is not Chris from Las Vegas!). You are more than welcome to hunt on our land but I don't want to give location specifics out over this infoline.
---
name: want Walleye
city: Hawley, MN
Date: 02/08/2005
Time: 06:26:37 PM

Devils_Lake_Fishing
Thinking about trying Devils Lake for ice fishing for the first time, possibly this weekend (12th 13th) Have had alot of fun summer fishing at DL but would like to try ice fishing there. Anyone fished it in the last few days? How was it? any hints for us? How is it getting around on the lake with truck? thanks for your input.
---
name: Dan
city: West Fargo
Date: 02/07/2005
Time: 09:00:14 PM

Devils_Lake_Fishing
I am fishing at Devils Lake in about 2 weeks. If anyone has suggestions, please let me know.
---
name: fishbit
city: fargo
Date: 02/07/2005
Time: 05:34:41 PM

Devils_Lake_Fishing
going to devils lake to fish on thursday, friday, will check out famous ed bait shop locations. will be fishing for walleyes,perch. if anyone has any ideas please let me know by wed. 2/9/05. thanks.
---
name: gus
city: ndn
Date: Sunday February 06, 2005
Time: 06:06:21 PM

Stump_Lake
I didn't mark any fish or any bites. worked 3/4's of the lake to give it a good try. from the northwest corner ( up to a very large presure ridge!!)running nnw to sse. all the way back to 35+ depth. maybe later.....
---
name: gus
city: ndn
Date: Sunday February 06, 2005
Time: 06:04:31 PM

Stump_Lake
I didn't mark any fish or any bites. worked 3/4's of the lake to give it a good try. from the northwest corner ( up to a very large presure ridge!!)running nnw to sse. all the way back to 35+ depth. maybe later.....
---
Name: fishbit
City: fargo
Date: Saturday February 05, 2005
Time: 07:42:17 PM

Hobart_Lake
talked to a friend at 1pm today, he was fishing since daybreak, no luck. he was on southwest side of interstate.
---
name: fishbit
city: fargo
Lake: Pipestem Reservoir
Date: Saturday February 05, 2005
Time: 07:38:45 PM

Jamestown
I called a friend who was fishing on pipestem this afternoon, he was marking crappies, but no luck as of 5pm.
---
Name: DDV
City: Hoven
Remote Name: 66.231.10.210
Remote User:
HTTP User Agent: Mozilla/5.0 (Windows; U; Win98; en-US; rv:1.7.5) Gecko/20041107 Firefox/1.0
Date: Saturday February 05, 2005
Time: 12:19:48 PM

Missouri_River
I was at a farm pound today and got a 2 pound bluegill and a 3 pound crappie it was an awesome day. Both fish are going to the taxedermist to be mounted. just thought i would shed a little info on South Dakota
---
name: fishin machine
city: XXXX
lake_river: South golden Lake
Date: 02/04/2005
Time: 11:10:11 PM

Small_Lakes
Has any one caught anything out on golden want to try it for the first time this year
---
name: fishbit
city: fargo
Lake: Lake Ashtabula
Date: Thursday February 03, 2005
Time: 05:49:08 PM

Jamestown
sorry wrong lake not spiritwood, astabula, upper end of creek
---
name: fishbit
city: fargo
Lake: Spiritwood Lake
Date: Thursday February 03, 2005
Time: 05:46:26 PM

Jamestown
some walleyes were caught yesterday 14 to 16inch, upper end of the creek.
---
name: fishbit
city: fargo
Lake: Jamestown Reservoir
Date: Thursday February 03, 2005
Time: 05:44:10 PM

Jamestown
fishing report from jamestown res yesterday, fish did not bite till after 3pm and then came on strong.
---
name: Not Joe
city: Fargo
Date: 02/03/2005
Time: 01:58:28 PM

Devils_Lake_Fishing
First of all I'd like to send my sympathy to Joe. Now that you've realized your problem perhaps you can do something about it. Maybe just push yourself away from the table five minutes sooner then you regularly do and exercise a little. IF anyone ever does start getting some perch at Devils Lake I hope they mention it here. I've had too many dry runs as of late. Thanks!
---
name: Joe
city: Kenosha
Date: 02/02/2005
Time: 10:52:14 PM

Devils_Lake_Fishing
I am Fat
---
name: troy
city: grand forks
Date: Tuesday February 01, 2005
Time: 11:01:43 PM

Hot_Topics
scott, thanks for the great site. I will be back to visit it soon.
---
name: kevin brager
city: west fargo
Date: 02/01/2005
Time: 09:08:38 AM

Devils_Lake_Fishing
when we were fishing on sunday we started of in creel bay. we would mark fish every 4 or 5 minutes but they wouldn't bite.
---
Name: Lee Warren
City: Vancouver, WA.
Remote Name: 24.21.91.170
Remote User:
HTTP User Agent: Mozilla/4.0 (compatible; MSIE 6.0; Windows 98; .NET CLR 1.1.4322)
Date: Monday January 31, 2005
Time: 10:42:32 PM

Missouri_River
Going to be in Kansas City MO. in April was wondering if theres any good places to catfish or a guide for hire.
brtsky1@comcast.net
---
Name: Farm Boy
City: Nortonville
Date: Monday January 31, 2005
Time: 04:32:04 PM

Hunting_Talk
I'm new to this thread but I read something from mid December that made me cringe and my blood boil. I couldn't let it go on uncontested. So I apologize in advance for the long comment. But, just to set the record straight.......
Dear Las Vegas Chris, I'm not a mean man, a man who takes advantage of the government, or an idiot, nor do I like to be referred to as one of these. I am 25 years old – young in many people's eye's but light years ahead of you in knowledge of the agrarian related professions. (Agrarian means farming and soils stuff if you would like me to dumb it down for the former farmers who should know better). I have four bachelor's degrees including Architecture, Environmental Design, Crop and weed science, plant protection, and a speech communications minor (the last one is just so I can improve my rating as lowest IQ on the planet status). All degrees were obtained from North Dakota University System Schools – all of which were obtained from programs ranked top ten or higher in the nation in their related fields (except speech communications, but what do I know). The point of my letter is about the logistics behind your skewed perception of the Greatest of the Great Plains. I grew up on a farm; unlike you I did not have a very easy, well-funded upbringing. My family (Mom, Dad, six siblings) worked very hard every day to keep the farm going. My brother and I would put in 18-20 hour days quite frequently to "keep our lazy a$$es occupied." It wasn't easy either. In your perfect little farm (which I am beginning to assume was paid for and handed down to your immediate family unlike 66% of currently operating farms in ND) did you wake up in mid-summer at 4:30 AM so you could shovel out a naked oats or barley bin to beat the hot summer sun baking you in a galvanized tin grain bin? Did you pick rocks until you were so scorched and tired that you swore you could sleep for weeks but four or five hours was all you had? Did you eat your own grown chicken and beef every night because that's all you could afford? Did you never know what a new pair of jeans or shoes felt like until 10th grade? Did you have to be "weaned" off of milk straight from the cow when you had to sell the heard and could stand "dry store milk" but that was all you had? Did your parents love each other and you not because of money but because you worked together, played together, cried together, and laughed together….EVERY DAY? Because that is what farm families do. Did you cry when you had to give up that lifestyle, or did you mock it and damn the people who are still out there doing it? I got a degree and a good job because farming was not lucrative, not because we were wasteful, inconsiderate idiots who obviously stand on our heads and fail to successfully converse because of their incredibly low intellect. I cried for weeks the day I got an out of state job, I felt I had failed, and you didn't make it any better. You have no NORTH DAKOTA HEART. You will no longer refer to yourself as an "ol' farm boy."
BUT NOW TO BLOW YOU OUT OF THE WATER ON FACTS:
To understand North Dakota agriculture, one must understand the economics of its two primary products; spring wheat and beef calves. When farmers are experiencing symptoms of poor, or good, financial health often the diagnosis leads to spring wheat and/or beef cow-calf profitability. [The economics of wheat in North Dakota has been deteriorating for several years because cost of production per bushel has been increasing. From 1989 to 1997, cost of raising wheat increased by 58 percent, but the trend line yield only increased a total of 8 percent. Adverse weather, for raising wheat, has overwhelmed technology. Low prices have also been a factor. In 1998, the cost of raising wheat in most of North Dakota (excluding the Red River Valley) was approximately $110 per acre, as shown below. In the Red River it was about $175 per acre because land costs and input use are higher. Spring wheat on cash rented land averaged a loss of about $11 for every acre (a loss of $28 per acre in the Red River Valley). Although a quarter section (160 acres) of wheat cost of $17,577 to raise, plus labor, the end result was a loss of $1,747, not including government payments. The sale of wheat, after expenses, did not provide money to help pay family living expenses. Instead there was reliance on government payments, depletion of savings or an increase in debt. The number of farms in North Dakota has declined every year since 1936, from 86,000 to 31,000 in 1998. Farmers have opted for non-farm livelihoods either by choice or because financially they are not able to continue the farm operation. The overriding theme driving this trend has been technology. Larger and more efficient machinery replaces labor. Farmers compete for land to capture economies of size, not only in the use of machinery but in purchasing inputs and in marketing farm products, in an attempt to achieve net incomes that keep pace with the cost of living. Increased production from advances in seed, fertilizer, pesticide and other technologies have increased farmer profit only briefly. Competition at the farm level has not allowed producers, in general, to capture the economic benefits of technology. Consumers, not producers, have been the main beneficiaries. The technology treadmill has brought oversupply, leading to lower real commodity prices, and fewer farmers. Farmers in North Dakota have always had to deal with much variability of income because supply and demand for agricultural commodities is erratic. A shortfall, or abundance, of production is at the whim of weather and demand is impacted by personal income and by government policies around the world. Agriculture is the most export dependant industry in the United States, and North Dakota agriculture is more dependant on exports than any other state. Local price is a function of world production and demand. There is no guarantee that a small wheat crop in North Dakota will be offset by higher prices because North Dakota produces less than two percent of the world's wheat. There has been a downward trend in North Dakota median net farm income since 1993 primarily because of the economics of spring wheat, barley and the beef cow-calf enterprises. In 1998, despite record high yields for sunflower, flax, corn, sugar beets, and potatoes, net farm income would have been about $0 without government farm program payments and emergency aid. Other disturbing statistics are the increase in the percentage of farms that have negative net farm income and high debt. Producers are working harder on and off the farm in an attempt to make ends meet. North Dakota Farm Business Management Education program records indicate that acreage per farm has increased by one-third in the past ten years and non-farm wages has more than doubled to $10,000 per farm.
Costs and Returns per acre of Spring Wheat on Cash Rented Land, 1998, N.D. Farm Business Management Education, Excluding the Red River Valley. ________________________________________ REVENUE Yield (bu) 29.35 Value/bu 3.19 Value per acre 93.63 Misc income 5.31 Gross return 98.94 EXPENSES Seed 8.34 Fertilizer 15.76 Crop Chemicals 10.38 Crop Insurance 5.96 Fuel & Oil 4.92 Repairs 8.49 Mach Hire & Lease 4.89 Hired Labor 2.67 Interest 7.16 Depreciation 7.09 Land Rent 29.35 Miscellaneous 4.88 Total listed expenses 109.89 Net return per acre -10.95 ________________________________________
Where are you going to "cut the fat?" Your proposition of "a cheaper combine or leasing one" is ridiculous. Custom or rented all harvesting every year is incredibly expensive. Custom harvesting alone (Excluding planning, cultivating, minimum tillage, chemical application, swathing, & post-harvest tillage) adds another $15/acre on a very, very low end to $30/acre. No trimming there (actually adding to the expense column). $200,000 won't even buy you the top-line combine anymore. And to sacrifice yield loss due to crappy machinery is not an option. Cheap combines drop a lot of grain – grain you need to sell every year. You spend that money because you have to keep with the current trends; either that or you could give up, move to Vegas, let the heat and pollution rot your brain, forget about the prairie, mock everyone living the good life there, and feel utterly helpless inside because farmers back home have found a way to help make ends meet.]
SOURCE FOR [BRACKETED] INFORMATION: NORTH DAKOTA STATE UNIVERSITY EXTENSION SERVICE (You should get a source also; it would improve your idiotic argument.)
PS: CRP payments are in place to cover the land rent, property taxes and to supplement farmers for the use of their land. They still pay to seed and maintain that land while it is in CRP. This includes noxious weed control, trimming, food plot planting, etc. It balances out your demond government payments by driving down the production levels and planted acres which ultimately reduces government bail-outs due to price influx. Oh yeah, pheasants don't survive on YOUR corn, wheat, sunflowers, and beans... and 500,000 birds need a lot of grain. Do a little research before you start shooting your mouth off about stuff you don't understand.
Signed, The Wasteland Farmer (By wasteland we mean the most fertile land on the planet besides the Crimean Steppes and Plateaus of The Ukraine – now that's a fact.)
Back to the Archive of Fishing Reports