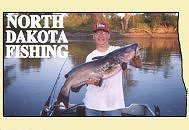 North Dakota Fishing 27
name: Tony S
city: Fargo
Area: Fargo
: unfrozncaveman@yahoo.com
Date: Wednesday April 14, 2004
Time: 11:20:34 AM

Red_River
Have you thought about "Vector Control" and mosquito sprays toxicity to the Red River? I did some math. The amount of pesticide per 1 minute of spraying, can make 781,250,000 Gallons of water poison to fish!
The 96-hour LC50 values for Scourge in rainbow trout, Bluegill Sunfish, and Sheepshead minnow are: 2.40 ppb, 13.00 ppb, and 8.80 ppb, respectively. 13 parts per billion is the highest concentration toleraterated by fish. At 14.4 part per billion diluted in water = 1.44oz Resmethrin / 100,000,000,000oz water.
781,250,000 Gallons water potentialy toxic PER Minute!!!
look at the spray area copared to the river.
---
name: Willie
city: las vegas
: badboyz4@cox.net
Date: Sunday April 11, 2004
Time: 01:25:24 AM

Fishing_talk
was up if you want some good fishing you have to take a drive down to boulder beach,lakemead.the catfish fishing is great at night time,and bass fishing is good also at dusk.[early,early morning]
---
name: EricR
city: Fargo
email:
lake_river: request a lake
Date: 04/08/2004
Time: 04:07:25 PM

Small_Lakes
I'd heard of a great pike lake south of Hankinson called Elsie. Any info on this lake would be appreciated.
---
name: Stu McKay
city: Lockport
Area: Canada
: redcats@mts.net
Date: Wednesday April 07, 2004
Time: 02:18:09 PM

Red_River
First of all, I'd like to express my humble appreciation for having been invited to participate as a guest speaker at the spring dinner and banquet on March 25th in Grand Forks.....a sincere thanks to all those involved!
Over all I found the entire experience to be very gratifying and I truly mean that. I think that it's incredible to see the way the "Red River Valley CATFISH CLUB" has grown in such a short time! I equally find it fascinating how the local business community lends it's support in these endeavors. Talk about American inginuity at work!
The new "KITTY" season is fast approaching, in fact for those of you living south of the 49th, your season could now be considered as officially underway! The moment the river is deemed "safe" to navigate, those whiskered beauties will be on the prowl. Can't say that I blame them after having spent all that time under a layer of frozen surface water. For those of you that have never pursued cats in the early spring or shortly after ice out, you are really passing up some prime action packed opportunities. In a nutshell, early season cats have only one thing in mind........FOOD, they simply have to feed in order to regain their size and strength in preparation for the inevitable, "spawning season"!
During this early season, cats are very cooperative, especially if presented the right type's of baits. One of my all-time favorite early season baits is "FRESH" sucker meat! They simply will not refuse it, end of story. Granted these hungry and aggressive kitties will show signs of active aggression on a wide variety of baits during this time, but "FRESH" sucker is always a top producer! Always make a point to have a variety of baits on hand. You'd be surprized how one presentation will out perform the other during the same sesson. I've experienced this type of feeding behavior on countless occasions. For example, at any one particular time, cut sucker could be the ticket, then for no apparent reason they'll switch their focus on other baits such as goldeye, tullibee or for that matter shrimp. The only message that I'm conveying here is, don't be caught off guard, make sure you have a back-up plan when it comes to bait presentation. It can spell the difference of being successful of unsuccessful.
In closing, I just want to add that this spring season has all the makings for a brillant start! There's plenty of flow in the river which is extremely important. For those of you that will be up here in my neck of the woods on the May 15th opener.......make sure that you're well rested and prepaired. Those ol' kitties are going to be extra hungry and extra mean!
Fish Hard......
Stu McKay
---
name: dakotawalleye
city: Mandan, ND
: steve@dakotawalleyeguides.com
Date: Tuesday April 06, 2004
Time: 11:28:22 AM

Lake_Sakakawea
With the warm temps and windy conditions the past few days the bays are opening quickly in the SW part of the lake. The northern pike fishing has been very good lately and there are lots of 10-16 lb. fish being caught right now. I've heard quite a few reports of 20+ lb. fish being caught. We saw a 19 lb. 10 oz. pike caught this past weekend. Fishing the shallow bays with smelt has been the ticket for catching these fish.
---
name: Catmister
city: Fargo
Area: Comment
Date: Saturday April 03, 2004
Time: 08:25:59 PM

Red_River
Woo Hoo!! It's here. I went a fishin' yesterday and caught me a mixed bag of goldeye, carp, cats and walleye. For bait, I was using nightcrawlers. I figured I might catch the goldeye and carp, but the cats and walleye where an nice suprise!!
---
Name: MIKE
City: SHERIDAN,IL
: POOLSHARK291@YAHOO.COM
Remote Name: 172.202.32.74
Date: Saturday April 03, 2004
Time: 08:01:13 PM

Hunting_Talk
a couple of buddies and i are looking to do our first prarie dog hunt in north dakota. does anyone know of any property to go to or how we could find something b4 we make the 500 mile drive? any help would be appreciated. we dont really want to pay for a guided hunt...ty all...email me at poolshark291@yahoo.com if you have any suggestions
---
name: fishing man
city: grand forks
Area: Grand Forks
Date: Friday April 02, 2004
Time: 01:00:18 PM

Red_River
Looks like the water might start going down soon .Looked at the weather report for the weekend and next week looks like some rain on tuesday but other than that it looks like it might be nice the rest of the time.So i might just get to go catfishing on the red soon as the 15 of april.
---
name: fishing man
city: grand forks
Area: Grand Forks
Date: Friday April 02, 2004
Time: 12:59:00 PM

Red_River
Looks like the water might start going down soon .Looked at the weather report for the weekend and next week looks like some rain on tuesday but other than that it looks like it might be nice the rest of the tim.So i might just get to go catfishing on the red soon as the 15 of april.
---
name: Curt
city: northdakota
Date: Thursday April 01, 2004
Time: 10:24:28 PM

Fishing_talk
California Angler Shatters Bass World Record
---
name: Dan
city: Grand Forks
Area: Grand Forks
: Captain_Aubrey@hotmail.com
Date: Thursday April 01, 2004
Time: 02:29:41 PM

Red_River
No, haven't tried for cats, but my buddy says pike are fast and furious at the Merriffield dyke, though I have no idea where it is, the spot I usually fish for cats, is hopelessly flooded.
Does anyone know if the river crested yet or if it will go down anytime soon?
---
Name: Mark
City: Remsen
Date: Thursday April 01, 2004
Time: 11:40:10 AM

Missouri_River
I've been doing a little cat fishin' on the red. It's pretty slow.
---
Name: Mark
City: Remsen
Date: Thursday April 01, 2004
Time: 11:36:48 AM

Missouri_River
Yo!
The walleye are in deep waters this season! I'd Suggest trolling!
---
name: letcherz
city: valley
email:
lake_river: Maple Lake
Date: 03/31/2004
Time: 09:46:37 PM

Small_Lakes
Where is maple lake, I've never heard of it before??
---
name: fishcatcher(the one and only)
city: North Dakota
email: --------------------------------
lake_river: Maple Lake
Date: 03/31/2004
Time: 05:06:38 PM

Small_Lakes
Okay from some very reliable sources the fishing on maple lake is destined. One spot I heard about was around trinity point, if you don't know where this is, it's on the other side of that large Island sticking out. There catching crappies and even a few lose northerns that are hanging around. I'm not doing this to just blab out a secret but I'm giving you the opportunity to fish where the fishing is good. Thanks for listening, The fishmaster(the one and only)!!!!!
---
name: fishing man
city: grandforks
Area: Grand Forks
Date: Tuesday March 30, 2004
Time: 08:58:35 AM

Red_River
Has anyone tried to catfish on the red yet?
---
name: Zena
city: Grand Forks
Lake: Pipestem Reservoir
Date: Saturday March 27, 2004
Time: 12:12:16 PM

Jamestown
I am glad that the fishing reports are not coming in. If you like fishing you should go there and try it. That's why they call it fishing and not catching. Good luck on your next fishing trip.
---
name: Toby Mougey
city: Valley City
email: mougey_1@yahoo.com
lake_river: Sheyanne River
Date: 03/25/2004
Time: 05:04:57 PM

Small_Lakes
Fishing starting to pick up on the sheyenne. most of the ice is off around valley city. caught several northerns, walleyes slow so far, caught a few smaller ones. does anyone know of a great spot south of valley? it you do give me a shout at my email.
---
name: fishing man
city: grand forks
email:
lake_river: Larimore Dam
Date: 03/25/2004
Time: 03:24:28 PM

Small_Lakes
Well i guess the warm weather is here.Caught alot of fish last weekend but i do not think it will be safe to go ice fishing there this weekend.Well hope every body is getting ready for the open water because in a couple of weeks,just as long as the warm weather holds out it will be time to go out and cast some lures and then it will be time to go after the big catfish on the red.Hope every body has some good off time see you on the open water.
---
Name: Dave
City: North Mankato, Minn.
: dave_mari@yahoo.com
Remote Name: 24.197.221.186
Date: Tuesday March 23, 2004
Time: 11:57:05 PM

Hunting_Talk
Its sad that all this government crap has to happen. May I ask, Who wins ??? Not the friendly people of North Dakota, and not I, a fisherman from Minnesota! I visit Devils lake every year at least once and all the people I meet are very good people. Will be staying at the spirit water inn for a week starting May 3rd. Just like all the other lawsuits ect. that happen these days, all us common people lose something! That is sad. I used to be a pheasent and duck, goose, hunter, and haven't been so for many years because of all the laws and restictions today. It just isn't fun anymore like it used to be. I was always very respectful of other peoples property and always asked first. I guess other people have ruined that because of their carelessness. So now this sport may not be passed on to my sons the way it was passed on to me, and that is the sign of changing times I guess. Sadly this is a waste of the next generation, and this also gives more power to the anti-gun groups because if they don't hunt or own any guns, whats their reason to choose for what most of us hunters believe in today. I please ask everyone that reads this to NOT let our leaders totally choose our direction on this topic or influence our feeling to much. We need to stick together as sportsmen and women. I have a low paying job and can't afford to pay someone 200.00 a day to hunt on their property. But can't help but feel bad about this because it is becoming a rich person sport. Sometimes I want to sell all my guns and just give up, but am a stubborn person at 52 yrs old and will fight all these incompetent congress people that try to ruin all our lives with lawsuits and new gun laws! Lets all stick together people !!! Dave. NRA.
---
name: VI XIONG
city: GREENVILLE
: VXIONG2@NEW.RR.COM
Remote Name: 24.166.151.115
Date: 03/21/2004
Time: 05:32:38 PM

Devils_Lake
WHEN DO WHITE BASS BIT BEST THERE?
---
name: joe scott
city: wpg
Area: Canada
Date: Saturday March 20, 2004
Time: 11:53:05 AM

Red_River
Hi I just went fishing just the other day and I cought 2 walley 30inches long on the red river at the end of main.
---
Name: Dave
City: Minot
Remote Name: 216.221.97.45
Date: Wednesday March 17, 2004
Time: 11:05:04 PM

Hunting_Talk
Ron, thanks for responding. Ah Lignite! Many weekends and days off from school spent in that area chasing geese around. Back when all the water holes were full instead of dry!
Your absolutely right about the ND people. As with your family, my grandmother walked behind a covered wagon to ND and homesteaded here.
I'm definitely familiar with the pheasant country around your Father In Laws. My best friend and I helped a farmer out one year down in that area and he allowed us to experience some fine rooster hunting.
Please pass on to your Father In Law a Big Right Arm Solute from Dave in Minot! I hate to see No Hunting Signs go up as much as the next guy, but I would support his decision. Not taking money to hunt his property receives another Right Arm Solute! I just hope that those who have the oppertunity to walk his property show a high level of respect!
Thanks for sharing and I hope your stay in MN serves you well.
Dave.
---
Name: Ron
City: Minnesota
Remote Name: 216.114.201.171
Date: Wednesday March 17, 2004
Time: 05:49:21 PM

Hunting_Talk
Hi to Dave from Minot
I am no political expert by any means.. but when all this BS started I decided to find out who the politicians were that are making a tense situation worse. I have not contacted the governor or attorney general yet, but now that you mention it I think it is a good idea!
I too have deep roots in ND with my great grandparents and grandparents farming the Lignite area for almost 75 years. I often hunted that area when I was a resident (too far to drive now) My mom is from Minot and I have literally 100 cousins, aunts and uncles in that area..most of whom hunt.
What does any of this have to do with the NR issue? It is simple, Most ND residents are all born and raised in ND with deep ties. MN resident or other NR hunters do not realize this... This is different from allot of other states where there is a large number of people lving that were not born and raised there.
This makes the situation personal for many ND residents and needs to be handled much different than some lawsuit.
You asked about my father in law... he has some great duck and pheasant land and up until now he has welcomed anyone as long as they obeyed the law and were respectful and he will never take money for people to hunt. I talked to him yesterday and he is not happy with what has been going on and will more than likely start posting his property and not letting any NR hunters hunt. I am sure there are 1000's of other land owners that are going to do the same.
when I talked to him he made a great point. He said that the politicians can fight all they want and sue each other, but it all comes down to the landowners letting people on their land. He said that even if ND let 500,000 NR hunters in each year it won't do any good if they can't get permission from farmers...His neighbors have said they were thinking about posting everything and not lallowing any NR hunters regardless of what they ar willing to pay.. NR hunters better be careful, they might win the battle and be allowed to go to ND but they won't win the war of getting permission! Not every farmer is for sale!!!!
---
name: musky mike
city: shaw WI
Remote Name: 216.56.21.200
Date: 03/17/2004
Time: 02:43:25 PM

Devils_Lake
Were leaving for devils lake on the 26th of march. what are the ice conditions like and how deep is the snow. just wondering if 4 wheelers will maker.
---
name: Ken Felty
city: Comstock Park
: kafelty2@netzero.com
Remote Name: 65.59.8.136
Date: 03/17/2004
Time: 11:35:12 AM

Devils_Lake
What is the fishing like in the month of january? Thank you Ken
---
Name: fishburne
City: devils
Remote Name: 209.180.61.133
Date: Wednesday March 17, 2004
Time: 01:09:50 AM

Hunting_Talk
Dwight, there was no decrease in NR hunters. They just spread out. Certain areas may have seen a decrease, but other areas saw a huge increase. Land access is the reason the SW may have seen a decrease. Why would somebody pay to hunt when they can shot birds for free.
SW ND needs to understand that they created their own demise. Once businesses in that area secure land access for hunters, they will get all the business they can handle.
---
Name: Dave
City: Minot
Remote Name: 216.221.97.45
Date: Wednesday March 17, 2004
Time: 12:23:58 AM

Hunting_Talk
Dwight:
I agree with you. Relationships with land owners are key. Sounds like you may be making an offer?
Anyway, I think you may have been referring to one of my comments, but misunderstood. My comment wasn't that limiting N/R Licenses would cause the waterfowl population to increase, and thus the farmers would allow hunting because they don't want their crops eaten. I did suggest though that there may be more oppertunity to access private property if the big spenders weren't coming into the state. Then through those oppertunities the relationship between the local sportsman and land owner can be built.
We see this in other area's today. The deer population has increased almost out of control in certain areas of ND. The land owners in those area's are more willing to allow harvesting of these deer. We also see this with the turkey population is some area's. The wild turkeys have become such a nuisance, that not many land owners in those area's would turn away a turkey hunter. My comment was in that same context regarding the waterfowl. As long as there's a market for high dollar hunting, and that market is supported by the big spender N/R's, "Wishful Thinking" as you say for the Resident.
I think your confusing the issues. Your right, MN doesn't have anything to do with the Fee's set forth by the ND Government.
The high costs to hunt ND aren't due to Fee's established by the ND Government, but rather that land owners are charging $200 - $300 dollars per day to hunt pheasants on their property. That market is not being financed by residents, but by big spender non-residents.
Land owners work hard for the land they have purchased, and nobody else pays their high operating expenses, property taxes, ect. Land owners have a right to do whatever they want with their property.
The lawsuit is an issue of politics, but there is an overwhelming percentage of ND land owners who have responded negatively toward this lawsuit and have indicated that if the lawsuit is pursued it will negatively affect MN N/R access to their property.
---
Name: Dwight
City: Wisconsin
Remote Name: 209.94.188.1
Date: Tuesday March 16, 2004
Time: 10:00:32 PM

Hunting_Talk
Good evening,
A few thoughts on the present state of hunting in North Dakota. Our family have been life time owners of land in the Flasher area. It was homesteaded by my great great great grandparents. Spent 24 years there hunting and farming it and now the last 17 years returning to hunt it as a non-resident but I remain the land owner and other areas of ND. There has always been too much posted land. Yes, it may seem that it is increasing but at the same pace the NDGF has done some smart things with the PLOTS program. The access to posted land can be through payment but smarter ways are through relationship building. How many times have you mailed a thank you card to a landowner after hunting their land? How many times have you called during the spring and offered to pick rocks one day, fix fence, brand calves, clean out grain bins, etc etc. There is limitless work on a farm. Help a farmer and they remember. A comment someone made was limit the non resident than the waterfowl population will increase thus the farmers will allow hunting because they don't want their crops ate. Wishful thinking! Work on developing relationships with the landowners and great things happen. The lawsuit situation between MN and ND, just another case of too much govenment and not enough for someone to do. Yes, it is frustrating to pay more to hunt in ND, but that is ND's choice. MN has nothing to do with the fees that the ND government sets. I do caution the ND government that too quickly or too drastic of increases can bite the hand that feeds the state from the non-resident fees. In speaking with many of the small cafe and gas stations owners in the small towns, there was measureable concern that hunting volume was down last fall and it was possibly attributed to the fee increases.
Thanks for listening, it has been too long of a winter and i can't wait for the fall season to arrive!
---
name: Fishmahn
city: Minot
Remote Name: 216.221.105.10
Date: 03/15/2004
Time: 10:08:03 AM

Devils_Lake
Hi, Just wondering if anyone knows if the large pike have started biting yet in the Warroad/buffalo bay area of Lake of the woods.
---
Name: chris
City: omaha
Date: Monday March 15, 2004
Time: 08:57:56 AM

Missouri_River
was fishing missouri about 1 mi south of south omaha bridge caught a 55lb cat last night
---
Name: fishburne
City: Devils
Remote Name: 24.117.135.160
Date: Monday March 15, 2004
Time: 01:26:55 AM

Hunting_Talk
Dave, I can remember hunting in SW ND without paying, yep yep. That is why I said it. I haven't hunted out there since, geez it has been that long....
Anyhow, after the regent, mott, new england, carson yadda yadda yadda..... This whole leasing/pay hunting parasite keeps working its way east. I had been hunting south of Bismarck the last couple of years, nope not anymore. EVERYTHING is getting posted in that area too. The freelance hunting areas in ND are become few and far between, not to mention small.
And yes you are right, the lake area is experiencing some access issues too. But waterfowl is very very unpredictable, unlike pheasants. If you lease some land, who knows if they will even use it. Whereas pheasants have to live somewhere year round. You live in ND, I'm preaching to the choir, sorry.
I will say it again, NR are welcome in my book, just don't support G/O and don't lease land. I also don't have a problem with farmers posting their own land. Hell I would post my land too. Most just want to know who is out there.
Hunting is hunting, shooting is shooting. Paying to hunt is WEAK.
---
Name: Dave
City: Minot
Remote Name: 216.221.97.45
Date: Sunday March 14, 2004
Time: 06:58:02 PM

Hunting_Talk
Ron:
Thank you for bringing that correction to my attention.
I refrain from traveling down the road of political motives or intelligence.
I'm sorry to hear that circumstances have taken you away from the Jamestown area.
I grew up in rural western ND. What I've witnessed happening in that area is disturbing. I'm not sure if Mr. Fishburne from Devils is old enough to remember or not, but I've hunted that Mott / Hettinger / Bowman area when it was still Free to do so.
I know of some waterfowl property that was purchased in Mr. Fishburne's area by some NR. I know that only a select number of individuals will have oppertunity to access that area for hunting. I refuse to participate, but hey I'm a stubborn ND German native.
Sorry Ron, back to you. You speak with knowledge and wisdom and for the most part I agree with what you say. However, when our state officials make a decision that rubs the majority wrong, our officials are over-whelmed with public opposition.
Are the MN residence contacting their Gov. in opposition to the Lawsuit? I personnally know a larger number of MN residence who have been contacting the MN Gov in favor of the Lawsuit than I know who are opposing it. (These are not wealthy people.)
I stated in an earlier posting, and will re-iterate it again. My issue isn't NR sportsman. My issue is arrogance toward us ND's and that's primarily the attitude that I have received from my eastern acquaintances. There are things that I like about this state and things that I could do with out. I don't believe that ND is any better than any other state, but the oil field, construction, farming, and ranching of this state have put blisters and caluses on my hands and I've sweat enough working in this state to fill a couple of small lakes in MN. I Love this state, so no matter what level the attack comes from, I take it personally. I've even offered residence of ND a free ride to any of our borders for their derogatory statements about ND. That offer has no expiration date.
MN newspapers boasted about firing a shot across ND's bow. That shot across ND's bow is kind of like a bunch of kids throwing rocks at a hornets nest. The hornets don't care which one of the young lads hit the nest, their all gonna get stung!
By the way, what's your father in-laws policy on hunting his property and has it changed at all with this war?
Respectfully, Dave.
---
Name: fishburne
City: Devils
Remote Name: 24.117.135.160
Date: Friday March 12, 2004
Time: 05:52:35 PM

Hunting_Talk
The average ND hunter isn't afraid of the freelance NR. We are afraid of G/O and people who lease/buy huge amounts of land, then subsequently post. It isn't a MN vs ND, or even a ND vs NR. The amount of NR hunters is nonmaterial, IF land access isn't an issue. Well, land access is an issue and too many people competing for a small area of land isn't good.
At what point will every animal with a pulse, have a price tag around its neck. I sure hope it never gets that bad. I will never pay to hunt, as well as 90% of hunters.
Then why did mott struggle for business this year, cause 90% of people won't pay to hunt. If the SW corner of the state could get their act together, they would have so much business. Secure land access for All hunters and the money will come.
As for the politicians, if they upset you, do your duty and vote em outta office. I know Gov. Hoeven has many eyes on him right now. ND has a very large hunting population. We will not hesitate to elect someone else.
---
Name: Ron
City: Minnesota
Remote Name: 216.114.201.171
Date: Friday March 12, 2004
Time: 12:45:57 PM

Hunting_Talk
A quick response to Dave from Minot: The governor of Minnesota is not Mike Hatch it is Tim Pawlenty. Mike Hatch is the Attorney general here in Minnesota, an In my opinion he is not a very bright guy, nor is Tim Pawlenty. Mike Hatch apparently doesn't have much to do so he filed some stupid suit against ND because in his opinion they are "unfair" with their non-resident laws. Trust me when I say that very few Minnesotan's support this lawsuit and it is seen as a big waste of our tax dollars. it is also seen as one more road block in the relationship between sportsman in MN and ND. As a sportman from Jamestown,ND now living in MN I am upset with the politicians here in MN and the fact that they are making things worse.. not better. I come home to ND several times a year to help my father in law farm, and I come home a couple times a year to hunt. I abide by whatever ND decides for non-resident laws. Mr. hatch and Mr. Pawlenty DO NOT speak for the average sportman.....they only represent the rich kronies with political ties who think it is their "right" to hunt wherever they want because they have money!