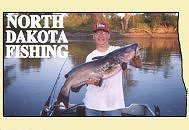 Fishing Reports-Archive
Current North Dakota Fishing Reports
All Current Fishing Reports
The Archive of Fishing Reports
Name: Brad Durick
City: Grand Forks
Date: Tuesday March 11, 2003
Time: 09:56:08 PM

The_Lounge
Dogman,
I would have to agree with you. As for a place for myself and my friends to stay I think I will stick to my parents house 3 miles to the west of the location that I was speaking of. I love the outdoors but staying at the old homeplace with the folks suits me just fine. They are still 12 miles from the nearest town and 5 from the nearest farm. Thanks for the thoughts
---
Name: dogman
City: jimtown
Date: Tuesday March 11, 2003
Time: 06:26:41 PM

The_Lounge
Brad, I am not too sure that would be a good idea. Most people who say they would like that are actually full of it cause they take for granted the "creature comforts" As far as What I would do with it is make a little place for yourself and friends. I think you might get into some problems with the hospitality industry and the mandates they have to follow. As long as it is not an outfitter type buisness I encourage you to investigate. But I still think you should do it for yourself and friends. The times I spend at my buddy's hunting shack is worth 2x the cost of a therapist. Best therapy in the world is to get away and think!
---
name: mike
city: shawano
Date: 03/11/2003
Time: 02:33:50 PM

Devils_Lake
Hey guys, planning to vistit DL late march early april hows the fishing and ice conditions look.Appreciate the info.
---
name: fritz
city: gods paradise
Date: 03/10/2003
Time: 09:14:56 PM

Devils_Lake
I am glad to see some people look at things the same way I do, Thanks. And to the gentleman that says we're not true fisherman, I truly have no idea what you're talkin about. You mentioned something about revealing hot spots...., some of us spend a considerable amount of time on the lake each week in search of fish. When god smiles on you and you find a true honey hole, why would you let the whole world know about it. Too many times all ready this year, I have told people about a great fishing spot and ya wanna know what, next thing you know there is 100 people crowding you out of the spot you originally found. how's that for respect. I just get plain sick of people whinning on the internet, a guy has to scroll through 30 reports just to find subject material worth reading. Quoting a wiseman once more,"the only way to tell if the fish are biting, is to get on the lake YOURSELF and find out."
---
name: Scott McNamee
city: Grand Forks
Lake: Jamestown Reservoir
Date: Monday March 10, 2003
Time: 09:01:39 PM

Jamestown
Actually, I believe the regs read that all PERMANENT ice houses must be removed by the 15th. Portables/Larger ice houses may still be used, but must be removed nightly.
But a good reminder, nonetheless!
Scott
---
name: crap king
city: james
Lake: Jamestown Reservoir
Date: Monday March 10, 2003
Time: 08:57:57 PM

Jamestown
A reminder to all fisherman: All ice houses must be removed from ND lakes by midnight March 15, which I believe is this saturday.
---
name: Allen
city: Grand Forks
Date: 03/10/2003
Time: 07:38:29 PM

Devils_Lake
Ron,
Try Woodlands Resort in a search engine on the web. Them or East Bay campground if you want to camp out. Best fishing in June? Probably the Minnewaukan Flats on the west side, but the mayflies are murderous in June.
---
Name: MinDak Hunter
City: FM AREA
: mjmartin10@hotmail.com
Date: Monday March 10, 2003
Time: 05:22:10 PM

Hunting_Talk
SNOW GOOSE HUNTERS!!! I am looking for someone with decoying experience to hunt with this spring. I have an e-caller, 200 rags, 6 doz silhouettes, and 4 doz shells. I am willing to travel a couple hrs to get in some hunting. M.Martin
---
name: jim
city: MANITOWOC WIS.
: lyonsbigjim@yahoo.com
Date: 03/10/2003
Time: 02:06:06 PM

Devils_Lake
I have been fishing my whole life which gives me well over 30 years of experience and i am finaly in a position to use some technoligy in going to another state for some hopefully fun and productive fishing,unfortunately i stopped at this site and while reading thruogh the fishing reports i ran accross fritz and bullhead, sorry fellas,your not fishermen i realy don't know what you are or aren't but true fishermen keep their hot spots to themselves without harming their local fisheries or the income that the local people count on to live through out the year. i'm looking forward to an e-mail from anyone who is a real fisherman from around the DL area, myself and 3 of my buddies wuold like to come out and try for some perch in the next week or two so any info would be greatly appreciated. good luck to all the real fisherman out there.
---
name: Ron
city: Adel,Iowa
: motormouth466@aol.com
Date: Sunday March 09, 2003
Time: 07:59:00 PM

Fishing_talk
We are coming to DL in June and just wanting to know where a good place to fish for Walleye was and a nice place for 3 to stay.
---
name: ron
city: iowa
: motormouth@aol.com
Date: 03/09/2003
Time: 07:38:52 PM

Devils_Lake
We are coming to DL in June for Walleye. Just would like to know where a resort would be for 3 to stay. Thanks for any info Ron
---
name: Paul Scott
city: Grand Forks
: pasasap2@yahoo.com
Date: Saturday March 08, 2003
Time: 06:25:56 PM

Fishing_talk
I am looking for someone to take two to four people out on the Red River at Lockport, Canada. We want to fish for twenty plus pound channel catfish for six to eight hours. We can be in Lockport any time from the 17 to the 27 of May, 2003. We cannot afford to pay the local guide service fee of $350 for two people or $500 for four so I am asking if anyone could take us out at a much lower price. We have our own equipment and will bring our own food, water, and bait. I am looking for someone who has enough room on their boat for five people and who will be fishing that day for catfish anyway. I plan to pay that person for the gas for their boat ($50 US) plus ($50 US) for their services. If anyone is interested please contact me at pasasap2@hotmail.com. Thank you and good fishing!
---
name: perchn1
city: Hub. WI
Date: 03/07/2003
Time: 11:49:08 PM

Devils_Lake
Just came back from DL fished 2/19-2/26 we were a group of 4 this year. We happened to hit the deep freeze again this year, and the wind, but that did'nt stop us or slow us down from moving around. We did'nt catch as many fish as usual, but between the 4 of us we still managed to catch a couple hundred keepers between 9"-13"and had a great time as usual. I've been coming out to devils lake for 5 years now and found that you can only rely on your self if you want to catch fish. KEEP MOBILE!! I will have to say that most of the locals we meet when were out there are some pretty nice people. We have met some real jerks at the local bait shop when we were trying to find out any information on the bite a couple of years ago, and were told right out if we wanted any information that we could pay the local guide/patrol just like everybody else. needless to say we dont go to that bait shop for anything. And to think, these people call themselves sportsmen. But dont let a few ignorant people stop you from enjoying a great fishery. keep your lines tight! And good luck.
---
name: lane
city: minot
: speakedk@aol.com
Date: Friday March 07, 2003
Time: 12:44:56 PM

Lake_Darling
i need to catch some fish. good places to ga to catch fish
---
name: Kent Hollands
city: Grand Forks
Area: Comment
Date: Friday March 07, 2003
Time: 09:35:33 AM

Red_River
Dennis, of all the time I have spend fishing the river I have yet to catch one sucker. I would love to hear how you do that, what you look for, and bait, etc... Hopeing to be fishing soon come on baby melt.
---
name: Dennis Flom
city: Harwood
Area: Fargo
: icatchbigcats.com
Date: Friday March 07, 2003
Time: 12:41:02 AM

Red_River
Kent H, I will give you a call sometime as I love to fish the Grand Forks area of the Red River. I have told many people that the Grand Forks area is my favorite area of the River in the US. You have plenty of depth and also snags which means lots of catfish.
In fact you may see me up there early again chasing suckers. I am going to try to catch a freezer full prior to the start of the catfish.
Hope for warm weather!
Dennis
---
Name: Brad Durick
City: Grand Forks
Date: Thursday March 06, 2003
Time: 11:37:56 PM

The_Lounge
dogman,
Thanks for the words of encouragment. I do have that whole scenerio right now with the exception of the cabin. I posted the hypothetical to see if anyone would respond.
The reason I posted the idea was because North Dakota is always looking for economic development. I can't think of many places that can put you back to the way things were.
I am seriously thinking of building the cabin for rent and marketing it as getting back to the early 1900s.
Thanks Again
---
Name: dogman
City: jamestown
Date: Thursday March 06, 2003
Time: 05:43:11 PM

The_Lounge
Brad, I wouldn't mind staying there. that's what I like. No creature comforts. just like the old days. It wouldn't hurt me one bit. Have a nice day!!
---
name: FISH4LIFE
city: MWKN
Date: 03/05/2003
Time: 10:45:04 PM

Devils_Lake
If jimmy d wants to not come back, leave him alone. Thats good, if hes only going to complain about our great fishery we dont need him here. Ive fished this lake for 14 years and up until 2 years ago i finally figured out how to catch the finicky perch. One trip isnt goign to do it. hire a guide and learn the new techniques.
---
name: Bagoeyes
city: Horicon
lake_river: comment
Date: 03/05/2003
Time: 06:14:45 PM

Small_Lakes
Is any one fishing?? Going to West Lake and some other around Wishek next week, wondering what the snow and ice depth is besides the fishing report. Any help would be welcomed:-)
Tightlines all! Bago
---
name: Tightline
city: Northwood
lake_river: comment
Date: 03/05/2003
Time: 04:09:20 PM

Small_Lakes
Jimmy K.
Try this:Richland County http://www.state.nd.us/gnf/fishing/nd-fish-wat.html
Good Luck
---
name: jimmy K
city: fargo
: threetwocount@hotmail.com
lake_river: request a lake
Date: 03/05/2003
Time: 12:24:45 PM

Small_Lakes
hey everyone, i need to know about some of the lakes around the hankinson and lidgerwood area. what are they, where are they and is anyone catching anything. my dad and i are heading out that way on saturday and would really appreciate any info. reel up the slack and thanks
Jimmy K
---
name: chad
city: Grand Forks
Date: 03/04/2003
Time: 07:50:54 PM

Devils_Lake
That was a pretty harsh post about a lake that they probably never fished before. If the only way to have a sucessfull trip is by catching a bunch and your not sure where to go then i would say, "hire a guide". Not only will they put you on the fish but will give great tips on what presentations work on that given body of water. If being able to afford a guide is a problem then make sure your expectations are in check because the results are up in the air. No im not a guide and until this year i have never ice fished it but i knew a few people that have and have had real good wayelle fishing as a result. Fritz its all good man, your just defending your territory. We all know there's great fish to be had on DL, this guy had high expectations which more then likely could have been filled if he had gotten a guide.
---
As webmaster, I can speak for this website, and that is we welcome all visitors to the website. As with any state, you will hear about some 'sour grapes' that cannot see the good in anything fishing. Let's do our best to be amiable on this website. Thanks guys!
---
name: fritz
city: somewhere nice
Date: 03/04/2003
Time: 04:38:36 PM

Devils_Lake
To all my critics, read the post from your WI cohort Jimmy D. He is the one stating that DL isn't good for fishing. I just responded to his post. It is funny you'll jump on me for responding. Some people never are satisfied, like Jimmy D. I don't slaughter fish every time out, but you don't hear me complaining about it either. As a wise man once stated," They call it fishing, NOT catching." There is a huge difference.
---
name: coldrush
city: freedom wi
Date: 03/04/2003
Time: 03:36:29 PM

Devils_Lake
My first time visiting this site and the first post I read is from a man name fritz. Well I have to say I will be soon making my 5th trip from wisconsin to Devils Lake ND. Not only for the good fishing but to be among some of the best folks I have meet. The people that reside in ND are friendly and very helpful. One of the main reasons I return each year. The fish we harvest or just a added bonus to a great outdoor adventure.
---
name: Danny Doherty
city: Saginaw
lake_river: Cherry Lake
Date: 03/04/2003
Time: 01:13:49 PM

Small_Lakes
I dont have a fishing license but i fish anyway.
---
name: mike
city: lacrosse
Date: 03/04/2003
Time: 12:56:06 PM

Devils_Lake
Hey people from wis. don't listen to an idiot like Fritz jerk. I've done well on devils lake many times and can assure you most people in N.D. don't share his views on wis. people. Its to bad one guy mad at life thinks he can talk for the whole state of N.D.
---
Name: Guns
City: EGF
Date: Tuesday March 04, 2003
Time: 10:57:01 AM

Hunting_Talk
Thanks guys for the info. however I will not be switching residency because the majority of my hunting and fishing is done in MN. It would actually be more expensive for me to do that. I guess if it doesnt pass then I will just have to live with it. Thanks once again for the info. i appreciate it.
Guns
---
name: fritz
city: flowberg
Date: 03/03/2003
Time: 08:51:05 PM

Devils_Lake
To the people from WI, why don't you stay in WI and tell everybody that you know that ND is terrible for fishing and to never go there. You will be doing everybody in ND a big favor.
---
name: Randy Rice
city: GFAFB
: RNKNGF@aol.com
Date: 03/02/2003
Time: 11:03:29 PM

Devils_Lake
It was cold as hell Sunday morning but no wind. Went to Black Tiger for perch and wasn't disappointed (didn't limit either). Took home 14 fish between 9 & 11 inches (still haven't found the 12 inch models). Saw lots of fish on the Vexilar but it was a tough bite. Usually just a still minnow, every once in awhile a little jiggle would get a bite. Missed a few fish (old, slow?!), but still a good day. Only drilled 3 holes, all within a 50 foot radius. Water was 34 feet deep, by Eastbay Campground. Good luck.
Randy
---
name: Bullhead
city: Fertile
Date: 03/02/2003
Time: 04:51:40 PM

Devils_Lake
To the folks from Wisconsin who didn't catch much: too bad and so sad! That's why its called fishing, not catching! Any trip could be like that, no matter what the most recent reports are. If you plan a trip, its best to be prepared for the "worst" and make the most of whatever happens--that way if its good, you'll be even more happy. This outlook will help you keep from being disappointed in the future. And besides, now there will be more fish for everyone else!
---
name: Jimmy D
city: Parts Unknown
Date: 03/01/2003
Time: 06:29:36 PM

Devils_Lake
We fished DL hard for the last several days, moved around, tried different setups and no perch to be found.
Bottom line: We came from WI and its too far to drive for what kind of fish action we got. Won't be coming back and would recommend others to stay away until they hear better reports in the future.
---
name: Rick
city: Fargo
: fsholbr@hotmail.com
Date: 03/01/2003
Time: 12:19:43 PM

Devils_Lake
We fished DL four days around Presidents Day. Caught lots of fish but, you had to work for them. Jigging spoons worked well you need to find the submerged brush. I would say that the fishing was good but you have to be willing to move. I would not stay in one place for more than 15 to 20 mins with out either changing lure or moving.
Rick
---
name: Jim Martens
city: Winnipeg, MB
Area: Comment
Date: Friday February 28, 2003
Time: 03:54:01 PM

Red_River
Where's all the green back hunters
---
name: Redneck
city: Hillman
Date: 02/28/2003
Time: 12:59:39 PM

Devils_Lake
There must not be to much action on the big DL this year. I have not herd to many reports.
---
name: Kent Hollands
city: Grand Forks
Area: Comment
Date: Friday February 28, 2003
Time: 11:37:30 AM

Red_River
Dennis F, I think your right I forgot to add in the trip up north. I up my goal, I'm going to shoot for 2500. This includes one trip up north. I'm planning on tryen to get on the river at least 3 nights a week and at least one full day on the weekends maybe two. That all depends on the other half. Lets just hope we don't have the high river like we did last summer.
Say if you ever have a night off and would like to go fishing up here consider giving me a call. Might me fun shotting the bull one night on the river.
Kent H. I think you should up that goal a little bit, you will be suprised how fast that comes. 1000 lbs is not all that much when you are fishing the Red. Brad D., myself and one other fisherman managed that in just 10 hours of fishing up in Lockport late last summer. I think 1000 lbs a week would be a fair goal for this area.
---
name: Travis Ryks
city: Willmar
Date: 02/28/2003
Time: 10:59:19 AM

Devils_Lake
Hows the perch fishing going
---
name: crappiehunter
city: moorhead
: fishtrap66@hotmail
Lake: Jamestown Reservoir
Date: Thursday February 27, 2003
Time: 09:21:04 PM

Jamestown
ive heard that it is picking up on the res. is it or what because I caught a crappie out there earlyer this year and it was a big son of bitch any info would be great.
---
name: Bobberstop
city: Grand Forks
Date: 02/27/2003
Time: 03:07:54 PM

Devils_Lake
Just wondering if anyone has paid the twenty bucks for the premium upgrade on fishingbuddy and is it worth it...
Thanks
---
name: TIPUP
city: Grand Forks
Date: Thursday February 27, 2003
Time: 10:57:43 AM

Stump_Lake
Anyone been fishing this lake lately? I have been thinking about giving it a shot this coming Sunday on my way to Devils Lake.
---

Back to the Archive of Fishing Reports