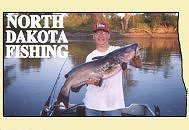 Fishing Reports-Archive
Current North Dakota Fishing Reports
All Current Fishing Reports
The Archive of Fishing Reports
name: Scott McNamee
city: grand forks
Date: Saturday January 04, 2003
Time: 08:02:54 PM

Hot_Topics
Well...she woke up a 4AM...she woke me up at 5:15AM to say we should probably go to the hospital.
We called HER sister to watch our still sleeping other daughter. No answer. We called MY sister. Took 10 minutes to get to our house.
5:40 AM:
Called 911. My wife was already 'bearing down'. We live only 6 blocks from the hospital...but I had a feeling we weren't going to make it...I was correct!
Although it looks like it was an 'emergency'...it was actually quite fun. My wife says the same ('cept for the labor)...
---
name: dogman
city: jamestown
Date: Saturday January 04, 2003
Time: 07:34:46 PM

Hot_Topics
Congrats to Scott and his wife for having a baby girl. By the way she gave birth on the Bathroom floor. Really Scott, you would think a big wig like you could afford a little better. LOL.
Way to go Scott, you da man!!
---
Name: Scott McNamee
City: grand forks
Date: Friday January 03, 2003
Time: 05:55:03 PM

The_Lounge
Thanks Marty! I appreciate it!
It was kinda fun...and the best part is Amber is just fine.
For those who are wondering...
---
Name: Marty
City: Grand Forks
Date: Friday January 03, 2003
Time: 05:22:21 PM

The_Lounge
Scott, seen your family and the new addition on the front page of Today's Herald. Congratulations, I'm glad everything went well.
---
name: Allen
city: Grand Forks
lake_river: English Coulee-Grand Forks
Date: 01/03/2003
Time: 09:16:02 AM

Small_Lakes
The English Coulee most commonly referenced is the English Coulee Diversion project a few miles NW of Thompson. The way I always go there is to take Merrifield Road (no exit from I-29) west to the junction of Cty rds 6 and 13(???), turn south and go about 1/2 mile, look for the dirt trail heading back east and follow that until you hit water. You'll find perch, northerns, and LM bass in there.
Of course the English Coulee itself runs through Grand Forks and you will find kids fishing northerns out of it where it winds through UND's campus and near the bridge at 6th Ave N, if you go on the north side of town in the spring you may get lucky and find saugers in it come late spring, and of course the obligatory catfish and bullheads.
Couple of side notes: The perch at the Diversion tend to have little black parasites in the filets during the summer and they tend to go away some in the winter (not harmful to humans from what my bio friends tell me, but unappetizing to me), the catfish/bullheads I've caught in the Coulee on the north side of town tended to have nasty looking open sores (could the garbage/oil in the water have anything to do with this???), the saugers I've seen and the pike have all looked O.K. so I'm thinking they are short term visitors.
---
name: Fisherman
city: Arthur
: longball_81@hotmail.com
lake_river: English Coulee-Grand Forks
Date: 01/03/2003
Time: 12:12:23 AM

Small_Lakes
Where is this English Coulee?
---
name: robert
city: ada, mn
: rwroquet@hotmail.com
Lake: Pipestem Reservoir
Date: Thursday January 02, 2003
Time: 10:11:36 PM

Jamestown
I am planning a trip to pipestem and just wondering how the fishing and the ice are on the reservoir.
---
Name: Mike
City: Jamestown
Date: Thursday January 02, 2003
Time: 12:18:17 PM

Hunting_Talk
Great article Allen. It looks like this non-resident topic is being talked about all over the U.S. I was born and raised in ND and have hunted the whole state from border to border. I am all for conservation of wildlife and there should probably be a limit on non-resident hunters in ND as long as it is practical. One of the common concerns from ND people is that non-residents don't obey laws, and have too big of an impact on hunting availability resources. There will always be bad apples in any group, non-resident or resident hunters, and getting on private land has never been an issue for me if you ask permission ahead of time. Non-residents pay $100 to hunt ducks and $155 to hunt deer in ND. that extra money might be well spent on hiring more wardens or to purchase more refuge land for public hunting. just throwing out some ideas. one thing I do know for sure is that wildlife needs protection for future generations. I hunted ducks in the 80's when there were no ducks and the prairie pothole region was pretty much dried up. that was sad to see and I hope the populations never dip that low again. if that means a limit on licenses, then that is what should be done, both resident and non-resident limits, just like for deer. Unfortunately I have heard allot of other self serving reasons expressed for putting a limit on non-resident hunting, and that is sad.
---
Name: Allen
City: Grand Forks
Date: Tuesday December 31, 2002
Time: 04:14:00 PM

Hunting_Talk
A little food for thought on the resident vs. non-resident hunting status. The Heraldo ran a story on this and if this judge doesn't get overturned it'll be a free-for-all. Anyone have thoughts on this?
---
name: walleye
city: DEVILS LAKE
Date: 12/30/2002
Time: 06:24:03 PM

Devils_Lake
SORRY I HAVEN'T HAD ANY FISHING REPORTS ON HERE YET THIS WINTER BUT WE HAVE BEEN WORKING REAL HARD TO MAINSTREAM UNCLE OLE BACK INTO SOCIETY.
UNFORTUNATELY, HIS DELUSIONS AND HALLUCINATIONS HAVE NOT ABATED AND I WILL BE FORCED TO TAKE HIM BACK TO THE CENTER.
WE WILL BE TAKING HIM ON ONE FINAL OUTING NEXT WEEK TO RED LAKE AND LAKE OF THE WOODS IN HOPES THAT HIS LAST DAYS WILL BE PLEASANT. AS USUAL, WE WILL LET HIM THINK HE CAUGHT ALL THE FISH.
---
name: Ole
city: Andover, MN
Date: 12/30/2002
Time: 05:36:20 PM

Devils_Lake
Great Fishing Forum! (with one minor exception) WATCH OUT for the frequent contributor who has the audacity to call himself "WALLEYE". I've fished with this guy for fifteen years, both summer and winter, and the only time his hands smell like walleye is when he's recently meet up with Helga. He couldn't catch a fish if you threw it in his lap. He poops on the ice, pisses on the side of my boat, and pukes in the hole. Only guy I know who tries to troll when ice fishing. Two beers and he starts bobbing and weaving all over the fish house knocking your stuff down the hole. He's trouble. Take NO advice from him. Friends, you've been warned
---
name: Allen
city: Grand Forks
Date: 12/30/2002
Time: 03:18:48 PM

Devils_Lake
Went to Black Tiger on Sunday. Fished the trees south of the sunken road away from the crowd until 2:00, nothing!! Could get fish jigged up off the bottom on the vexilar in 17 ft of water, but couldn't get them to bite. Moved straight out into 36 ft of water and found some perch (guys just south of me were reeling them in for several hours and were good at keeping the action a secret). Most I caught were small and brought up slow enough to put back, kept one about 13 inches and another brought up too fast. Fella fishing next to me moved into my old holes near the trees around 3:30 for the walleye bite, I drilled new ones. Again, I could get fish jigged up in 17 ft of water and couldn't quite get them to take the Hali/minnow head combo. Fella in my old 17 ft hole caught a nice 3 lb(??) walleye. Go figure! Gave him the two perch I had, went home. Typical day on DL for me.
---
name: Kim Pulst
city: Fargo
: kimp58301@yahoo.com
lake_river: Sweetwater Lake
Date: 12/30/2002
Time: 11:17:32 AM

Small_Lakes
Was out Friday and Saturday caught 6 northerns missed around 24 other hits we had 12 lines out so fishing wasn't extremely fast and the pike size was 3 to 5 lbs.
---
name: cateyepike
city: Grand Forks
lake_river: English Coulee-Grand Forks
Date: 12/30/2002
Time: 12:02:36 AM

Small_Lakes
Made my first ever trip to the coulee today. After cutting a few holes and poking around I ended up catching a few small perch on minnow heads and wax worms. Seems like a pretty cool place to wet a line that is close to home.
---
name: Brad Durick
city: Grand Forks
: bdurick@yahoo.com
Date: 12/29/2002
Time: 11:59:25 PM

Devils_Lake
Jimmy,
A good place on Devils Lake to start is straight off the boat ramp at Black Tiger Bay. Go stright off the ramp about a quarter of a mile. There is an old sunken road there. You will want to be off the road on either side to find perch. If you have a Vexilar look for about 34-26 feet. Be prepared to move around because the perch can be as little as 20 yards from you. Also, look to the south, you may see some houses at the south end of the bay. that is also a pretty good place to go. Hope this helps.
My advice is find a good lake map. This will prove to be an asset in the game of fishing devils lake.
---
name: Jimmy
city: Grand Forks AFB
: jplacquay@hotmail.com
Date: 12/29/2002
Time: 05:35:56 PM

Devils_Lake
I need to know where to find some fish. I am taking a kid fishing on monday, and I want it to be a good time. I don't can if all we catch is sunfish just anything but I don't know where to go. I have only fished the lake once. HELP please.
---
Name: Claytus
City: W. Fargo
Date: Sunday December 29, 2002
Time: 05:03:16 PM

Hobart_Lake
Hobart is pretty dwindled; you might catch 1 or 2 there but I would wait a couple years to see if it rebounds. Sanborn Lake off of ND 1 going alright. Tons of fish, mostly real tiny; I haven't caught a perch that small since a Minn. lake. Also have had decent luck at Heinrich Martin for perch and sunnies. There's not even suppose to be any perch out there, but we caught them. Dumb illegal dumping; like the sunnies weren't stunted before. Good Luck
---
name: Scott McNamee
city: grand forks
Date: Sunday December 29, 2002
Time: 01:10:19 PM

Stump_Lake
Doug,
Over the past few years perch fishing has exploded. People limiting out on some very nice size jumbo perch. Also, walleye and Northern pike are starting to appear. This is from the overflow at Devils Lake.
There still aren't any resorts at the lake, nor any real services within 10 miles, but look for that to start to change as more and more people start to find this hidden gem.
Winter icefishing is the most popular, but summer fishing is starting to ramp up and if they ever get some decent boat launches/ramps going, you can expect to see more and more family outings.
It's a very beautiful lake...and it is starting to come into it's own.
---
name: Doug Brenna
city: Seattle, Wash.
: teambrenna@sisna.com
Date: Sunday December 29, 2002
Time: 12:53:00 PM

Stump_Lake
I've not been to Stump Lake since the mid-70s. We used to camp at a Boy Scout cabin on the S.E. corner of the lake. It was a dead lake at that time....very alkaline. At the time there was a resort in the same area we used to hike through but it was deserted, as the lake had "died", supposedly. There were reports that the Garrison Diversion project was perhaps going to come through Stump and liven it up. Can someone tell me what has happened in the past few decades to bring life back to a really great place? Thanks, to whomever feels like they want to cue me in. -db-
---
name: Jimmy
city: Grand Forks Air Froce Base
: jplacquay@hotmail.com
lake_river: North Golden Lake
Date: 12/29/2002
Time: 06:02:08 AM

Small_Lakes
Has anyone been up to golden lake? I don't know where to find any fish. I am new to the area and just want to get out after some pan fish. Any help would be great.
---
name: Marty
city: Grand Forks
Date: 12/28/2002
Time: 06:43:57 PM

Devils_Lake
Tried to spear fish on 6 mile bay at Devils Lake. I had heard that water clarity there was good, but if I put my red and white decoy more than 3 feet in the water, you couldn't see it.
Ice was 16 inches where I was at, and after dragging all my stuff and my dark house out, I went back and drove my pickup out there. Lots of people driving now.
---
Name: Bandit
City: Westfargo
Date: Saturday December 28, 2002
Time: 05:08:55 PM

Hobart_Lake
Is Hobart dead?I wanted too take my four year old boy out and slam some perch but havent heard nothing about it this year?
---
name: DJP
city: Grand Forks
lake_river: English Coulee-Grand Forks
Date: 12/28/2002
Time: 11:20:01 AM

Small_Lakes
Somewhere by the pond before you go over the big hump. I searched for 4 hours the other day. Might have to wait till spring. Thanks
---
name: crazeyfisher
city: fargo
Date: 12/28/2002
Time: 11:06:26 AM

Devils_Lake
Creel bay was dead in 12 to 14 feet one little perch. anybody else doing anything.
---
name: cvikes80
city: grand forks
lake_river: English Coulee-Grand Forks
Date: 12/28/2002
Time: 03:22:21 AM

Small_Lakes
DJP where at on the coulee?
---
Name: Allen
City: G-Forks
Date: Friday December 27, 2002
Time: 11:12:51 AM

Hunting_Talk
HeadHunter, I wondered how long it would take you to find this site. It may not have quite the traffic of that "other" site, but I think you'll find it to your liking.
BTW, I hear there's a little HH in your future. Congrats!!!
---
name: walleye
city: devils lake
Date: 12/26/2002
Time: 02:49:51 PM

Devils_Lake
today I saw 2 pick-ups about 2-3 blocks out from shore on creel bay. the reportI got was 11-13 inches of ice. reports of 14 inches on wolford's bay. I'm going to wait another couple days before I drive out.
---

Back to the Archive of Fishing Reports