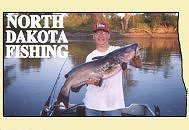 Fishing Reports-Archive
Current North Dakota Fishing Reports
All Current Fishing Reports
The Archive of Fishing Reports
name: Brad Durick
city: Grand Forks
: bdurick@yahoo.com
Date: Thursday December 26, 2002
Time: 02:21:17 PM

Fishing_talk
Bobberstop,
If you fish alot, especially at places like Devils Lake where the fish belly up to the botton an FL18 is an awesome upgrade. The autozoom mode allows you to see what is on the bottom and distinguish between individual fish.
I have had the opportunity to use the FL 18 and the FL 8 side by side. Both are great but the 18 has more features and clarity.
---
name: Bobberstop
city: Grand Forks
Date: Thursday December 26, 2002
Time: 10:20:15 AM

Fishing_talk
Thinking about buying a vexilar fl 18. Currently using an Fl 8. Just wondering if it will be worth the upgrade. Also, for the money, is the dual beam transducer worth it. Any feedback would be most helpful.
Thanks
---
name: sully
city: moorhead
: fishtrap@hotmail.com
Lake: Jamestown Reservoir
Date: Wednesday December 25, 2002
Time: 10:45:56 PM

Jamestown
has the fishing pickup yet?
---
name: Don Reston
city: Sioux City
Date: 12/25/2002
Time: 09:53:44 PM

Devils_Lake
Holy Cow!
I can't believe I've never seen this website before!
I am so impressed. TRUTHFUL fishing reports! Man, what will they think of next!
Absolutely the best resoucre for fishing in North Dakota!
Yes!
---
name: Cat Eye Outfitter
city: Manitoba
Area: Canada
: dkiazyk2000@yahoo.ca
Date: Tuesday December 24, 2002
Time: 08:05:05 PM

Red_River
Well the Red has been slow for the most part for me this hardwater season. I've had two good days for fourteen full day forays.... I've fished with some pretty patient folk to say the least.
Many have reported on causes for this hard water season's slower bite .... and some of the explanantions have been very plausible others very sad eg. "nets".....( I should also add that we need a political will!).... Nonetheless, I'm hoping the bigger picture is something cyclical in nature.
As an aside, I've had great days on Lake Manitoba for Perch and lake Dauphin for 3-5# 'eyes and Clear lake for good size whitefish and Pike.... but they're not the bodies of water you want to hear about.....
Well, I want to wish this fishing community a very Merry Christmas and a happy New Year.
Let's hope we see a few really good days yet this hardwater season!
------------------ Dan Kiazyk Cat Eye Outfitter http://www.geocities.com/dkiazyk2000 dkiazyk2000@mail.com
---
Name: Scott McNamee
City: grand forks
Date: Tuesday December 24, 2002
Time: 05:28:44 PM

Hunting_Talk
18 months...
Welcome aboard!
---
Name: Headhunter
City: Alamo
Date: Tuesday December 24, 2002
Time: 04:56:47 PM

Hunting_Talk
Hey folks, just found this site on accident....How long has it been going?
---
Name: Russ Claybaugh
City: Remus
: Russelldclaybaugh@hotmail.com
Date: Tuesday December 24, 2002
Time: 03:52:48 PM

Hunting_Talk
I am looking for a place to shoot prairie dogs in the first part of April.I would be comming alone and interested in 2 or 3 days of shooting. Any help would be appreciated.
---
name: walleye
city: devils lake
: walleye3_2000@yahoo.com
Date: 12/24/2002
Time: 12:29:21 PM

Devils_Lake
they still are not driving on creel bay. on sunday i heard there was 11 inches but as of today, i only saw 4wheelers out there..
---
name: Kent Hollands
city: Grand Forks
Date: Tuesday December 24, 2002
Time: 09:26:03 AM

Fishing_talk
Just wanted to say Merry X-mas to all my fishing buddies on invoman. Have a great and safe New Years also. And a Congrats to Scott for making this web site the number #1 in the nation for Catfishing. So tell all your buddies about it.
---

Back to the Archive of Fishing Reports