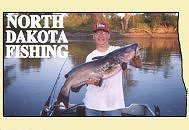 Devil's Lake Fishing Archive #1
Fishing reports for Devil's Lake Fishing
Scott McNamee
Grand Forks
scott@invoman.com
12/15/2001
02:29:00 PM

Is anyone fishing Devil's Lake? How about darkhouse spearing?
I saw a couple of guys at a gas station this morning...if they are reading this...how did ice fishing Devils Lake go?
---
Tom
Grand Forks
tomscaanderson@cs.com
12/11/2001
09:20:51 PM

fished Lorretta mon this week and the northerns are still there. went on to devils lake and fished mon evening and tuesday morning. walleye bite was light, couple of northerns, and no perch. was fishing the west edge of mauvee collee next to the trees. ice was a good 7 inches thick.
---
Brad Durick
Grand Forks

11/26/2001
09:22:28 AM

Hello All,
It is great to report that I filled all my rifle tags this deer season. Now all I have to do is wait for some ice to get on the lake.
I have a feeling that with the weather change it won't be long now.
---
Scott McNamee
Grand Forks
scott@invoman.com
11/13/2001
03:20:36 PM

The perch mocked you? The perch at Devils Lake plain old 'mooned' me!
hehe...We just couldn't find a good spot, then again it sounded like no-one did. THIS YEAR...if they moon me...I'll be there with buckshot..
---
Allen
Grand Forks

11/13/2001
11:03:22 AM

Thanks fellas, kind of suspected the chartreuse connection, and I used pink and white in the early summer to really slay the walleyes this spring in Minnewaukan. Like everyone else, I really hope the perch pick up this year. Pretty much mocked me last winter (so did the walleyes though). thanks again and good luck to all your outdoor adventures.
---
Brad Durick
Grand Forks

11/09/2001
07:22:25 AM

Sorry about re-posting my report. My computer told me that it couldn't reach the server yesterday.
To elaborate on Scott's question about Stump Lake maps. I'm sure there is a map available, however the lake has risen so much this year due to the Devil's runoff that I think there is much discrepency.
If what I have been hearing about Stump's level rising is true it should be just as good if not better than Devil's.
It will just be a matter of doing a little exploration. If we were smart (Me included) we would have launched a boat this fall and explored depth and break lines and marked spots on the GPS. Oh well there is always next year.
---
Brad Durick
Grand Forks
bdurick@yahoo.com
11/09/2001
07:11:02 AM

Allen in response to your question about presentation I found that greens and yellows tipped with a minnow worked the best. I had to let the bate soak on the bottom for a couple minutes before I reeled in and the reeling was super slow.
I also had a little lick with white and pink. CAUTION: IF YOU ARE USING PINK WITH A WHITE TWISTER TAIL AND/OR A MINNOW BEWARE OF THE SLOUGH SHARKS.
Good luck with the deer hunting to all. I have 3 tags of my own to fill the next couple weekends.
Until next time
---
Scott McNamee
Grand Forks
scott@invoman.com
11/08/2001
05:18:33 PM

Allen,
I agree with Brad, the brighter colors seem to work better. If I was to pick a particular color as my only jig, it would be chartreuse. The white twister tail is LETHAL for Northerns....gotta love it!
Devils Lake is a new beast to me. While I've fished with Brad on the Red River, he's the expert on Devil's Lake fishing.
This winter should prover interesting, ice fishing on devil's lake should be hot. The jumbo perch have got to be biting better this year.
I AM interested to see how Stump Lake will begin to happen...it's a little closer to Grand Forks...and relatively unexplored. I wonder if there's even a topographic map available?
I will do my best this winter and hope that I catch more perch than last year!
---
Brad Durick
Grand Forks
bdurick@yahoo.com
11/08/2001
12:51:29 PM

Allen in reponse to the color question you asked.
I had the best luck at Devil's Lake this past weekend using Yellows and Greens. When the fishing got slow I put one on with a rattle to attract somthing. I eventually had to go back to a standard jig.
Also, Try using white and/or pink on Devil's Lake. I have had much success with those colors in the past. WATCH OUT USING A PINK JIG WITH A WHITE TWISTER TAIL TIPPED WITH A MINNOW THE SLOUGH SHARKS LOVE THEM.
Lastly good luck deer hunting. I also have 3 tags to fill and would love to finish quick to fish once again this year.
Until next time
---
Allen
Grand Forks
allen_schlag@und.nodak.edu
11/07/2001
02:59:05 PM

Scott and Brad, just curious as to what presentation/colors you were using. Wish I had some time to go fish, oh well, deer season is upon me this weekend and I've got 3 tags to fill.
---
Brad Durick
Grand Forks
bdurick@yahoo.com
11/05/2001
07:17:40 AM

I couldn't resist one more trip to Devil's Lake after all the fantastic reports I've been hearing this past week.
A friend and I fished near the 6 mile bridge where we heard the action was. (We already had the boats put away for the year)
We talked with some old timers who said the fish were jumping out of the lake. However they wern't on Sunday. We did bring home a couple of nice meals. I caught about 12 walleyes and a northern. Between my buddy and myself we brought home 4 walleyes between 14 and 17 inches and two northerns about 3# each.
If anyone is going after the eyes this week, The bite is so light you need a good feel or medium light rods with 1/4 once jigs. Hook the minnow up good the eyes were getting them off without us feeling them.
Until next time Good Fishin
---
Scott McNamee
Grand Forks
scott@invoman.com
11/02/2001
06:37:14 PM

Devils Lake has GOT to be good to me this year.
I'm looking for those jumbo perch! And walleye! Not to mention those Northern Pike that my friend Tim took a limit of....and I got skunked...:<(
I took exactly ZERO jumbo perch from Devils Lake last year while ice fishing....but THIS YEAR!....look out!
I sure hope Woodland Resort is still as good as it was alst year....what fun!
Scott
---
Scott McNamee
Grand Forks
scott@invoman.com
10/31/2001
03:04:22 PM

Is there ice yet?
Is there ice yet?
Is there ice yet!???
Getting anxious here.....
I've even thought of sitting in my garage and pretending...as soon as I move the boat!:>)
Looking forward to a WONDERFUL season of ice fishing.
Scott
---
Scott McNamee
Grand Forks
scott@invoman.com
10/25/2001
11:59:36 AM

Testing
---
JEFF
GRAND FORKS

Thursday October 11, 2001
10:06 AM

CAN SOMEONE HELP ME IM LOOKING TO FISH DL FOR THE FRIST TIME ARE THE FISH BITING ? WERE DO YOU START FISHING ?
THANK YOU JEFF
---
Scott McNamee
Grand Forks
scott@invoman.com
Saturday October 06, 2001
04:38 PM

Thanks for the report, Allen!
I would sure like it if some of you fisherman would post the GPS coordinates of structure on the lake....
It doesn't mean you given up your favorite spot....it means that there is structure at that point....
I'm thinking 'ice fishing'...
So if you have a favorite spot....report the GPS coordinates, and leave off the last digit, that puts the angler within several hundred feet, but doesn't give away your spot entirely...
On the other hand, many of you want to keep your spot secret...understandable.
It's up to each of you how you want to approach the GPS thing.
I plan on giving away my GPS throughout the winter....that's the best way to make new friends!
Look for the balding guy...ok...pretty much entirely bald guy with a Red F-150 Supercrew. (Now be nice you Chevy and Dodge owners....)
HOPEFULLY I will have a 'logo' by that time and you will be able to spot me quicker than a spy satellite looking for Bin Laden...
---
Allen
Grand Forks
allen_schlag@und.nodak.edu
Friday October 05, 2001
11:44 AM

Ahh, good to see someone giving Fishing Buddy a little competition. Went to DL last sunday (10/1) and fished the heck out of Black Tiger bay. A few small walleyes were coming off the western side of the sunken road in about 11-18 ft of water. Watched one couple get toyed with by a large pike. I think she lost 3-5 setups in about an hour and a half. He finally got it to surface once and it looked to be +15lb before it took his line also. Me, not so good. One walleye off the sunken road and a couple of northerns. Got adventurous and went south of Black Tiger bay boat ramp and had a difficult time to even find a fish with the electronics. ZERO bites south of the ramp. Headed a little north towards East Bay campground and found fish stacked in 9-18 ft of water near/in the trees. Caught nothing, but had several what i am sure of were perch bites on minnows. Too big a presentationn so no hookups. Heard others were doing OK up at Woods Rutten road using minnows/crawlers and either white or pink/white jigs.
---
Brad Durick
Grand Forks
bdurick@yahoo.com
Monday October 01, 2001
11:48 AM

Went Devil's Lake on Sunday for a day of Walleyes and Snakes. We spent about 6 hours working the Bud Bay and Six mile bay areas.
The most successful seemed to be a white jig and a minnow in about 24 feet of water. I did have some success at about 23 feet with a hook and minnow attached to a bottom bouncer.
All in all the fish were small and the weather was not cooperating. The wind changed 3 times and each time we had to start over to find the right presentation.
Until next time "Good Fishin"
---
JC HEFF
EGF MN
jcheff@gfherald.infi.net
Wednesday September 19, 2001
05:16 PM

Fished Saturday 9 - 15. Started at 7:00 finished at 5:30. Jigged in the morning and picked up a few in about 15 feet. Caught a nice one ( 3 lb ) in about 20 feet. At about 1:00 we set up for a drift. Moved from 7 feet out to 20 feet and then started over. Used 1.5 oz. bottom bouncers with gold crawler harness spinner rig. Also had some success with minnows. Lively crawlers worked best. Brought home a nice batch of eaters (15 - 17 inch) and had a fry on Saturday night. Heading up to Selkirk to fish the "greenbacks" this weekend and the following weekend. Hoping to bring something home for the wall. Actually it would hang in my office for the first few months. Sorry Scott but I might have to start charging a fee to get into my office if I do get the big one. Wack them eyes!! HEFF
---
Scott McNamee
Grand Forks
scott@invoman.com
Wednesday September 19, 2001
04:20 PM

Looking for JC Heff or the Peterson Boys to give me a report.....c'mon guys...!
---
Scott McNamee
Grand Forks
scott@invoman.com
Sunday September 09, 2001
02:47 PM

Welcome to the Devils Lake page!