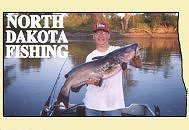 Catfish Fishing Reports-Archive
Current North Dakota Fishing Reports
All Current Fishing Reports
The Archive of Fishing Reports
name: Canuck
city: Lockport
Area: Canada
: jstinson@mb.sympatico.ca
Date: Tuesday June 08, 2004
Time: 11:45:48 PM

Red_River
Brad: I really enjoyed fishing with you and your wife on Sunday. I was trully amazed at how your wife was able to handle those kitties. It takes many a experienced catfisherman do the things she did first time out, anytime.
Jason: The Red is high, no doubt about it BUT it is very fishable. I have an Alaskan (18ft) and use home made anchors. These anchors are about 16 to 18" solid (1 1/2 to 2" diamater) shafts with four points. These points are 9" long and slightly sharpened with a small bend. They are not so solid that they will not bend if you hook up in the rocks. The anchors you buy in the stores may be OK in small rivers or if there isn't tooooooo much current but they never seem to work on the Red. Bait: well suckers have been the bait of choice since the opener and will probably be that for at least another couple weeks. The kitties have been biting short so sugguest you keep the bait chucks small, about 1" square. The goldeyes are starting to show up so the kitties may be changing soon to them so if U have some great. The only place you may find them right now is either in the lock entrance or right up by the floodway outlet. Make sure you do NOT get too close to the flow by the outlet as in 1993 a gentleman's boat was sucked in and he drowned. If you stay 30 yds back it shouldn't be a problem, the north side of the outlet usually is the best spot for goldeyes. Location to fish: well, if the area from the floodway outlet to the main stream of the Red is NOT full pick a spot and usually the north shore is the best. We were getting them today about 5 ft from shore. If the floodway outlet area is full of boats pick a spot on either shore (my favourite is west) about 15 ft from shore and go at it. Today we had to use 6 oz to keep the bait on the bottom. These are flat sinkers so if U have the round type you may need more weight. The lack of weight I find is one of the biggest errors guys use. You HAVE TO keep your bait still on the bottom.
Jason: I kind of remember you, were you out earlier this year? I met 2 guys and a lady from Brandon about a week ago who came fishing and they seemed to do OK.
ps: if U can't get suckers, possibly try and find chicken liver. Freeze them and cut off 1" chunks and put them on your hook. You may be able to purchase suckers at "Cats on the Red" right at Lockport. Is there any reason why U put in at Selkirk? It is a rather long boat from to Selkirk especially if U are going to fish at Lockport anyways.
Good Luck. I am off the river for the next 2 days but back on for the weekend and may see U out. My boat is a 18' Lund with a 60 Mercury. If U see me give a yell and if we can be of help just ASK.
Jim.
---
name: Jason
city: Brandon
Area: Comment
: jg@westman.wave.ca
Date: Tuesday June 08, 2004
Time: 08:17:37 PM

Red_River
Canuck, Im sure you wont remember me but you've helped me out with my concerns about fishing the Red in the last couple years. We usually dont hit Lockport till later in the summer but we would like to get out this weekend.
We are worried about the water level. The Red is the only water with a current we fish so we are alot less confident than most on the River, especially when its high. We've been out when its high and have had problems getting the boat out of the water even at Selkirk Park. Were in a 18' lund pro fisherman and have problems anchoring at times too. Weve got the proper anchor for the river.
Also, what could you recommend for bait? We usually just bring shrimp and gather frogs from the swamp in Selkirk Park.
Thanks for all you advice in the past!
Jason
---
name: Jason
city: Brandon
Area: Comment
: jg@westman.wave.ca
Date: Tuesday June 08, 2004
Time: 08:09:29 PM

Red_River
A couple question to those who are on the river between Lockport and Selkirk. A few of us would like to head out this weekend, but a big concern is how high the water is.
We always put in at Selkirk Park and just make our way up to the Locks, then back down to Selkirk at night. The owner of the boat we are using is concerned about the water level. Weve gone out with the water quite high and we had trouble anchoring and less fun trying to load out boat at the end of the day.
Also, what bait is prefered for this time of year? We usually dont get out for cats untill later in the year, and hit the swamp in the parks for frogs and bring our usual shrimp.
People on thi board have been VERY helpful the last couple years and have made our trips up to Lorkport that much easier.
THANKS!
---
name: Drew
city: Sioux City area
Area: Comment
Date: Tuesday June 08, 2004
Time: 03:18:12 PM

Red_River
I hear ya, we're headin up this weekend too. It's only a 10 hour drive for us, but if it was 14 or 20 it wouldn't even matter. I'd rather drive till my eyes bleed just to have a chance at a 30 pounder rather than stay here and catch pukers. Power lunker Red River cats! Nothing like it, still trying to talk the woman type into moving up to ND. She says we can't just quit our jobs, sell the house, and relocate just because the cats are bigger up there. I'll never understand that woman.
---
name: Smoothy
city: Selkirk
Area: Canada
: mericals@mchsi.com
Date: Tuesday June 08, 2004
Time: 12:53:55 PM

Red_River
I took a trip to Cats on the Red Memorial weekend and slayed the big piggys! I am going back this weekend, and the last weekend in July. Can you say HOOKED! And it's only a mere 14 hour drive for me, if I lived in ND I'd be there every weekend.
See ya on the water.
---
name: brad
city: Grand Forks
Area: Canada
Date: Monday June 07, 2004
Time: 10:45:47 AM

Red_River
I spent Sunday in Lockport with my lovely wife and the famous Canuck. The CATCHING was abosolutly awesome. Just under four hours and we landed 22 cats with 10 being over 20 pounds. For all the boys here in Grand Forks who can't get on the river my advise is head to Lockport the fish are biting and the river is ready for you.
My wife enjoyed her first trip up north and I'm sure she'll make the trek again this year.
---
name: Drew
city: Sioux City area
Area: Comment
Date: Monday June 07, 2004
Time: 10:44:14 AM

Red_River
Just wondering what the water level is like in Drayton and/or Grand Forks. Looking to come up there this weekend to put the hurt on some cats. It's about a 7 hour drive so any report on the water level and fishing would be highly appreciated!
Thanks!
---
name: Reg McGiffin
city: Grand Forks
Area: Comment
: regmcg@gra.midco.netCheck out our new reduced pricelist for
Date: Sunday June 06, 2004
Time: 12:59:13 PM

Red_River
Check out our new reduced pricelist for N0-ROLL sinkers in classified section of site Sizes 1oz 11/2 oz 2 oz and 3 oz available
---
name: Josh
city: Fargo
Area: Fargo
: jbugbee@jc.edu
Date: Thursday June 03, 2004
Time: 05:00:09 PM

Red_River
Hey all~ I am a college student living in Fargo for the summer and like fishing. I bought a MN non-resident license for the lake I go to. I was hoping to do a little fishing on the Red River and have never done so before. If there is anyone that would be willing to get me started with either some information on what to fish/use for bait and/or where to fish, it would be very much appreciated. Thank You.
Josh
---
name: Dave R.
city: Sioux City, IA
Area: Comment
: kingsleyhf@yahoo.com
Date: Thursday June 03, 2004
Time: 10:36:26 AM

Red_River
Hello again guys!!
Just wondering how the water levels are up there around Grand Forks, Drayton & Lockport I have a short weekend trip planned for next weekend (11th-13th) and am flexible as to where we can fish. I've been seeing that you've been getting a lot of rain & was wondering if the river is fishable at any of these locations. What I am really interested in is your opinion on if you think it will be fishable by next weekend if it doesn't keep raining....I haven't seen the forcast for up there & am not familiar with how fast the water goes down after it floods or is high, or how the fishing is after a series of high water. The other thing I am a bit concerned with is coming right during the spawn. Have the cats spawned yet?? If not, we'll probably hit it dead on next weekend, eh?? Things only allow us a certain number of trips per year, but we're a bit flexible as to when we can come up, so some honest reports & opinins would sure be appreciated so that we don't waste a trip next weekend & can plan for another some other time (would prob. be the weekend of June 25th-27th) if you think it would be better fishing then. Again, thanks guys!!! Dave
---
name: Richard
city: Grafton
Area: Drayton
Date: Friday May 28, 2004
Time: 09:27:06 AM

Red_River
Hey Dave R,
Went down to Drayton Dam yesterday, May 27 and the area around the dam is either under water or is so muddy, you can't get to the river. If we don't get any more rain, I'd give it till next weekend (not Memorial Day weekend) to dry out. Before the rains, fishing was great.
---
name: mackie
city: grand forks ab
Area: Grand Forks
Date: Thursday May 27, 2004
Time: 01:17:26 PM

Red_River
i know this is for the red but does anyone know how to get to the back ponds at the english coulee's? no one has written in that forum in over a month. i plan to go out there tomorrow with a couple of canoes and want to save so time walking back to the third pond.....any help would be great
---
name: ibwhnt
city: Grand Forks
Area: Grand Forks
Date: Thursday May 27, 2004
Time: 11:55:14 AM

Red_River
Dave R. You can buy a season license. Below are the break downs of the different prices: Nonresident Fishing, Hunting & Furbearer Certificate - $2.00 Nonresident Single - $35.00 Nonresident Husband and Wife - $45.00 Nonresident Seven Days - $20.00 Nonresident Three Days - $15.00 Hope that helps you out.
---
name: Dave R.
city: Sioux City, IA
Area: Comment
Date: Wednesday May 26, 2004
Time: 06:23:38 PM

Red_River
I am going to be fishing the Red in North Dakota in June & again in July.
I was looking at the liscenses on the web & it doesn't look like non-residents can purchase a liscense for the entire season.....only 3 or 7 days. Am I correct on this??
Has anyone been doing any good at Drayton lately??
Thanks guys!!
---
name: Stu McKay
city: Lockport
Area: Canada
: redcats@mts.net
Date: Wednesday May 26, 2004
Time: 10:01:08 AM

Red_River
Water levels? The river has been steadily descending and by next week (barring any monsoones) the dam should be back in. This simply means the river becomes much easier to negotiate and navigate! Cats are still ballistic! Two guys from Fort Dodge caught "FIFTY" kitties yesterday, needless too say they had a ball!
Fish Hard!
---

Back to the Archive of Fishing Reports