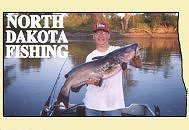 Fishing Reports-Archive
Current North Dakota Fishing Reports
All Current Fishing Reports
The Archive of Fishing Reports
name: Stoney
city: Winnipeg
Area: Canada
: alembury@shaw.ca
Date: Wednesday September 24, 2003
Time: 03:15:27 AM

Red_River
I went down to the floodway gates on Sunday morning. The river was low and flowing abnormally slow. I started fishing on a drop off 40 metres downstream from the gates. I had no luck so I trecked over to the rock pile and casted my floresent green, rattle headed jig tipped with a Lake Winnipeg shiner between the gates and in a few seconds my rod tip started to bend to the rocks. It was a six pound bastard of a walleye.
Later I caught a 10 pound, 28 inch Walleye, a couple cats & bullheads, a rock bass and a 29 inch, 5 pound Northern Pike.
---
name: Lee Limbach
city: Fremont Nebraska
Area: Grand Forks
: Leegofish@msn.com
Date: Tuesday September 23, 2003
Time: 03:28:56 PM

Red_River
Howdy; Last weekend abuddy and I went to Grand Forks and did a little fishing. We cought our limit of eaters (3 to9 lbs) during the day. At night we cought and released 6 35" cats, 15 to 20 lbs. We had a ball.Thanks to all the friendly people in Grand forks. The river is great! Keep a tight line. Lee and Don from Nebraska!
---
name: Stu McKay
city: Lockport, mb
Area: Canada
: redcats@mts.net
Date: Tuesday September 23, 2003
Time: 11:04:09 AM

Red_River
EIGHT TONS OF CATS!
The channel cat season is drawing closer to yet another conclusion here on the lower Red. What a year it has been! The only glitch in the entire season took place during the heat wave back in August. During this time the cats were very layed back and were reluctant to feed. Once September rolled around the outlook appeared much brighter as the cats quickly got on the prowl again. Over the past four days a group of nine from Nebraska caught and released, "eight hundred and eleven channels", no it's not a typo, their total was 811 cats! The average weight of these fish would have been in the neighborhood of just over twenty pounds. This would make the total weight somewhere around sixteen thousand, two hundred and twenty pounds, that's 16,220 pounds!
Now you have to admit that's one heck 'ava fishing trip! I can't honestly think of "any" other freshwater angling destination on the planet where this feat could be equalled.......
Special thanks to the guys from Nebraska and also to the four guides that made their trip of a lifetime possible.
Now let's go and checkout the walleye situation........
Fish "HARD" Forever!
---
name: Backwater Eddy
city: Fargo
Area: Fargo
: backwtr1@msn.com
Date: Monday September 22, 2003
Time: 09:08:10 AM

Red_River
Bait soaking will produce walleye, and snags. Jigs will produce walleye, and snags. Cranks will produce walleye, and snags.
More often then not, walleye are in or near snags, so terminal tackle is a good phrase to get used to when hunting walleye on rivers.
The trick is to work the appropriate bait presentation in the appropriate areas. Cranks will not be effective everywhere, nor will jigs or rigs, so you need to feel the area out to get the best option rolling.
I do well with cranks this time of year. Shallow running minnow bait style Crankbaits. My second best producer is bulky plastics rigged on weed-guard protected jigs. I do not drag live baits with tell the water temp hits the lower 50's and the fish become more neutral.
To each their own, I have less patience then most maybe? I like to hit and run and find active fish and not wait for them to find me.
Walleye are definitely on the hunt in September through early November, they need to build up winter stores of energy. For that reason I use a seek and go find approach in fall. It has always proved the best producer for me.
---
name: Dan
city: Grand Forks
Area: Grand Forks
: daniel_krippes@und.edu
Date: Monday September 22, 2003
Time: 12:37:12 AM

Red_River
On Saturday caught (and released) eight cats with the biggest topping out at a massive 40in.. Sure hope the bite will hold just a little longer. Also lost a big pike, about 32in.. I've been hearing alot about a walleye bite starting soon, is that for real? And if so do they run in Grand Forks too? What techniques work best? I fish from shore and most areas I fish are too snaggy for jigs. Any help is greatly appreciated.
---
name: Jim
city: Fargo
Area: Comment
: eagle7116@cableone.net
Date: Monday September 22, 2003
Time: 12:23:46 AM

Red_River
Saturday evening up to dark worked the south dam in Fargo. Cats are getting warmer. Picked up a 5.3 lber for dinner, and sent a 14.4 on her way. Missed a few hogs, but the walleyes haven't shown up yet....shouldn't be long now and we'll need reservations for a piece of shoreline. Happy times on the Red are soon coming!!!
---
name: Paul
city: Fargo
Area: Fargo
Date: Saturday September 20, 2003
Time: 11:44:02 PM

Red_River
I am new to fishing in the Red River, and am wondering if any type of artificial lures work well on fish such as walleye, northern, or bass in the Red. If so, what kinds work the best. Thanks in advance for any help.
---

Back to the Archive of Fishing Reports