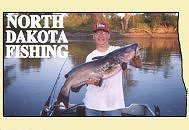 Fishing Reports-Archive
Current North Dakota Fishing Reports
All Current Fishing Reports
The Archive of Fishing Reports
name: dogman
city: jamestown
Lake: Jamestown Reservoir
Date: Monday December 23, 2002
Time: 10:16:23 PM

Jamestown
DEAD!!!
---
name: William
city: Mich
Date: 12/23/2002
Time: 04:15:12 PM

Devils_Lake
Any report on the ice around DL?
---
name: Tumbleweed
city: Kansas Missouri
Date: 12/23/2002
Time: 03:45:49 PM

Devils_Lake
I Was ice fishing on a full moon night and i dropped my CIGARS in the hole!!!about 5 min later I started catching fish left and right,but they were to small.Then I caught a huge small mouth bass!The next morning I was cleaning fish and what should I find?????My CIGARS in my big small mouth!!!That explains why I caught it!!!!!!!!
---
name: cateyepike
city: Grand Forks
: cateyepike@hotmail.com
Date: 12/22/2002
Time: 10:23:12 PM

Devils_Lake
Fished Sunday, December 22 all day in Black Tiger Bay. The ice was 11 inches thick. We got into perch right away in the morning at about 13 feet. As the day moved on there was tons of fish on the bottom but very few hits. Walleyes were not exactly steller ended up keeping only one. IT SURE WAS NICE TO FINALLY GET ON SOME ICE.
---
name: The Rally Monkey
city: GGF
Date: 12/22/2002
Time: 03:44:36 PM

Devils_Lake
Two of us fished near woods-rutten road in about 11' of water last night. We caught 3 very small walleyes and a very small perch. Holy, put another freshwater shrimp on the barby. Too many of those suckers down there. I would have about 5 or 6 on my presentation when I would bring it up.
RM
---
name: DJP
city: Grand Forks
: dcpaulus@yahoo.com
lake_river: English Coulee-Grand Forks
Date: 12/21/2002
Time: 03:37:16 PM

Small_Lakes
Little help.. Lost my work cell phone at the Coulee 12/20/02. If anyone has found it please e-mail me. Thank you
---
name: Cliff
city: Williamsburg
Date: 12/21/2002
Time: 12:10:33 AM

Devils_Lake
You wouldn't believe the fishing trip... My son was catching crappies left and right on a full moon in Dec.I was using a blue jig rapala jigging about 7 feet deep when I felt a nice hit. I knew it wasn't a crappie but as I brought it up I thought ahhh a small mouth but just as it came up through the hole it shot up out of the hole and my 2 pound smallmouth turned out to be a 3.5 lb. muskrat. As we tried to bail out of the shanny the muskrat made about three trips around my legs before he got his bearings and returned down the hole. The only comment my son Michael made was "dad do you have another blue & silver rapala? True story!!!
---
name: Bobberstop
city: Grand Forks
Date: Friday December 20, 2002
Time: 11:51:30 AM

Stump_Lake
Just wondering where the firing line is out on stump. I've fished out there a couple of time this winter and the only thing I went home with was cold feet...
---
name: Bucktamer
city: Arvilla
Date: Thursday December 19, 2002
Time: 04:27:44 PM

Lake_Laretta
I disagree stump guide. The pike fishing has been very good. I have been using the quick strike tip-ups with frozen ciscos; caught 2 12# and 1 9# in 3hrs. Didnt try for any perch but a few guys were getting some.
good fishing!
---

Back to the Archive of Fishing Reports